The latest report from the Congressional Oversight Panel is out and they are making no bones about another shoe to drop, Commercial Real Estate (the link goes to a post warning on CRE from last July). On their main page is this:
Nearly $1.4 trillion in commercial real estate loan debt will come due for refinancing in the next several years. The Panel's February report expresses concern that a wave of defaults and losses could jeopardize the stability of many banks and prolong an already painful recession.
Let's cut to the chase and say Congress and the Obama administration have blown off Commercial Real Estate generally. Here is COP's conclusion:
The Panel is concerned that until Treasury and bank supervisors take coordinated action to address forthrightly and transparently the state of the commercial real estate markets – and the potential impact that a breakdown in those markets could have on local communities, small businesses, and individuals – the financial crisis will not end.
Here are some CRE*facts from the report:
Nearly half of CRE loans are more than property is worth
2,988 community banks are heavily weighted with CRE
Smaller banks hold disproportionate CRE, not securitized
CRE property values have fallen 40% since 2007
Vacancy rates 18% for office space, 8% for apartments
Vacancy rates, rents buffered by long term lease locks
Rents have fallen 40% for office space, 33% for retail space
Losses to occur in 2011 and later
Loss estimates are between $200 to $300 billion
CRE market 6.5% of all credit debt, $3.4 trillion
CRE's private equity is 68% pension funds
*CRE means Commercial Real Estate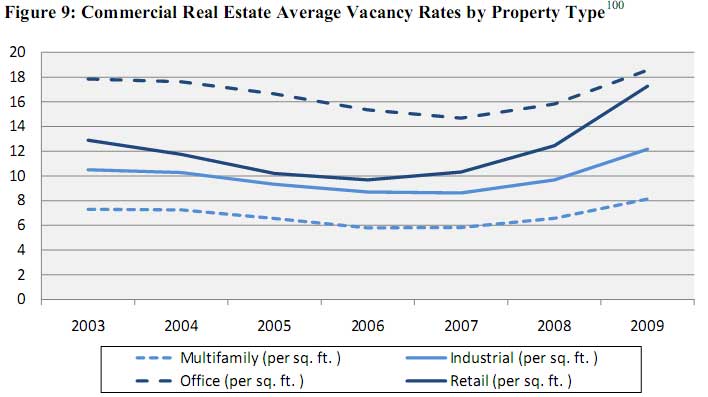 Some more differences are Big banks securitize their mortgages, community banks have a tendency to hang onto the original loan. Multifamily housing (apartments), make up 26.5% of the CRE market. Commercial mortgages are shorter in duration than Residential, about 3-10 years.
The report goes through some history on CRE's role in the 1980's S&L crisis, but I note, doesn't mention a major tax shelter change which left a hell of a lot of upper middle income investors holding the bag, with CRE being a common shelter vehicle (1987).
Bottom line, the GAO found out that CMBS underwriting was at it's most lax in 2007 and these loans mature later, note when this 2007 lax bombshell hits in the below 2nd graph.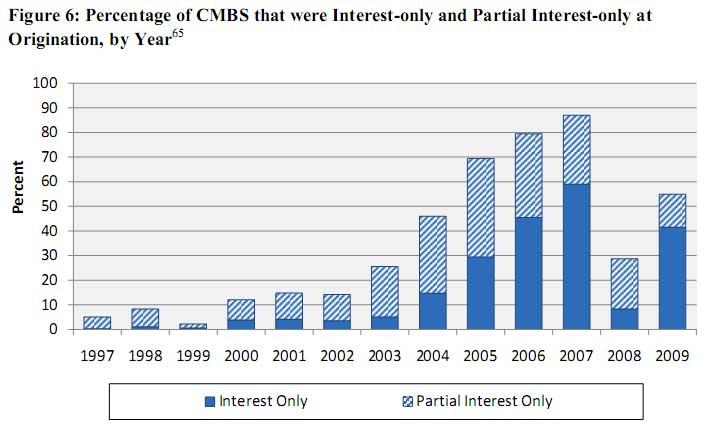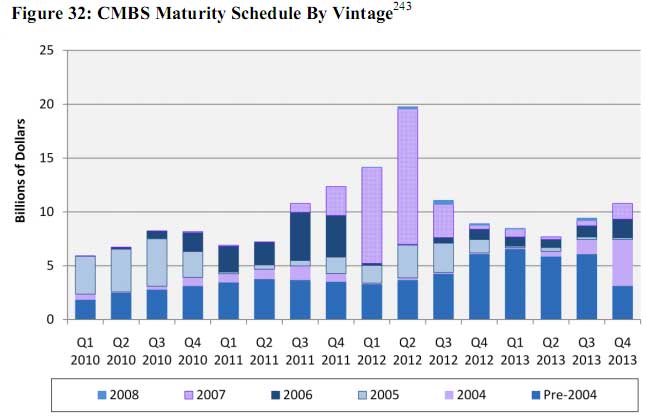 Other elements in the report are TARP warrant sales are projected to be $9.3 billion and starting on page 80 is a large section discussing accounting rules and keeping toxic waste off of the books. There is also a history of the commercial real estate boom & bust in the 1980's in an appendix.
Ya all remember that S&L crisis, ya know the one that really hurt the economy?
Read Residential Real Estates, a ticking time bomb to see what's going on in residential real estate.