One of the things that's always irritated me about the blogosphere is how the idea that people who work in a factory should be able to have the same living standard as white-collar occupations gets pissed on. I've always found that the worst hate is reserved for the UAW, which in general is lumped in with the management in Detroit whenever a discussion about the auto industry pops up. Like today on Daily Kos, from Kos himself.
For years, Democrats outside of Michigan tried to coax Detroit into making more fuel efficient vehicles. The automakers, the autoworker unions, Republicans, and Michigan Democrats all fought those efforts tooth and nail. Successfully.
At the same time as Markos is demonizing the hardworking men and women of the UAW as complicit in their own hardship, those same men and women get no praise for the time they put on the strike line to force force GM to make commitments to build more fuel efficient vehicles in the USA.
As I wrote last September, the reason that the men and women of the UAW went on strike was to ensure that the transition to more fuel-efficient vehicles would not come at the cost of their jobs.
UAW officials said the 73,000 UAW members who work at about 80 U.S. facilities for the nation's largest automaker didn't strike Monday over what many thought would trip up the talks: A plan to shift the retiree health care burden from the company to the union. They said they also didn't strike over wages.

They said union members walked out because they want GM to promise that future cars and trucks such as the replacement for the Chevrolet Cobalt small car or the still-on-the-drawing board Chevrolet Volt plug-in electric car will be built at U.S. plants, preserving union jobs.
GM was planning to shift small car production for North America to a plant in Reynosa, Mexico, going from plants in Michigan where the contract wage is $27 an hour to ones on Mexico where the wage is under $5 an hour. The UAW walked away from the negotiating table in order to get a commitment from GM that they would build the Volt and a new subcompact scheduled to come on line in 2010 in the United States.
Kos conveniently glosses over this fact when damning union workers along with management for the funk that the US auto workers currently find themselves in. And the truth of the matter is that the UAW won that fight. GM did agree to make commitments to manufacture fuel-efficient vehicles in the US.
The contract that the UAW and GM agreed to in 2007 included a list of the commitments made by the company to various assembly plants. Included among those are the Chevy Volt to be built Michigan, and a new subcompact hatchback to be built in Ohio.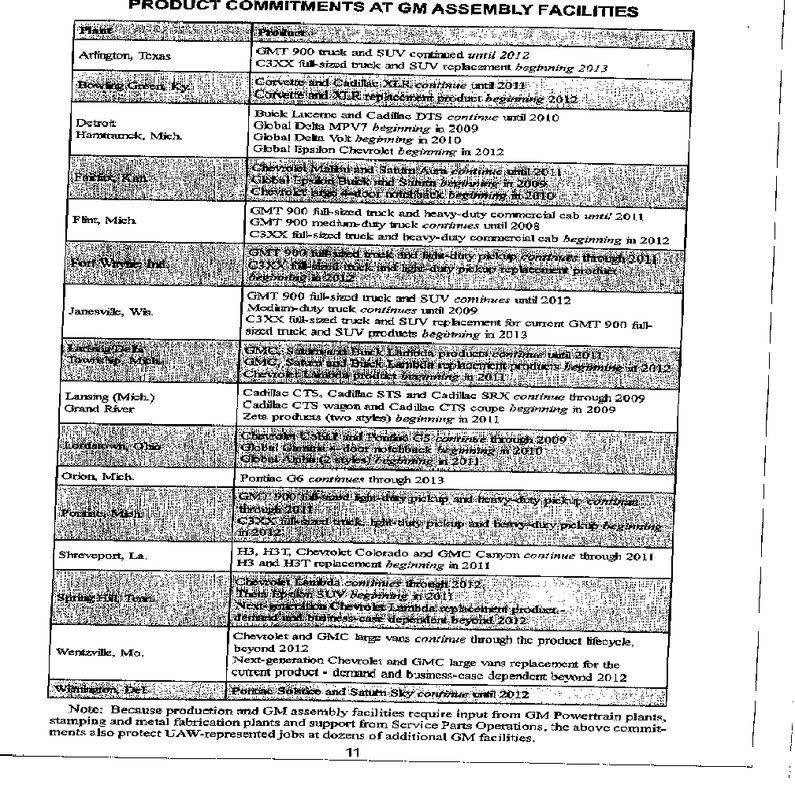 (Click on the image for larger version.)
Now to make much sense of what these commitments mean, it helps to realize that all that Greek is actually the language that GM uses to describe its auto platforms. Auto platforms are the basic model on which a car is built, and are shared across GM brands. They allow you to distinguish different car sizes from the product commitments I posted above. The big changes are at Hamtramack and Lordstown, but even the larger vehicle lines are going to be shrinking and there's a push to make hybrids a more or less standard feature on the bigger lines.
And the truth that everyone hates to hear is that in terms of marginal gains, improving SUV mileage is a much better policy option than pushing for smaller hybrids.
At 15,000 miles a year (assuming city driving):

2009 GMC Yukon 4WD

Fuel Consumption

Non Hybrid (12 MPG)=1250 gallons
Hybrid (20 MPG)= 750 gallons

Fuel Savings=500 gallons annually

2009 Toyota Camry

Fuel Consumption

Non Hybrid (19 MPG)=789 gallons
Hybrid (33 MPG)= 455 gallons

Fuel Savings=334 gallons annually

Figures from www.fueleconomy.gov
In terms of reducing consumption a GMC Yukon hybrid is nearly 1 1/2 times as effective than the same effect applied to a Toyota Camry. The cumulative effect is even more drastic. And if we are going to get serious about reducing fuel consumption in this country, rather than tearing hardworking folks down, we should be looking at something along the Cash for Clunkers program proposed by economist Alan Blinder than bitching about how GM and the UAW are at fault for the state of the American automotive industry.
Here's an example of how a Cash for Clunkers program might work. The government would post buying prices, perhaps set at a 20 percent premium over something like Kelley Blue Book prices, for cars and trucks above a certain age (say, 15 years) and below a certain maximum value (perhaps $5,000). A special premium might even be offered for the worst gas guzzlers and the worst polluters. An income ceiling for sellers might also be imposed — say, family income below $60,000 a year — to make sure the money goes to lower-income households.

The numbers in this example are purely illustrative. By raising the 20 percent premium, lowering the 15-year minimum age, or raising the $5,000 maximum price or the $60,000 income ceiling, you make the program broader and costlier — and create a bigger stimulus. By moving any of these in the opposite direction, you make the program narrower, cheaper and smaller.
I was actually trying to develop something along these lines to enter in a policy competition at a thinktank earlier this year. I like what Blinder has put forward, but I think that he fails to recognize a key aspect here, which is access to credit. If Blinder's plan were matched with a government guarantee to purchase a limited amount of the output of smaller, fuel-efficient vehicles being brought online by GM and Ford it could have two effects.
1) It would help underwrite the transformation of the American automotive industry in a way that wouldn't prompt WTO action. Under the WTO government spending is exempt from most trade litigation. So you can "protect" the American manufacturing base and well paying jobs without sending the WTO into a fit.
2) This can put a lot of money into the hands of lower income folks, who will most likely spend it, and in doing so boost the economy. It's a long term effect, because the savings at the pump occur every year. In short its a capital expense not a consumption expense.
And this can be matched to Dr. Blinder's program. Contract with GM and Ford to make an affordable hatchback cheap. Let's say $10,000. Government buying in volume can go a long way to driving prices down (and paying the cost for GM and Ford to retool their plants). So let's say we have someone come in with a 1987 Chevy Silverado. It's worth about $2,000. I'd say double the value. So you give the owner $4,000.
And then, you have a 6 year no interest loan on the remainder subsidized by the government. $6,000 for 72 at 0% is a monthly payment of something around $100 taxes and insurance included. And you can really help lower income folks out this way. Reliable transportation makes it much easier to find a better job.
And it helps to preserve what's left of the US auto industry by paying most of the transition cost for retooling plants to more fuel efficient vehicles.
And the point in the end?
Instead of bitching about what's wrong, why don't we talk about how to make things right?