Ah, the never ending word gotcha games of Election 2012. The Internets went abuzz with binders as a symbol of female oppression after the second Presidential debate. We even have Amazon office binder reviews being carpet bombed with political statements. While funny as hell, economic oppression of women is not so funny. Nor is it a word game.
What was the point of Romney's statement in the debate? The point was there are plenty of qualified women for high level jobs and it is up to employers to go out, find them and hire them. Frankly he's right. If you want to fix income inequality for women in this country, one must actually hire a woman for the job! What's so controversial about that? The bottom line for income inequality is this, do people put their money where their mouth is? Do employers hire women, give women opportunities and promote women into powerful positions? Words are cheap, paychecks are real.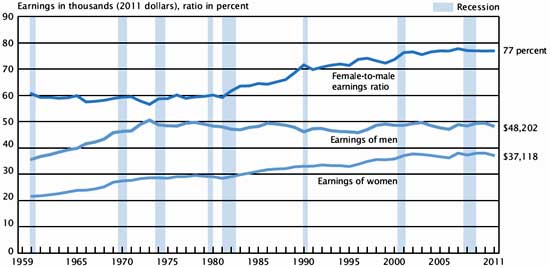 To show how cheap words are, lets point to some really startlingly statistics based on gender. It seems, single mothers really get the economic shaft.
For related children in families with a female householder, 47.6 percent were in poverty, compared with 10.9 percent of related children in married-couple families.
Having children without some guy around seems to be the economic kiss of death and what does that say about discrimination against women, especially single mothers?
The poverty rate and the number in poverty for related children under age 6 were 24.5 percent and 5.8 million in 2011, not statistically different from the 2010 estimate. About 1 in 4 of these children were in poverty in 2011. More than half (57.2 percent) of related children under age 6 in families with a female householder were in poverty. This was more than four and a half times the rate of their counterparts in married-couple families (12.1 percent).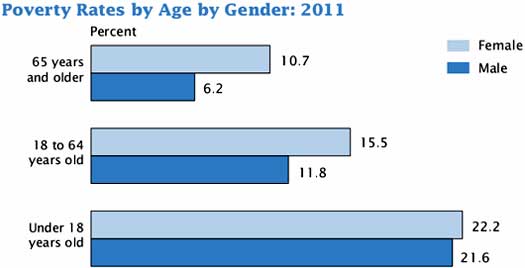 In 2011, 16.3% of women were in poverty in comparison to 13.6% of men. That same year, 31.2% of families with a female householder are in poverty in comparison to 6.2% of married families and 16.1% of a male householder. Jobs since the recession show a much deeper loss for men (blue), but for women (maroon), we see they are simply not gaining at the same rate as men are in payrolls.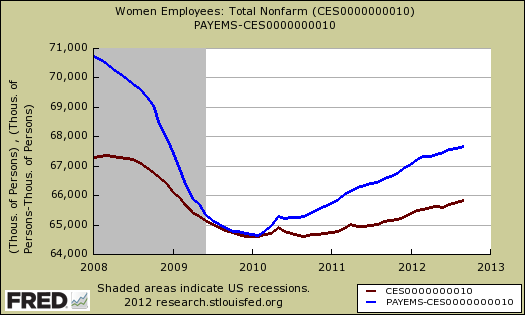 While these statistics are appalling it is expected that the Obama administration will bring up more sex discrimination cases.
The EEOC has pursued numerous high-profile enforcement initiatives during the current administration, and employers should expect those to expand during a second Obama term. Chief among them is aggressive investigation – and litigation – by EEOC of "class" and "systemic" discrimination claims. These involve claims brought by the EEOC itself on behalf of groups of employees, rather than a claim brought by an individual employee after investigation by EEOC.
Yet, there are so many other policies that are being neglected to really obtain economic equality for women and those are not mentioned on the political stage. Clearly we have hiring discrimination against single mothers from the above statistics and we have little outside help support for families with children generally.
This leads to another issue, the idea of turning our universities into green card ATM, otherwise known as stapling a green card onto diplomas of every foreigner who flashes a some sort of degree in the Science and Technology fields. Not only will this be a disaster for Americans who work in these areas, it will also corrupt our higher education system. Such a corporate lobbyist wish list agenda will also squeeze out further U.S. citizens wanting to study STEM from even getting into college. Yet the flooding of U.S. labor markets with more imported labor, something which both Obama and Romney spew lobbyist written talking points on, ignore discrimination against women.
Make no mistake, the excuses to not hire women in advanced R&D, Science & Technology jobs are many, including the galling practice of biasing technical interview questions. Bottom line, the more scientific and mathematical the career goes, the more stuck in the 1950's it is and the less women one will see in those fields. The dearth of women is not due to a lack of binders full of women for these jobs, it is discrimination, simple as that. Discrimination against women is buried under a layer of global labor arbitrage, yet there the ladies are, a talented, innovative workforce denied.
We have statistical denial even though 52% of women drop out of their STEM careers. Hostility is quoted as the reason women leave graduate school. These are statistics for those who managed to tough it out and get opportunities in the first place. Lord knows how many more were never even let through the door. Imagine how much worse sexism will be by importing more male foreigners, giving more slots in college to predominately male foreigners and more guaranteed jobs to male foreigners?
The statistics are appalling yet stopping sex discrimination in these occupational areas seems to never come up. How many studies does it take? Could it be binders full to show there is sex discrimination against women in many occupational sectors in the United States?
President Obama also has a fact problem. In the second debate he claimed outsourced jobs are not coming back because they're low-wage, low-skill jobs.
That is a fallacy. In fact the high paying jobs are the ones being offshore outsourced with advanced research and development jobs leaving in droves. It's not due to the lack of qualified personnel in the U.S. We have the best universities and training in the world for STEM and many of these people are women. What is coming back are low paying jobs. Most new jobs are in fact low paying ones.
If any politician really wanted to bring back high paying jobs, they would not only give a tax refund for companies who hired here, but they would go after those businesses discriminating against U.S. citizens, older professionals and U.S. domestic diversity STEM. That's blacks, Hispanics and ...women.
By binders or blunders, the bottom line is not only does the United States need U.S. citizens preferred in all hiring, they need to go after discriminatory employers and that....just might be that great political donor class of the sky, corporations and especially technology companies.