While the Wall Street Journal tries to claim software engineer is the best job, whistle blower Jay Palmer is blowing the lid off the dire straights most American technical workers are facing today. We have brazen labor arbitrage through abuse of the United States foreign guest worker system. American workers with college degrees, high skills and years of experience, are either fired or not hired. Systemically U.S. STEM labor is displaced and replaced by cheap foreign guest workers, some on immigration visas which are not even legal.
CBS News did a great segment overviewing how corporations are manipulating the system for profit and greed.
Infosys is now under federal investigation and of course shipping company employees out of the country to avoid depositions.
In what may be the most glaring demonstration of a calculated pre-trial housecleaning strategy to date, Infosys has made a sweeping change of personnel in its human resources operation in the United States. The overhaul includes the removal of key personnel who had responsibilities directly related to alleged illegal visa activity being investigated by U.S. government authorities.

The most recent U.S.-based senior HR official to be sent back to India is Poornima Prasad, who as Human Resources Business Leader was instrumental in running Infosys' HR operations in the Americas region, and in authorizing immigration-related activities from the company's Plano, Texas, office. Prasad's departure follows the quiet exits of Arun Silvester, Infosys' head of U.S. immigration, and Eshan Joshi, an associate vice president of human resources.
Yet Infosys is not alone in systemically displacing highly skilled and educated Americans with foreign guest workers. STEM worker displacement has been going on for some time and it's all about labor arbitrage. Just this week yet another lawsuit was filed against yet another Indian I.T. firm.
A former human resources manager at Larsen & Toubro InfoTech Limited Inc., a leading India-based IT services firm, accused the company of visa fraud in a complaint filed this week in a federal court in New Jersey.

Mumbai-based Larsen & Toubro is a major user of H-1B visas, ranking fifth last year on the list of largest visa users. The company had 1,608 visa approvals in 2011, according to the U.S. Citizenship and Immigration Service.
The surprise is finally people are standing up and filing lawsuits. Previously people were forced to train their replacements, shuttered from high paying careers to working at home depot as retail sales clerks.
Overall tech jobs have actually shrunk in the United States. A new report shows, tech jobs actually declined much more than the national average and these employment figures include foreign guest workers in the count. The BLS table below shows how much in Massachusetts and the United States, STEM employment has declined.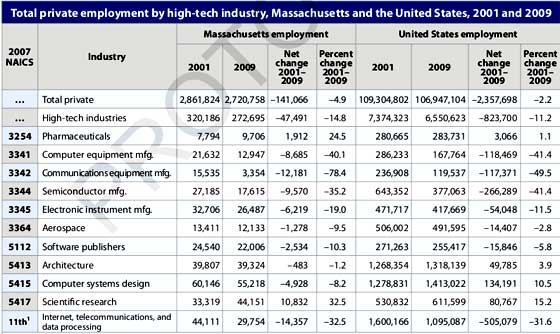 Literally an entire high tech industry, communications equipment, was lost by 2009. The below BLS charts shows how Silicon valley not only has never recovered from dot con, they also offshore outsourced the jobs.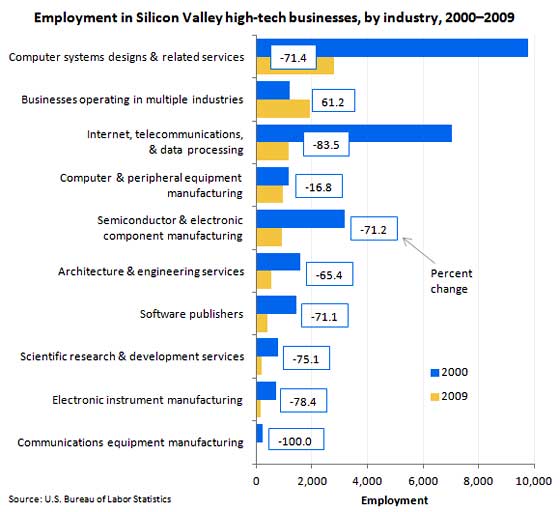 In spite of overwhelming evidence, the never ending lobbyist chant claiming there is a tech worker shortage drones on and on. Most recently tone deaf VP Joe Biden added insult to injury, even after President Obama was caught red handed spinning the same tall worker shortage tales.
Obama promised this guy a job after getting nailed in a lie during a online interactive media event. Out of work engineer Wedel's wife confronted Obama about her husband's jobless situation, at which point Obama promised to help, Seems Wedel was displaced by a H-1B foreign guest worker even while possessing advanced skills. To make matters worse, he cannot leave the North Texas area due to a custody legal ruling by the courts. While Obama promised to find Wedel a job, after all he's clearly highly skilled, surprise, he's still out of work months later. Some shortage huh?
Palmer, by the way, is a hero. Literally, since Infosys cannot fire him, it would be clear retaliation, they are instead psychologically torturing him for blowing the whistle on their Visa fraud and abuse. We need more Palmers in the world and far less media plants claiming there is a worker shortage.