With Spain now getting a bail out all to pump up their insolvent banks, one might wonder how did we get here in the first place?
We actually are on the precipice, with a key critical Geek vote on whether or not they will default on their international bail out. Sitting on the edge of a cliff, a review of the European sovereign debt crisis and how we got here is at hand.
What the hell happened is complicated. Greece is not the same as Ireland, nor is Spain the same as Greece. Ireland's sovereign debt crisis was the direct result of their financial crisis. Greece, on the other hand, had long standing structural problems with their economy. Nor are their economies the same although treating them as such originally was part of the problem.
The St. Louis Federal Reserve Research Director Christopher Waller gave a presentation on the the European Debt Crisis. The entire May 8th, 2012 lecture is below. The focus is on debt to GDP ratios, the European Union and interest rates for sovereign bonds. We learn about the European Union's major financial structural problems versus how exactly the debt happened. There are plenty of specifics and this lecture is concise, accurate in it's scope. If you don't understand European Sovereign Debt fundamentals, watch this lecture in full and you will.
As we can see the real economic contagion threat to Europe are Spain and Italy, now coming right at us. The above lecture's fundamental question of why Germany and France did not simply buy up Greece's debt in the first place, for it was a way cheaper solution, goes unanswered. Yet, here we are on the true economic tsunami 2nd wave, Spain. The third wave is Italy and as in all tsunamis, it's usually the 3rd wave that's the killer.
We should point out the above lecture never mentions the sovereign debt solution to grow one's way out of massive deficits. Another flaw in their presentation is the lack or the characterization of the debt itself. Some debt is stupid and inept, the responsibility of that country. Other debt was caused by financial derivatives and points to financial reform as a key solution to reduce sovereign debt.
The massive unemployment rates and grinding to a halt of these economies isn't mentioned either. Literally Waller comments on how the Irish just grumbled and went back to work when austerity was enacted. Greece on the other hand is pretty much in revolt. Well, well, let's state the obvious. Ireland still has a few jobs to go to, Greece does not. May we suggest not worrying about political unrest and start worrying about collapsing economies under the weight of such heavy handed austerity demands.
The harmonized levels of unemployment in PIIGS, Portugal, Ireland, Italy, Greece and Spain, is astounding and shown in the below graph. Spain's unemployment rate is 22.1% (maroon), Greece is off the charts with a 21% unemployment rate (red), Portugal's unemployment rate is 15.0% (orange) and Ireland's unemployment rate is 14.7% (green). Italy's unemployment rate is 9.3%, not yet hit with bail outs and austerity.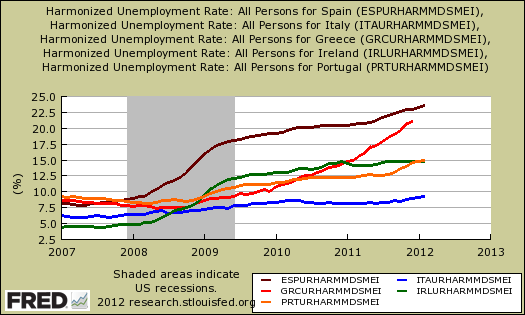 Sovereign Debt: A Modern Greek Tragedy, there are cited some astounding statistics on Italian debt:
Italy has about €1.9 trillion of debt outstanding, of which 50 percent is held externally. Furthermore, Italy needs to roll over more than €300 billion euros of debt in 2012, an amount greater than the entire Greek debt! Complicating matters is the fact that Italy has had essentially zero economic growth over the past decade; thus, it has not been able to reduce its debt burden through income growth.
Did you know Greece and Ireland combined has less GDP than Pennsylvania? This is why these countries are the first tsunami wave. Their ripple effects are small in comparison to Spain and Italy. They are the first tsunami wave.
Greece's GDP (measured in U.S. dollars) was about $300 billion in 2010, while Ireland's was approximately $200 billion. Their combined GDP is less than the GDP of Pennsylvania.
Below is a graph of Greece and Portugal's GDP. Beyond noticing both national GDPs are below €200 billion, see how Greece has literally imploded, shrank? That's austerity in action.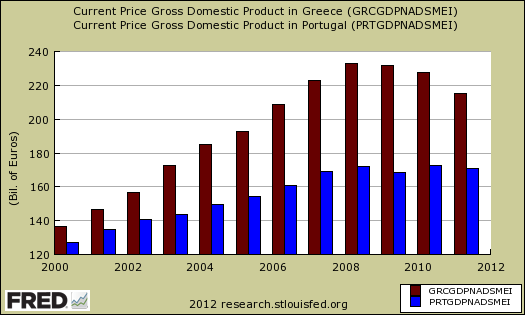 Now compare the above to the real GDP's of Ireland (bright red), Italy (maroon) and Spain (blue) below, we're talking billions vs. trillions in GDP. This is what's coming at us, economies of size, having sovereign debt crises. In the case of Spain, their trauma is once again spawned by a financial crisis and the Spanish government absorbing the debt of the banks. Notice how Italy's real GDP is larger than Spain's.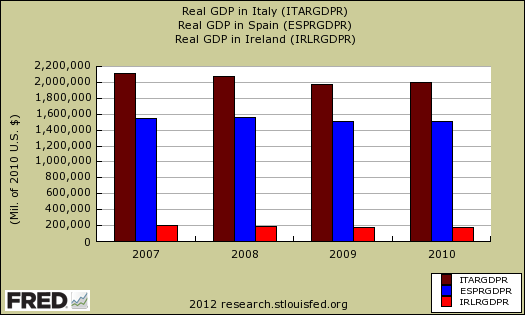 That said, Italy did not get sucked into a residential real estate bubble and corresponding bank implosion. Yet Italy's total debt is over is twice as large as Spain.
This is why Spain's glorified EuroTARP is such a big deal. Spain is truly the tip of the contagion iceberg and the real crisis may just be starting to unfold. Spain's recent bail out is like Europe's last stand against a contagion flood. Will the gates hold?