Just unbelievable. Seems by hook or by crook Obama is doing exactly what his corporate donors demand he do. That's import more foreign workers to take American jobs.
The latest is in a faux pas agenda that is being sold as a manufacturing policy. Contained within Obama's lobbyist white paper being presented as a report we have this:
Expand the number of high-skilled foreign workers that may be employed by U.S. companies.
Let's see, we only have more Science, Technology, Engineering and Mathematics (STEM) college graduates than the U.S. can employ and it is well documented foreign workers are used to labor arbitrage U.S. workers. There are currently about 200,000 tech workers needing a job and that does not count the hundreds of thousands forced out of their careers by foreign guest workers and offshore outsourcing.
Even worse, we have policy that one can cut and paste from a Microsoft lobbyist white paper wanting to expose more U.S. Engineers to displacement, age discrimination and layoffs:
In addition, the United States must continue to draw the best talent from abroad. In the near term, steps must be taken to expand the number of available H1­B visas for those with advanced education in sci­ence and engineering. Due to the stringent constraints on visas, tens of thousands of highly qualified graduates of U.S. colleges and universities return to their home countries each year. U.S. companies have tremendous need for such workers. Moreover, foreign ­born scientists and technologists greatly contribute to the U.S. economy by starting enterprise here. Roughly one­ third of start­up firms in Silicon Valley are started by foreigners.
It is simply not true that one third of Silicon valley companies, actually making something, are started by foreigners, trying to imply those foreigners come over on corporate sponsored guest worker Visas. Most who are foreign born, came to the United States as children and are de facto, American, U.S. citizens. Additionally, what's missing is the many U.S. citizen inventors laid to waste because they are too busy scrambling to make rent, eat are not supported to form new start-ups, businesses.
Also included in that tally are a host of body shops, where the start up business, is all about displacing U.S. workers and shipping work abroad.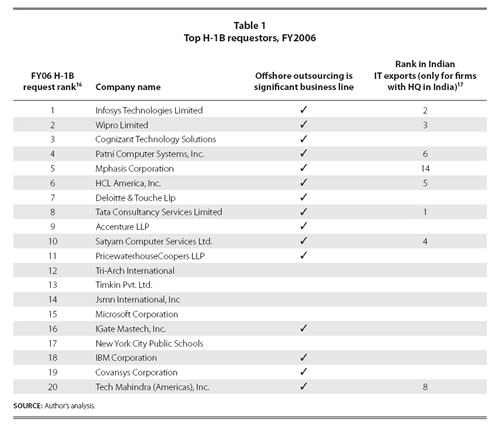 These same corporate lobbyists have been trying to get unlimited Visas into the United States for years. Since comprehensive immigration reform has failed, it seems now they are hiding their U.S. worker displacement program in a so called manufacturing policy. Microsoft, for example, fired 5000 engineers all the while lobbying for more foreign guest workers. G.E., IBM, HP and many others have actually increased their workforce abroad, while laying off U.S. workers or not creating jobs here. Yet here they are, having the President of the United States present a global labor arbitrage agenda as something to help U.S. manufacturing.
Expand the number of high-skilled foreign workers that may be employed by U.S. companies. This can be done by such policies as allowing foreign students that receive a graduate degree in STEM from a U.S. university to receive a green card, allowing each employment-based visa to automatically cover a worker and his or her spouse and children, and increasing the number of H1B visas.
The reality is more and more people were either forced out of their STEM careers or simply won't go into it in the first place. Why? Because while these fields require hard work, brains, years of dedication and study, those efforts are not rewarded. Instead, U.S. STEM are exposed to labor arbitrage, offshore outsourcing and displacement through H-1B Visas. Literally, 53% of all women who graduate in STEM are forced out of their careers in 10 years, 53%! Finding a Black engineer in Silicon valley is an exercise in Where's Waldo.
Instead of demanding U.S. manufacturing hire U.S. citizen workers, we have Obama proclaiming more labor arbitrage, more U.S. worker displacement will create jobs. This is precisely the opposite of what even the GAO has found.
Unbelievable, no wonder we have a 9.1% unemployment rate.
The rest of Obama's agenda doesn't focus on actual manufacturing, instead it's about technology transfer between academia and the private sector. In other words, taking publicly funded research results and handing them over to private companies, or privatizing them. That's not manufacturing.
Manufacturing means we make stuff here. It's production, and one of the few industries that scales to create enough jobs to turn the United States around.
Obama's agenda, on the other hand, is about research and development. Just as Apple offshore outsources the jobs which actually manufacture their products, the same will happen with this new agenda. We will pay taxes and give subsidies to corporations. They offshore outsource the resulting jobs.
That's not a U.S. manufacturing policy designed to invest in America and hire Americans.