Multinational corporations are one trick ponies when it comes to their agenda. By hell or high water they want to offshore outsource jobs and have controlled, unlimited migration per their globalization agenda.
It should be no surprise when putting these same greedy bastards in the White House who outsource, they publish a faux job creation agenda. Such is the case of the latest report.
Instead of hire America, buy American or a manufacturing policy, we get these multinational's typical labor arbitraging agenda wish list. The corruption is so bad, literally corporate lobbyists' economic and statistical fiction is used in this report. Probably the most debunked economic fiction spinner of them all, the NFAP, is used. The NFAP is also these very multinational's personal white paper spin machine.
Guess what folks, labor arbitraging U.S. professionals does not create jobs, it loses jobs. The statistics show it and anyone with a 2nd grade education would know this to be true. You fire people, that is a job loss, not a job gain as this jobs agenda report tries to claim.
Multinationals, headed by G.E., want to import foreigner workers and to do so they tout, literally a pack of lies in their demands report. Lie #1 is bold faced, a claim there is a talent shortage. There is not a talent shortage. These multinationals want foreigners for the purposes of global labor arbitrage. They believe foreigners enable them to bridge between the United States and Emerging Economies (China, India, Asia), plus enable wage repression, continue their disposable worker syndrome, repress competition, all the while hopping around the globe, moving jobs to cheap geographical locations on a whim.
Yes, this report is connected with the President of the United States and yes, it's pure absolute bunk and spin.
A favorite trick is to use the college degree unemployment rate in comparison to the high school graduate unemployment rate. This is a fictional comparison. The reality is the college educated unemployment rate has over doubled what it should be.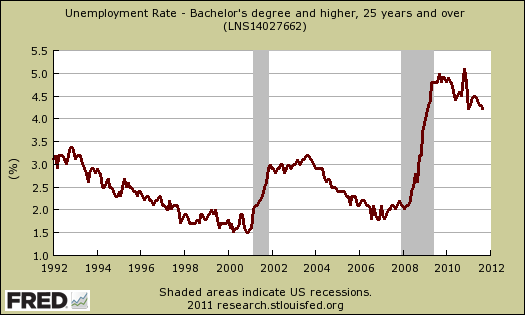 Again, There Is No Talent Shortage. U.S. citizens are more than capable and very obviously at this point, need the jobs. Here are the lobbyists demands and they are even inventing more visa alphabet soup to do it:
Granting automatic green cards or provisional visas to all foreign students after they earn a STEM degree from a U.S. university
Establishing a new provisional visa program for immigrant entrepreneurs
Fully implementing within two years the August 2011 immigration initiatives regarding EB-2, H-1B, EB-5 and E13 categories, primarily around speeding up the process for making visa decisions;
Increasing, by a factor of at least four, the number of entrepreneurs from other countries allowed entry into the United States, mainly though expansion of the EB–5 program.
The above will squeeze out U.S. citizens from STEM degree programs, flood the labor market with even more offshore outsourcing firms and squeeze out U.S. citizen entrepreneurs from obtaining investment and loans for their own start-ups. Of course discrimination will be rampant with older STEM specialists not being able to get any job in their field, never mind a guarantee U.S. citizen inventors and innovators will unable to get funding, especially women and minorities.
It's so bad, if Steve Jobs came back reincarnated as an older black women, you can bet he wouldn't get a dime from these people to form a start-up.
The United States has third largest population of the world:
Through 2050, the United States is projected to remain in third place behind India and China among the world's most populous countries, according to the U.S. Census Bureau.
Clearly we have more than enough people to spawn the latest geniuses, as if one believes genius is in the genes, instead of culture, financial and societal supports. In other words, a strong middle class has been proven to spawn innovation and invention, not some innate race, sex or age.
There was a hearing by the Senate Judiciary Subcommittee on Immigration, Refugees and Border Security titled, The Economic Imperative for Enacting Immigration Reform. Bear in mind some hearings are often really propaganda where invited corporate lobbyists spew like fountains, under oath, a pack of statistical lies. Unfortunately, testimony representing actual real live U.S. Citizen engineers has become a token exercise at these Congressional hearings. In this one, Ron Hira stepped up to the plate as the token U.S. STEM professional representative, to a degree. Here's the first fact and Hira actually uses real live government statistics:
According an analysis of BLS data by IEEE-USA more than 300,000 American engineers and computer professionals are unemployed.
Gets worse. Currently offshore outsourcers are abusing an on the job internship training program designed for U.S. Scientists and Engineers, OPT, for foreigners instead of Americans. OPT has been co-opted as yet another avenue of cheap labor.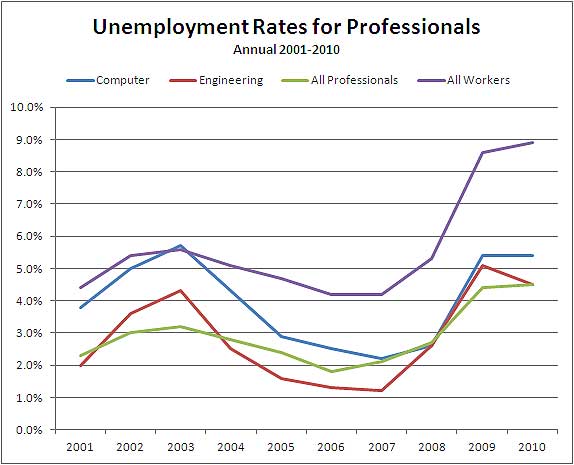 Above is a graph of unemployment rates, which shows unemployment rates for computer engineers is higher than all professional workers. When answering questions from Senator Chuck Grassley, Ron Hira gives the above STEM employment statistics and proves, there is no tech worker shortage:
The unemployment rates for computer and mathematical occupations, the largest of all STEM occupations, had unemployment rates of 5.2% in 2009 and 2010, which are more than twice the levels at full-employment. In 2010, the 5.2% unemployment rate for computer and mathematical occupations exceeded those for college graduates, which was 4.7%. So, just like college graduates, computer scientists and software engineers are also experiencing a jobs recession – too many skilled workers are chasing too few jobs.

Many other STEM occupations exhibit a similar pattern. For example, electrical and electronics engineers had an unemployment rate of 5.4% in 2010, and Medical scientists had a rate of 4.1%. The U.S. does not currently face a broad-based shortage of STEM workers. Instead there are too few jobs for those skilled workers.
Engineer after Engineer and Scientist after Scientist have spoken out on how their hard earned skills and talent are being laid to waste.
To trim expenses, companies began to outsource research to India and China. It started as a trickle, but soon became a tsunami, leaving many thousands of highly intelligent and well-trained professionals with nothing to do -- a shameful waste of talent.

My colleagues and I at Wyeth watched helplessly as one company after another shed employees in huge numbers -- 300,000 since 2000. When Pfizer -- facing the looming expiration of its Lipitor patent and a poor research pipeline -- bought Wyeth for its portfolio of products in 2009, it cut about 25,000 jobs, with more to come.

Most of the combined company's research sites have either closed or are in the process of doing so. Before long, the world's largest pharmaceutical company will be conducting very little research in the US.

So, what do thousands of unemployed chemists do? Good question. The employment section of the latest (June 13) issue of our trade magazine, Chemical and Engineering News, is hardly promising. It lists a total of one industrial position and two college tenure-track faculty openings in the US. (Of course, there are online sites with more jobs, but the situation there is still bleak).

And good luck finding a high-school teaching job. Last year, one of my old colleagues decided he wanted to teach science in New Jersey -- but found out that not a single position was available in the entire state. Previous industry casualties had probably filled the few openings.
That's right, PhDs, research scientists, innovators, patent holders are having their jobs offshore outsourced and they are entering the bread lines. These are the innovators, the ones who built up these industries in the first place and this is their thanks. Microsoft laid off 6,000, Intel, G.E., pretty much all of the corporations who issued this report, have fired U.S. STEM workers and offshore outsourced. G.E. only brought back a few token manufacturing jobs when they could pay workers $13 bucks an hour.
This NPR interview, complete with more statistics, with a 67 year old tech worker, shows some ugly truths about age discrimination. It's very obvious he cannot get a job due to his age and if you listen closely to the interviewer, the discriminatory attitudes towards older workers is pervasive in the U.S. No one could work in the Scientific or Technical fields for more than 5 years if they did not continually learn new technologies and skills for they would be completely out of date. Continual learning is part of the occupation. Age has nothing to do with that ability.
This song below, along with a website, says it all. Millions of Americans, including patent holders, have had their jobs offshore outsourced and kicked to the curb.
The claim these corporations cannot find workers is pure fiction. It's a beyond the pale lie at this point, and is an excuse to age discriminate, discriminate generally, labor arbitrage, offshore outsource, flood and control the labor supply.