New durable goods orders and new single-family home sales both fell sharply in February as recession worsens challenging the Presidential candidates
Two economic reports from the Census Bureau today reflect the deepening recession and an urgent need for the Presidential candidates to get serious about how they will address what could be a long and severe recession with lasting consequences.
Even with prices rising sharply, the nominal value of new orders for durable manufacturing goods fell another -1.7% in February after plunging by -4.7% in January. Nominal values of new durable orders is now down -8.6% since last July to the lowest levels since March 2007.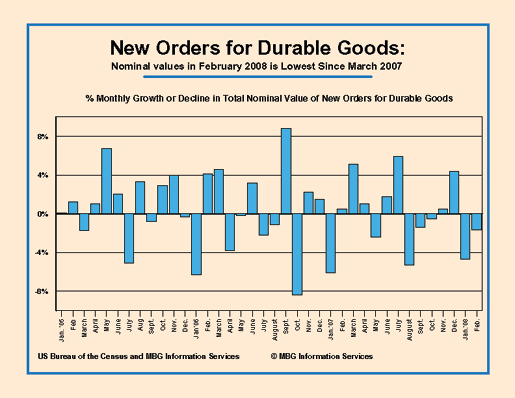 Excluding volatile orders for transportation equipment (especially Boeing's commercial jets) the value of durable goods orders plunged -2.6% in February after falling -1.0% in January. New orders have fallen sharply in four of the last five months to nominal levels now the lowest since February 2007.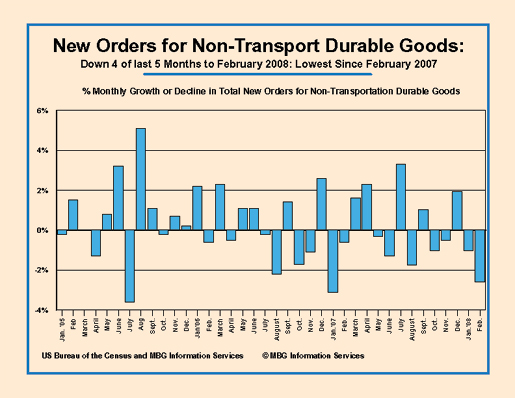 The value of new orders in the troubled motor vehicles and parts industry plunged another -2.7% in February, are now down -5.2% yr/yr and have reached the lowest nominal value since October 2001 – before the end of the previous recession.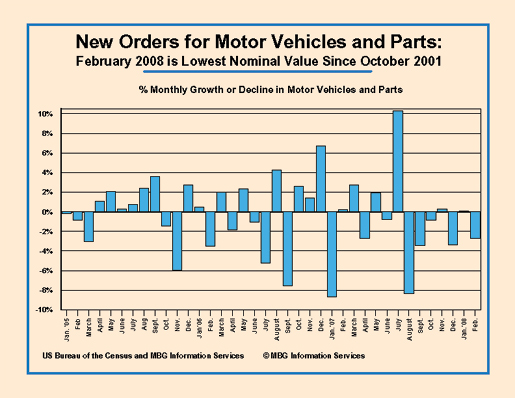 New orders for the closely-watched category of Non-defense capital goods less aircraft plunged another -2.6% in February after falling -1.8% in January, suggesting that the virtual stagnation of new business investment since mid-2007 may have turned to decline.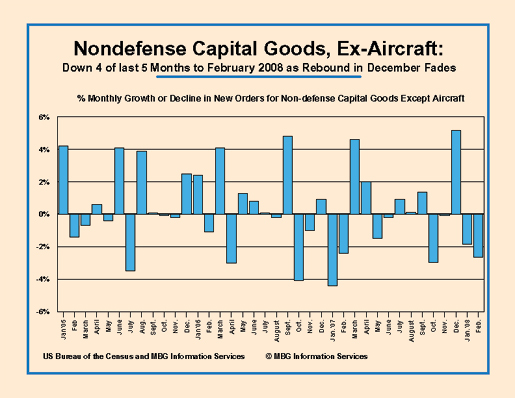 Census also reported today that new single-home sales fell another -1.8% in February after falling -1.6% in January, and are down -29.8% yr/yr. Declines in sales for November, December and January were revised to show less decline than had been previously estimated but this revision is entirely based on changes to seasonal adjustment factors; the unadjusted sales data were not revised.
The data does show that the yr/yr decline in sales was less severe in February than in January (-29.8% vs. -32.5%) and the yr/yr decline in prices moderated sharply. Median and average prices were down -11.3% and -10.2%, respectively in the yr/yr to January but only by -2.7% and -7.8%, respectively yr/yr to February. Although the months of supply of unsold inventory remained at a recent record of 9.8 months in both January and February, even one month's suggestion that the rate of sales and price declines allow for a little hope and further attention.
But the message of today's economic reports is consistent with plunging consumer confidence, declining real consumer spending, the loss of jobs and falling wages. Raining "rebate" checks on deeply indebted households will certainly be welcomed but the economy has been juiced on trillions of dollars in debt stimulus for so long that a little more will be quickly digested. So far, none of the Presidential candidates appear to understand that – if successful – he/she will inherit a federal government with a soaring, $10 trillion debt and households with near $15 trillion in debt, no current savings and facing relentless cut-throat import and outsourcing competition for their jobs.
Proposals limited to tinkering with more tax cuts or re-training already look ridiculous to many voters and are likely to look even less sufficient this time next year.