The June 2010 ADP private employment report is out with a paltry 13,000 job increase. The ADP reports on private sector jobs, no government, or federal jobs are counted. The ADP reports excludes temporary Census jobs, which are government jobs.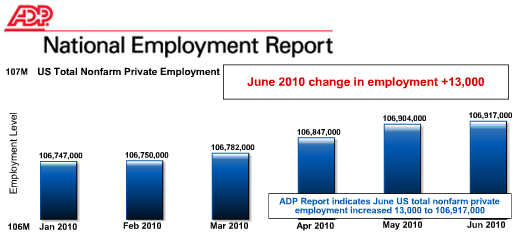 What's even more ominous, ADP suggests we have an drop off on job creation.
Recent ADP Report data suggest that, following steady improvement through April, private employment may have decelerated heading into the summer. The slow pace of improvement from February through June is consistent with other publicly available data, including a pause in the decline of initial unemployment claims that occurred during the winter months.
Below is the by sector breakdown of the report. The sector that would create good wage jobs, the good producing sector, is going the wrong direction. It declined -17,000 in June. Construction is still losing jobs, this month 35,000, and so is the financial services sector, -10,000.
June's ADP Report estimates nonfarm private employment in the service-providing sector rose by 30,000. Employment in the goods-producing sector declined 17,000 during June while employment in the manufacturing sector increased 16,000, the fifth consecutive monthly increase.

Large businesses, defined as those with 500 or more workers, saw employment increase by 3,000 and employment among medium-size businesses, defined as those with between 50 and 499 workers increased by 11,000. Employment among small-size businesses, defined as those with fewer than 50 workers, decreased by 1,000 in June.*

In June, construction employment dropped 35,000. This was the smallest decline since July, 2008. This drop marks 3 years of monthly decline, and brings the total decline in construction jobs since the peak in January 2007 to 2,226,000. Employment in the financial services sector dropped 10,000, resulting in over three years of consecutive monthly decline.
According to ADP, the average job creation for the last 5 months was 34,000 per month. It takes (including government jobs) at least 200,000 (lowest estimate 150,000) jobs per month just to keep up with workforce population growth.
I want to show the below chart, taken from the ADP report. The below shows the percentage change of job creation each month. While the U.S. population and workforce population increase each month, for an entire decade we have anemic job growth. Notice there isn't a blow out job growth month for an entire decade. If this isn't a hint there is something very structurally wrong with the U.S. economy, I don't know what is.