ADP's private unemployment report for September is showing -39,000 private sector jobs were lost for the month.
ADP is stating the obvious, in no uncertain terms. There simply is no job growth.
The decline in private employment in September confirms a pause in the economic recovery already evident in other data. A deceleration of employment occurred in all the major sectors shown in The ADP Report and for all sizes of payroll. The September decline in employment followed seven monthly increases from February through August. However, over those seven months, the average monthly gain in employment was 34,000. There simply is no momentum in employment.
Here is a breakdown of their private sector employment numbers. ADP does not collect data on any government jobs.
Services: +6,000
Goods: -45,000
Construction: -28,000
Manufacturing: -17,000
Financial: -13,000
Across business size, medium and small businessees each lost -14,000, while large businesses shed -11,000 more jobs.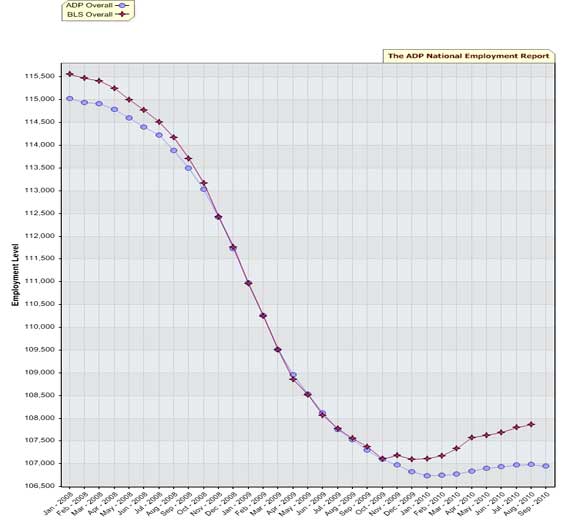 Additionally, ADP revised the previous month's report of August to show a net gain of +10,000 jobs.