Did you know 72% of all employers claim they cannot find qualified candidates to fill positions? I kid you not! Below is a clip from the usually sane Dylan Ratigan show that had me throwing shoes at the screen. Bill Clinton, no less, is making this claim. It's ridiculous.
Do these statements have any validity? The claim that there is a skills shortage in America? No.
Firstly we have never ending horror stories on employers and their discrimination tricks:
A surprising number of Craigslist job ads are automatically disqualifying the long-term jobless by including the stipulations, "Must be currently employed," "No unemployed candidates will be considered," or "must have been employed within the last 6 months." Other job postings specify that if an applicant is recently unemployed, he or she should include a "good reason" for his or her layoff along with a resumé.
Right there, employers are out of the box rejecting people needing a job, because....they need a job.
The reality is job losses are across the board. Below is an animation of the percentages different industries make up of the total job market. Across 12 sectors, the animation moves from September 2006 to September 2010.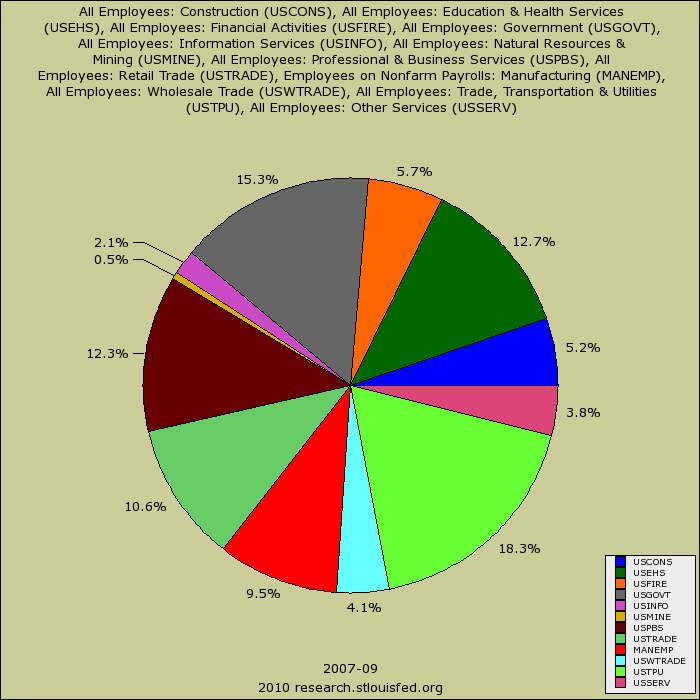 Notice while construction has shrunk (blue), originally it wasn't that large of the labor market in the first place. Manufacturing on the other hand, (bright red), has shrunk significantly. Notice that the skills of the future, information (pink), has shrunk this recession. Most industries associated with trade have shrunk. The point of this animation is to show, in terms of percentages, there really is not any major structural change to the labor market and types of jobs. There just ain't any jobs.
Boston Federal Reserve President, Eric Rosengren, gave a speech speaking directly to the state of the job market today. He says the problem is a demand one.
In rather stark contrast, the most recent recession is far less a reflection of dislocation in a few industries but rather reflects a general decline in almost all industries. As the chart [reproduced below] shows, in this recession there has been a peak to trough loss of employment of 5 percent or greater in construction, manufacturing, retail trade, wholesale trade, transportation, information technology, financial activities, and professional and business services. To me, this does not suggest that the driver is structural change in the economy increasing job mismatches – although no doubt some of that exists – but instead I see here a widespread decline in demand across most industries.
While we have Pundits and even former Presidents claiming there is a skills shortage, from Rosengren's speech, we have proof positive companies are not having a hard time finding the right type of skills. Below is a graph, from the Boston Federal Reserve, showing the current difficulty reported from businesses on finding workers. Notice it's at record lows.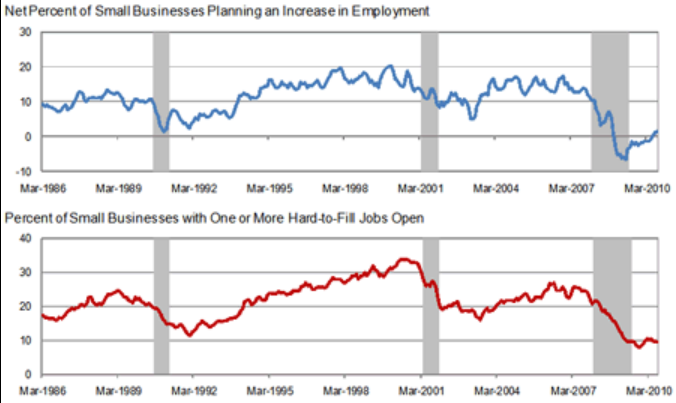 Of course it is absurd to claim America has a skills shortage. We have sky high unemployment rates, across the board, relative to their past rates, with highly skilled and educated people.
Below is a graph from Rosengren's speech which shows industry structural jobs change during this recession, along with past recessions.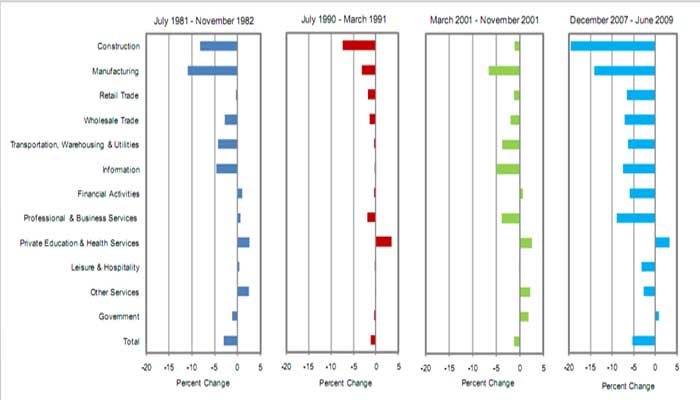 Notice how information and manufacturing started to be decimated with the China trade agreement and advances in telecommunications. This is when the great offshore outsourcing of jobs started, in 2001.
Below is the graph for the lowest unemployment rate (official), college graduates. It is over double what it was at the beginning of this decade and this is for people with some work experience.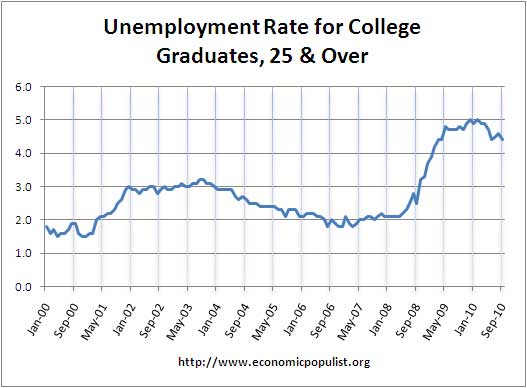 Rosengren makes this observation:
The first year of the recovery has an employment pattern similar to shallow recessions, indicating just how weak the recovery has been so far.
While the NBER claims this is a recovery cycle, most notice the job market hasn't quite got the message. Could this be similar to 2001, where labor arbitrage was enabled on steroids? 2.4 million jobs were lost to China from 2001-2008 alone and the tech related people in Silicon valley numbers dropped by 50%. These people were pushed entirely out of the field, their jobs offshore outsourced, under the excuse of the dot con bust.
While Boston Fed's speech is on the total labor market and further action recommendations for the Federal Reserve, the claim there is a skills shortage is simply insult to injury.
EPI estimates half a million jobs will be lost to China in this year alone.
Offshore outsourcing companies are seeing double digit growth:
India's big three software outsourcing firms are set to regain double-digit growth rates during the second quarter, as customers in the US and Europe revive technology spending for addressing new markets and start offshoring their IT and back office projects to halve their costs.

Tata Consultancy Services, Infosys Technologies and Wipro, which count Citibank, Dow Chemicals, JP Morgan and BP Plc among their top customers, are expected to grow their quarter to September revenues by around 20% compared to the same period last year, at least five analysts tracking the sector told ET.

"We are getting 'large deals' , but maybe not as large as we would like. We are getting discretionary and transformation deals. In some sense, it's business as usual in the short term but we have to wait and watch over medium to long term," said S 'Kris' Gopalakrishnan , chief executive of Infosys.

He added that Infosys has started adding customers in US and Europe. "We traditionally define large deals as $100 million-plus for outsourcing deals and $50 million-plus for transformational deals—it's lower than that at this point," said Mr Gopalakrishnan.
Public citizen gives us a new layoff tracker, showing job losses directly related to trade and offshore outsourcing.
The AFL-CIO has put together a new website and database, which allows you to see who is exporting jobs by zip code.
Those of us in STEM know what skills shortage really means. It means enabling more outsourcing, more foreign guest workers and more immigration. The evidence is overwhelming these techniques labor arbitrage Americans and give a strong disincentive to even bother with difficult subject areas such as engineering. Why bother to bust your butt on difficult topics when your career won't even start or be gone due to labor arbitrage and discrimination in 10 years?
There is no skills shortage, there never was a skill shortage. There is a shortage of good employers who do not discriminate, age discriminate, ship jobs to India, China, Brazil and treat their workers like cannon fodder. There also is a shortage of jobs, pure and simple. Put U.S. workers first. Demand these employers quit their inane, harsh, wage repressing, discriminatory labor practices. Put a few of of these traitorous employers in jail and sue 'em. Deal with trade and offshore outsourcing, invest in America and Americans. Then and only then will we might actually get somewhere to putting people back to work.
Stop the bubble mentality and get America back to producing things again. Real goods, real services, not Dutch Tulip bulbs, financial fiction or quarterly cost reductions.
During WWII and throughout the history of the United States, employers trained their own workers. At the height of the depression, employers trained their workers. They even sent them to college. Nowadays large corporations want prefab workers for $10/hr that they can dispose of like a fast food wrapper. This mentality must change and it could by passing legislation as well as enforcing current labor law.
Government must force employers, particularly large, multinational corporations, to hire America. It is their patriotic duty as well as vital to our economic future for employers to provide jobs to all Americans.