Originally published in a collection of opinions on the question Is Financial Globalization Beginning A Process of Reversal? (pdf) The collection notes The European Banking Sector is 65% of all global banking.
Globalism is a conspiracy against First World jobs. It is the process by which capital extracts surplus and appropriates the earnings of labor. By moving offshore the production of goods and services for the home market, corporations benefit from labor arbitrage. Because of large excess supplies of labor, corporations can hire employees in China, India, Indonesia, and elsewhere at wages below the value of the marginal product of labor, thus raising the returns to capital.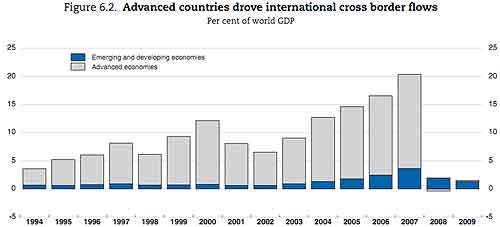 Source: OECD, Economic Outlook 2011
If globalism reverses, it will have little to do with capital adequacy, deregulation, and sovereign debt. It will have to do with the fact that corporations, by offshoring jobs in pursuit of short-run profits, have undermined domestic First World economies by moving countries' GDP, tax base, consumer incomes, and career opportunities to developing countries.
The extraordinary debt leverage and fraud made possible by financial deregulation produced the financial crisis. The crisis of globalism is the inability of First World economies to produce new jobs other than in domestic non-tradable services.
As Michael Hudson has shown, the response to the debt crisis is to shift the costs of the mistakes made by banks and governments onto the backs of ordinary people. Thus, the large and persistent protests in the streets of Greece and Spain against allegedly "representative" governments for implementing the bankers' policies that reduce the living standards of people in order to protect bankers and their shareholders from losses.
It was ever thus. In his classic history, The Rise And Fall Of The British Empire, Lawrence James writes that the Anglo-Egyptian War of 1882 was perceived "as having been foisted on the government by a clique of investors. Sir William Gregory, a former Tory MP and governor of Ceylon, argued that,

We are the only nation which had an honest sympathy with the unfortunate peasants of the Nile Valley, and yet we are forced to be the n-word-drivers, the administrators of the lash to exact the last piastre from these poor wretches for the benefit of bondholders.
Today economists are allied with globalists to drive wages to subsistence levels and to privatize for the benefit of the banks and their customers the remaining areas of public domain. To quote Hudson, globalism and financialization (the drive by the financial sector to absorb the entire economic surplus in the form of profit, interest, penalties, and fees) are
economic warfare by non-military means.
This article originally appeared in the summer 2011 edition of The International Economy