Everybody has heard the reason manufacturing goes to China and services jobs are offshore outsourced to India is cheap labor. Well, there appears to be more than a grain of truth to this claim. The BLS maintains an international labor comparison statistics site. Manufacturing labor costs in China and India are 4% of the United States for 2009.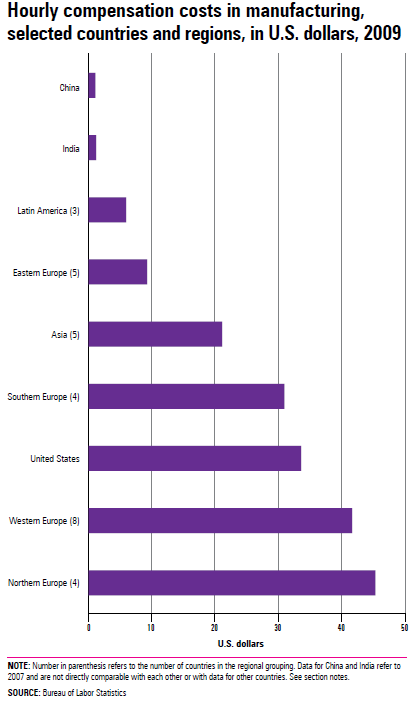 At the same time though, European labor costs are much more than the United States and one of the reasons Germany's economy is so strong, is their exports and manufacturing sector. Germany clearly has bucked the trend, yet the below percent change for 2009-2010 in manufacturing unit labor costs graph, shows other nations are lowering wages. The great labor arbitrage race to the bottom looks full on.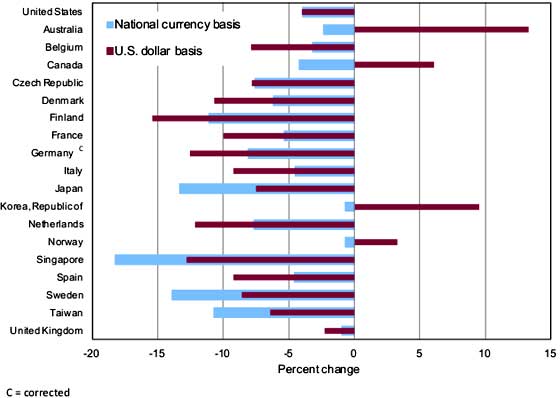 The reason unit labor costs dropped like a stone is actually the U.S. dollar exchange rate. The U.S. dollar strengthened in 2010. The Australian dollar strengthened dramatically and why their international comparison labor costs increased. This graph illustrates why currency manipulation, or artificially pegging one's currency exchange rate to be artificially low valued, is an unfair trade advantage and a global economic issue.
For 2010, the BLS could not compare directly labor costs for India and China, mainly due to a lack of data and details. Below is the chart for manufacturing labor costs for 2010 they could compare.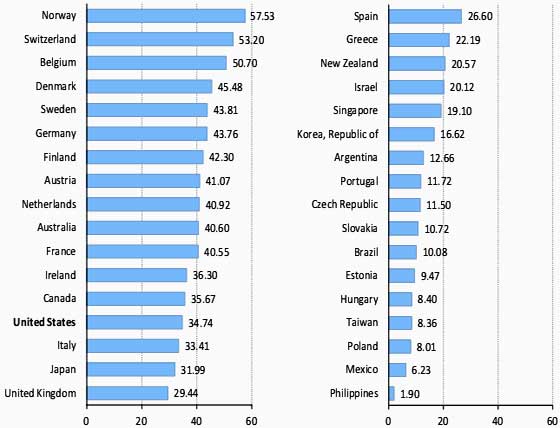 In the same report, they show the compensation comparisons for China and India up to 2008. Realize, if these labor costs even triple, they still would be below Mexico.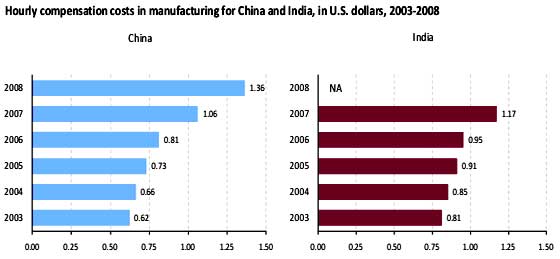 From 2007-2009, the United States was only behind Estonia, Spain and Ireland in employment contraction. This is while Asia employment grew.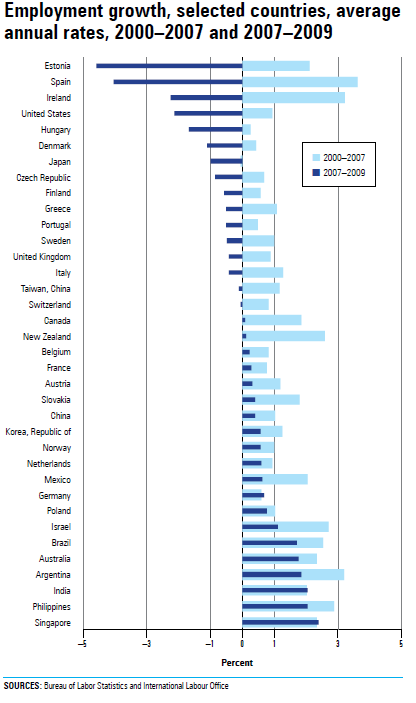 Even worse, only Israel had higher labor productivity growth than the U.S. from 2007-2009. 2010 saw productivity in Singapore soar and other nations increase. Below is the percent change in manufacturing labor productivity for the last three years.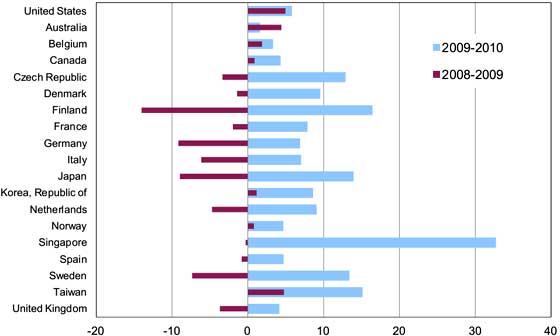 Higher productivity is not translating into increased wages for U.S. workers. It means more output per hour worked. In fact, only Estonia had a larger drop in hours worked for manufacturing than the U.S. from 2007-2009.
All of this brings us to the BLS graph comparing the annual percent change in hourly compensation costs in manufacturing and exchange rates, 2009-2010. On the right of the below graph is the increase in manufacturing compensation in the national currency (light blue) versus U.S. dollars (purple), which exchange rates come into play.
Changes in a country's compensation costs in U.S. dollars are roughly equivalent to the change in compensation costs in a country's national currency plus the change in the value of the country's currency relative to the U.S. dollar.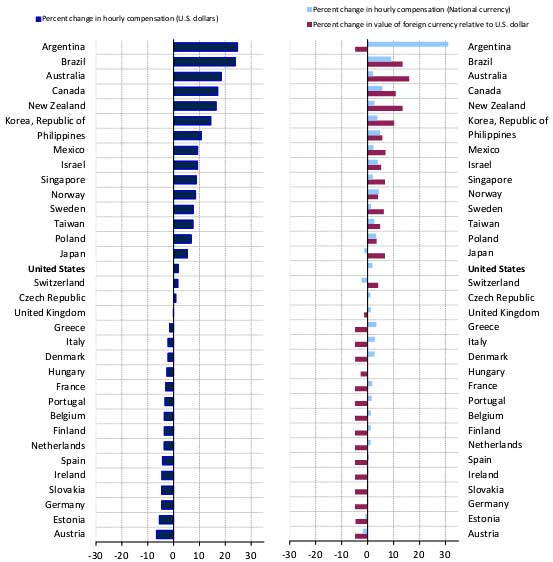 As we can see from the above, exchange rates are effecting U.S. manufacturing competitiveness significantly. This is why confronting China's currency manipulation is a job creator. The situation is so bad, we cannot even get accurate statistics to compare China's labor costs to America's. Regardless, considering China is the second largest economy, we know they are undercutting global labor, in particular U.S. labor, to the point of absurdity. There is no way any nation can compete against such manipulations.
All of the above graphs were provided by the BLS. There is more much data, including global GDP, GDP per capita (per person), available on their website, located here.
Labor costs as a percentage of the total production costs vary widely per industry and product. The percentages of labor costs to total manufacturing costs can be as low as 10% or upward past 50%. Most assume an average of 30%. Regardless, when a labor pool is next to nothing in comparison to U.S. workers, it makes an impact in a corporate bottom line.