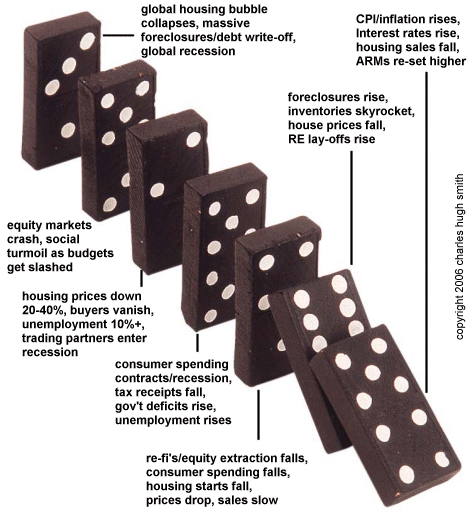 There are so many failures, mergers, sales going on, we're going to update them here.
Latest on the chopping block appears to be Morgan Stanley is considering a merger with Wachovia. I don't think this news is so bad, it appears they are simply trying to cover the possibility of a collapse, although it appears Wachovia would honor $494M of Lehman credits in it's Money market funds.
Morgan Stanley goes to China. Guess what they are doing, begging for funds.
hedge funds maybe next according to this article.
In looking for a dominoes image I found this blog post from 2006 by Charles Hugh Smith.. He designed this dominoes image. What is frightening is His post is falling into place with perfect alignment. I searched in Google image, keyword Dominoes and this popped up. Synchronicity in play, multiple levels.