The Economic Policy Institute has a new report out today about the economic impact of an auto industry collapse. A previous report by the Center for Automotive Research (CAR)estimated that a total collapse of the big 3 would result in the loss of almost 3 million jobs, and $554.6 billion(4% of US GDP) in economic losses. What was missing was a state by state breakout. I've mocked up the state by state job losses consequences of a GM only collapse, and what would happen if the big 3 all failed.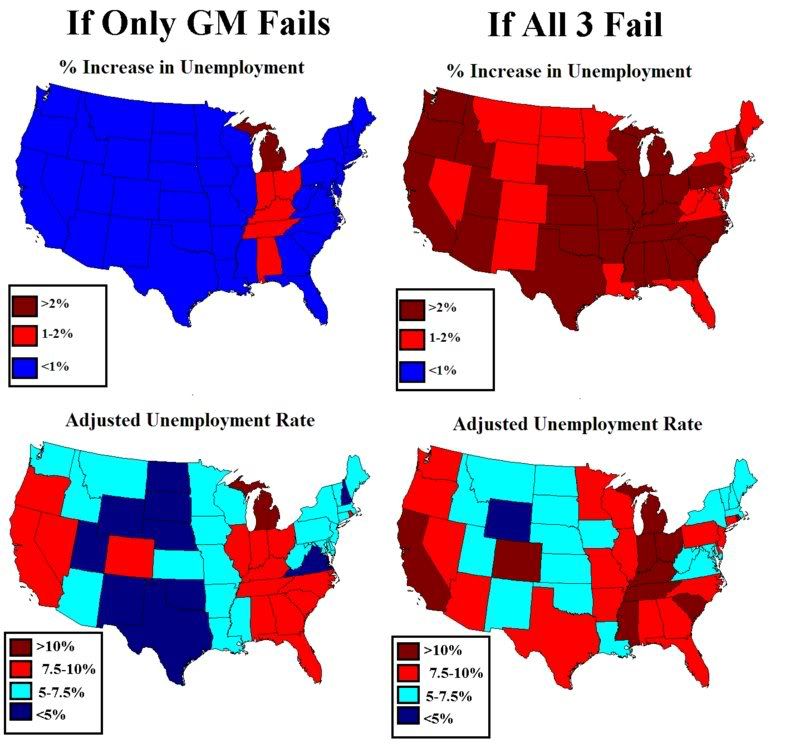 The employment consequences of even a GM collapse would be drastic. 914,000 jobs would be lost nationally increasing the unemployment rate by 0.7% from 6.4% to 7.1% the highest since 1993. A total shutdown would result in the loss of 3.3 million jobs increasing the unemployment rate by 2.5% to 8.9%, the highest since 1983.
More bothersome, is that the job losses will be concentrated in a handle of states. The top 6 auto industry states (Michigan, Indiana, Ohio, Kentucky, Tennessee, and Alabama) stand to lose almost 285,000 jobs in the event of a GM shutdown. If all three fail, these same states would lost over a million jobs.
If all 3 shutdown unemployment in Michigan would rise to 18.2 %. In Indiana 11.4%, in Ohio 11.3%, in Kentucky and Tennessee 11% and in Alabama 9.6%.
If the auto industry collapses, the direct loses in the auto sector will push unemployment up to levels not seen since the early 1980s. I suspect that economic impact will be much larger though, because these jobs are the backbone of the middle class in the auto states. Kill off the middle class supported by manufacturing, and suddenly people employed in stores, banks, and the professional service sector begin to lose their jobs.