The NAR released their July 2012 Existing Home Sales. Existing home sales increased 2.3% from last month and inventories are down to a measly 6.4 months of supply. Existing homes sales have increased 10.4% from July of last year. Volume was 4.47 million, annualized against June's 4.37 million annualized existing home sales.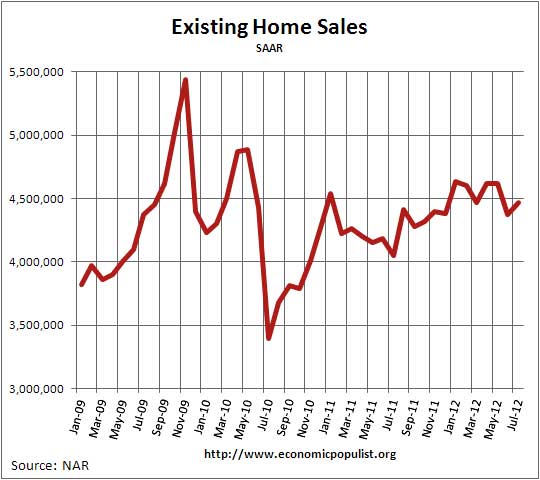 The NAR claims the reasons for low existing sales are constrained supply and tight lending standards. We're shocked to see commentary that is actually true. Of course they leave out the fact most of America isn't earning enough to afford a mortgage.
The market is constrained by unnecessarily tight lending standards and shrinking inventory supplies, so housing could easily be much stronger without these abnormal frictions.
This is a never ending drumbeat from NAR, to claim the problem is supply vs. demand. Yet in the report are the quoted inventory statistics:
Total housing inventory at the end July increased 1.3 percent to 2.40 million existing homes available for sale, which represents a 6.4-month supply at the current sales pace, down from a 6.5-month supply in June. Listed inventory is 23.8 percent below a year ago when there was a 9.3-month supply.
One press release comment has to be called out. The NAR claims increases in median existing home prices contributes to economic growth. Uh, no, it increases their commission take. Existing homes are not part of GDP, they have already been attributed to economic growth when they were first built and sold. The transaction costs and profits, activity surrounding selling an existing property are part of GDP, but that's obviously not a huge stimulus.
The national median existing-home price for all housing types was $187,300 in July, up 9.4 percent from a year ago. The last time there were five back-to-back monthly price increases from a year earlier was in January to May of 2006. The July gain was the strongest since January 2006 when the median price rose 10.2 percent from a year earlier.
There were less foreclosures sold, which in part explains the increase in median price. The NAR claims one-third of homes sold were on the market less than a month.
Distressed homes – foreclosures and short sales sold at deep discounts – accounted for 24 percent of July sales (12 percent were foreclosures and 12 percent were short sales), down from 25 percent in June and 29 percent in July 2011.

Foreclosures sold for an average discount of 17 percent below market value in July, while short sales were discounted 15 percent.
First time buyers actually increased for the month.
First-time buyers accounted for 34 percent of purchasers in July, up from 32 percent in June; they were also 32 percent in July 2011. Under normal conditions, entry-level buyers account for four out of 10 purchases.

All-cash sales slipped to 27 percent of transactions in July from 29 percent in June; they were 29 percent in July 2011. Investors, who account for the bulk of cash sales, purchased 16 percent of homes in July, down from 19 percent in June; they were 18 percent in July 2011.
The NAR mentions pressing for the release of more foreclosures onto the market.
Both Corelogic and RealtyTrak say 90% of REOs are being kept off the market.
As of April 2012, 390,000 repossessed homes sat in limbo, while about 39,000 were actually listed for sale, said Sam Khater, senior economist at CoreLogic.
Online foreclosure marketplace RealtyTrac recently found that just 15 percent of REOs in the Washington, D.C., area were for sale, a statistic that is representative of nationwide numbers, the company said.
Housing wire reports half of Fannie Mae's foreclosures are not being put back onto the market for sale.
Fannie disclosed for the first time this year where these properties are in the lengthy and complicated REO process. In its second quarter financial filing, the government-sponsored enterprise said 23% of its more than 109,000 repossessed homes are currently available for sale.

That's down from 28% at the end of last year.

An offer has been accepted on another 19%, and 11% have an appraisal pending, Fannie said.

But 47% of its inventory is unable to be marketed.

Roughly 14% of Fannie's entire REO inventory is redemption status, meaning the time frame borrowers and second-lien holders can redeem the property under various state laws. The timelines vary and have come under much change across the country. In Michigan, for example, lawmakers passed a bill last year to extend the redemption period to as much as one year in some cases. The bill was referred back to a state committee in March.

Fannie said another 13% of its properties are still occupied by the borrower. The eviction process just hadn't been completed.

Interestingly, 8% of its inventory – slightly less than 9,000 homes – are being rented as part of its piloted Tenant in Place or Deed for Lease programs, where the home is rented back to the borrower.

Its other piloted program to sell roughly 2,500 homes to investors, who were approved in recent months to rent the properties out, will close at some point in the third quarter.
If 90% of foreclosed homes are being kept off of the market, plus such a large percentage of cash buyers and investors are purchasing homes, assuredly prices will fall further if that REO inventory comes out of the shadows. NAR claims:
There are distortions in housing inventory. "The total supply of housing inventory appears to be balanced in historic terms, but there are notable shortages in the lower price ranges which are limiting opportunities for first-time buyers," he said. "The low price ranges also are popular with investors, so entry-level buyers are at a disadvantage because many investors are making all-cash offers."
Regardless, with all of that shadow inventory being held back, people expecting this magical housing recovery bubble return are sure to be disappointed.
Last month's existing home sales overview is here, unrevised.