Food stamp usage has soared to a new record high of 47,102,780. As of August 2012, 1 in 6.7 people are on food stamps in the United States. That's 15.0% of people living in America are on food assistance. The United States population in middle of August 2012 was 314,484,000 and this figure includes everyone, including Americans overseas. Food stamp usage increased 2.9% from August 2011 and 0.9% from July 2012.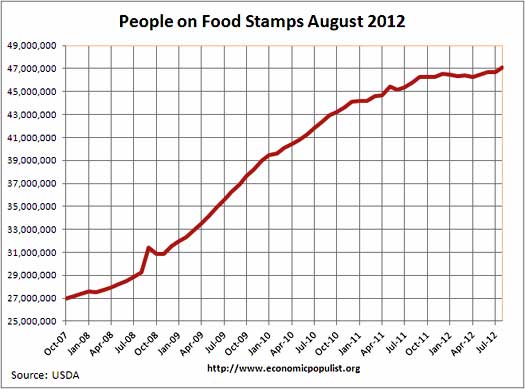 Since October 2007, food stamp usage has increased 74.4%. Population has increased 3.9% during the same time period. That is how badly America is hurting.
This is the largest monthly increase in food stamp usage in a year, graphed below.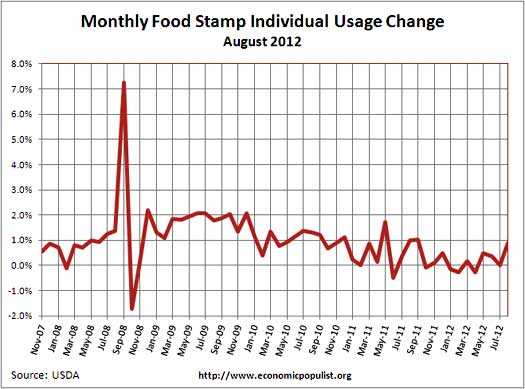 Below is the percent change from one year ago in food stamp usage by individuals and we can see even though the recession was declared over in July 2009, food stamp usage is still rising. We expect sharp increase during a recession, but food stamp usage is not decreasing, in spite of a declining unemployment rate.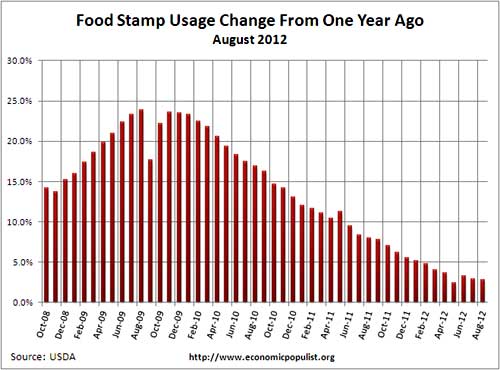 Below is the yearly percent change in food stamp usage per state. As we can see with the recession claimed to be over in July 2009, we still are seeing more people going on food stamps. Population increased only 1.4% from August 2011 to August 2012.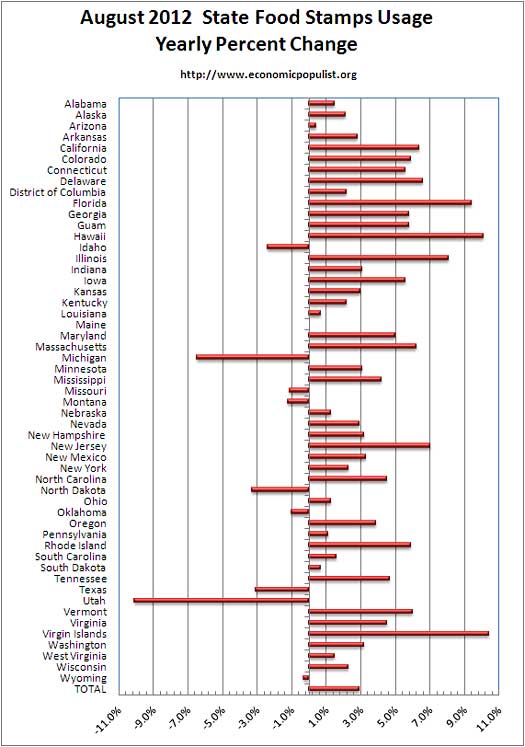 You may have heard the USDA is promoting food stamps to illegal immigrants from Mexico as part of the election 2012 rhetoric.
USDA and the government of Mexico have entered into a partnership to help educate eligible Mexican nationals living in the United States about available nutrition assistance. Mexico will help disseminate this information through its
embassy and network of approximately 50 consular offices.
Officially, food stamps are not available to those in the country illegally, although if anyone in the household is legal, that person can receive food stamps. Supposedly there is a program to verify social assistance eligibility, SAVE, but not all states use it and worse, some just take their word on it that the social assistance beneficiary is legally in the country.
In May 2012 it was estimated there were 6 million people whose only income was food stamps. That means they are living on the streets with absolutely nothing else.
The Republican side of the Senate budget committee has been on a tear about welfare. In reading the Congressional Research Service report on Federal welfare expenditures, it is shocking how much cash is being handed out, as well as the massive amounts of various welfare programs. Federal welfare for fiscal year 2011 was $1.03 trillion, more than social security, or even national defense. Unlike the GOP, the Congressional Research Service is objective, non-partisan, so interpret these figures as you will. Most of the increases were due to the 2009 Stimulus or ARRA. From the CRS report:
The largest category of spending – health – was 37% higher in FY2011 than in FY2008, primarily due to increased spending for Medicaid. Cash aid is the second largest category and was 12% higher in FY2011 than in FY2008, while spending for the third largest category – food assistance – was 71% greater in FY2011 than in FY2008, largely due to growth in SNAP. Education was 57% higher in FY2011, almost exclusively due to growth in Pell grants. Housing and development (which was similar in size to education in FY2008) was only 2% greater in FY2011 than in FY2008, although this category saw significant growth in FY2009 before declining in the next two years. Social services spending in FY2011 was 3% higher than in FY2008; spending for employment and training was the same in each of the two years (although it rose in the intervening years); and the smallest category – energy assistance – was 67% higher in FY2011 than in FY2008. Energy assistance was also the most volatile over the period, more than tripling between FY2008 and FY2009, from $3 million to $10 million, and then declining to $6 million in FY2010 and $5 million in FY2011.
Senator Jeff Sessions sees it a little differently and is also the Senator querying on how many illegals might be receiving welfare benefits they are not eligible for.
Ranking Member Sessions and the minority staff of the Senate Budget Committee requested from the nonpartisan Congressional Research Service (CRS) an overview of cumulative means-tested federal welfare spending in the United States in the most recent year for which data is available (fiscal year 2011). The results are staggering. CRS identified 83 overlapping federal welfare programs that together represented the single largest budget item in 2011—more than the nation spends on Social Security, Medicare, or national defense. The total amount spent on these 80-plus federal welfare programs amounts to roughly $1.03 trillion. Importantly, these figures solely refer to means-tested welfare benefits. They exclude entitlement programs to which people contribute (e.g., Social Security and Medicare)… Spending on federal welfare programs is up 32 percent since 2008, and now comprises 21 percent of federal outlays.
We can interpret the massive increase in Welfare many different ways, but our take is this is what happens when jobs are lost abroad and the middle class is bone sucked dry of wealth and income.
Zerohedge outlines how disbility benefits have also increased. While their data is correct, you might ignore the conspiracy theory chatter. Superstorm Sandy delayed a host of statistics last week.
This is an update to our popular post overviewing food stamp usage.