The Federal Reserve released a report, the 2010 Survey of Consumer Finances. This is a report on household wealth from 2007-2010, removing effects of inflation. No surprise, median net worth declined by 38.8% from 2007 to 2010 and is down to 1992 levels. Why this should be no surprise is due to the housing bubble and declining home values. A home is the largest asset many people have.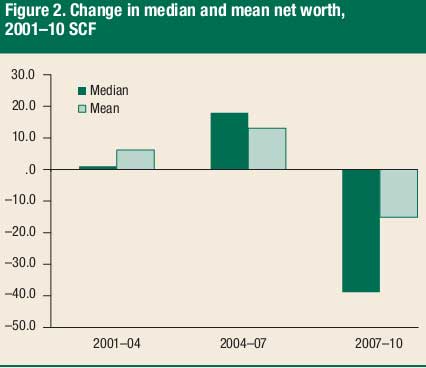 The above report graph shows the median and mean declining net worth. Median is the middle point of all families, ranked from poorest to wealthiest. Fifty percent of all families net worth is above the median, 50% below. That middle point's net worth value declined by 38.8% from 2007 to 2010. Mean is the average net worth for all households and that decline in net worth was much less, 14.7% from 2007 to 2010, levels not seen since 2001.
Net worth includes one's home, stocks, bonds, mutual funds. It is the difference between one's liabilities, or debts and one's assets, such as savings, retirement accounts and a home. It wasn't just home prices and foreclosures that wiped out so much household wealth, stocks didn't do well either, after removing the effects of inflation.
The share of total assets of all families attributable to unrealized capital gains from real estate, businesses, stocks, or mutual funds fell 11.6 percentage points, to 24.5 percent in 2010.
But it was clearly housing which really caused America to go bust. Check out these statistics for people who probably bought their homes closer to the housing bubble, or in the bubble West, their net worth fell by over half!
The decline in median net worth was especially large for families in groups where housing was a larger share of assets, such as families headed by someone 35 to 44 years old (median net worth fell 54.4 percent) and families in the West region (median net worth fell 55.3 percent).
Yet what is more disturbing from this report is income. Median income dropped 7.7% in the three year time period from 2007-2010. That's before taxes and adjusted to removed the effects of inflation. The mean, or average drop in real income was even worse, 11.1%.
The decline in median income was widespread across demographic groups, with only a few groups experiencing stable or rising incomes. Most noticeably, median incomes moved higher for retirees and other nonworking families. The decline in median income was most pronounced among more highly educated families, families headed by persons aged less than 55, and families living in the South and West regions.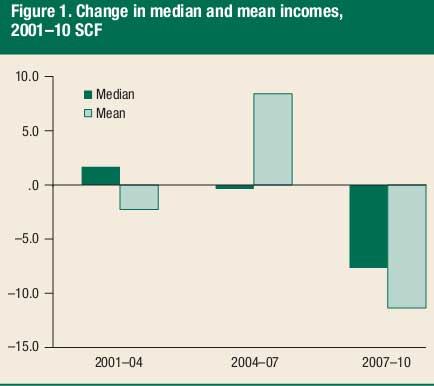 Real mean income fell even more than median income in the recent period, by 11.1 percent across all families. The decline in mean income was even more widespread than the decline in median income, with virtually all demographic groups experiencing a decline between 2007 and 2010; the decline in the mean was most pronounced in the top 10 percent of the income distribution and for higher education or wealth groups.
Below is the table of income and net worth for the survey dates. Notice the massive declines from 2007 to 2010. Quintiles just means dividing up the U.S. by 20% increments. In other words, the bottom quintile are the bottom 20% of U.S. families and 90 means the top 10%.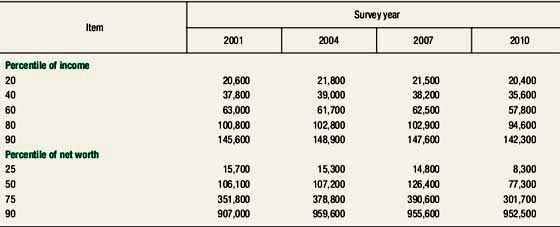 Median means half of households were above that savings, net worth, income level and half were below. The 50 in the above chart for net worth is the median. Mean, or averages are the total wealth, savings, income divided by number of financially independent households.
Income comes not just from wages, but from whatever is coming in, right now, such as profits from investments. What should kill you are the uber-rich basically aren't working, instead their stock portfolios took a hit and why the mean or average declined.
The share of family income attributable to realized capital gains fell from 6.7 percent in 2007 to only 0.9 percent in 2010; income from businesses, farms, and self-employment accounted for only 12.2 percent of income in 2010, down from 13.6 percent in 2007. Offsetting these declines in shares, the share of income from wages and salaries rose 3.6 percentage points; that of Social Security, pension, or other retirement income rose 2.4 percentage points; and that of transfers or other income rose 1.3 percentage points. The share of income from interest or dividends was little changed. The decline in the share of capital gains was largest among the wealthiest 10 percent of families.
The poor, for once, didn't take a hit, on the other hand, subtracting nothing from nothing doesn't come up with a large percentage change. Bottom line, it was the middle class that got hammered.
Across the income distribution between 2007 and 2010, only the lowest quintile did not experience a substantial reduction in median income; the median for that group rose $500.

For other groups, the median decreased between 5.3 percent and 8.9 percent between 2007 and 2010. Similarly, for all income groups except the lowest quintile, the direction of changes in mean income was uniformly negative, with decreases ranging from a 5.8 percent drop for the second-highest decile to a 16.2 percent drop for the top decile.
Just a note, when one sees the mean, or average drop more than the median that usually implies our uber-rich top 1%, top 10% of the population got a wealth or income hit. Considering America's astounding income inequality, if you want to cheer when you see that, go ahead. Decile in the above quote means 10%.
One of the more shocking notes in the Federal Reserve's report are baby boomers. In a matter of 3 years, the population between ages 55-64 increased 11%. By age, retirees, minus the uber-rich, did better than working people.
Every age group less than 55 saw decreases in median income of between 9.1 and 10.5 percent, while families headed by a person between 65 and 74 or 75 or more saw increases at the median.
In this country, you are outright screwed if you are single, especially a woman. The statistics in every report are plain alarming and one must wonder what employers are doing here in terms of opportunities for single parents. The Survey of Consumer Finances classifies single people as families and basically is categorizing America by economic units. In other words, you live alone, you're an economic unit and thus a family. If you have a family and are male, guess what, you're the primary economic unit, even if your wife earns more. Gay, living together? Guess what, if you're older than your partner, you're the economic unit by this survey. (Welcome primary economic units to the Federal Reserve statistical methods and classification system!)
Anyway, single people are screwed as are single mothers. Here is a quote from the report:
By family structure, median incomes declined over the 2007–10 period for all groups, but most notably (negative 14.1 percent) for childless single families (those headed by a person who was neither married nor living with a partner) headed by a person aged less than 55; median income fell the least (2.3 percent) for single families with children. Mean income also fell for most types of families, except childless single families headed by a person aged 55 or older, for whom it rose 3.1 percent. Mean income of childless couples fell the most of all families, when grouped by family structure (15.6 percent).
Working self-employed were also kicked to the curb on income in 2007-2010. Their income dropped by a whopping 18.7%.
Median income fell 5.7 percent from 2007 to 2010 for families headed by a person who was working for someone else, but it fell much more (18.7 percent) for those who were self-employed; the median rose 12.4 percent for the retired group and 12.2 percent for the other-not-working group.

The mean over this period fell for all groups, especially for the self-employed group (a decrease of 25.4 percent) and the retired group (a decrease of 17.0 percent).
The breakdown in net worth is an astounding display of income inequality. Check out the differences between the bottom 20% and the top:
The overall median net worth for the lowest income quintile in 2009 was $10,000. Among families in the lowest quintile group in 2009, those who were also in the group in 2007 had median net worth in 2009 of $4,500, those who were in the second quintile group in 2007 had median net worth in 2009 of $19,200, those who were in the third quintile group in 2007 had median net worth in 2009 of $32,000, and those in the two higher quin-tile groups in 2007 had progressively higher median net worth in 2009—up to $740,500 for the top quintile group.
The below section breaks up American families by net worth and then gives percentage changes on their income. Once again, the middle class is plain hammered.
By percentile of net worth, median income fell for every group, with the smallest decline occurring for the top 10 percent of wealth holders, for whom income fell 1.4 percent. The decline in median income was also relatively small for the lowest quartile, for which the median fell 3.7 percent; the median declined most for the middle income groups (12.1 per-cent for the second quartile, 7.7 percent for the third quartile, and 13.6 percent for the group between the 75th and 90th percentiles).
On straight net worth, check this out, the poor lost 100% of their net worth.
From 2007 to 2010, the median for the lowest quartile of net worth fell from $1,300 to zero—a 100 percent decline; at the same time, the mean for the group fell from negative $2,300 to negative $12,800. For the second and third quartiles, the median and mean declines in net worth were smaller but still sizable; for example, median net worth for the second quartile fell 43.3 percent. Median and mean net worth did not fall quite as much for the higher net worth groups. For the 75th-to-90th percentile group, the median fell 19.7 percent while the mean fell 14.4 percent. For the wealthiest decile, the 11.0 percent decline in the mean exceeded the 6.4 percent decline in the median for that group
America is not saving either. According to the report, we have the lowest level of saving on record.
From 2007 to 2010, the proportion of families that reported that they had saved in the preceding year fell substantially, from 56.4 percent to 52.0 percent. That decreasepushed the fraction of families reporting saving to the lowest level since the SCF began collecting such information in 1992.
There is much more to this report and we hope we've clarified some of the definitions used. Bottom line, the great recession looks to have further wiped out the U.S. middle class, what a surprise.