We all know the United States needs jobs. We need jobs right now! Last week Obama proposed a new Stimulus plan, which we did a first pass on. Unfortunately most press is busy covering superficial politics instead of what is in the bill, how it would be paid for and most importantly, the effectiveness, or lack thereof.
USA today claims the plan is to tax the rich as they put it, or as we put it, close loopholes and tax hedge fund managers, currently living living high off the hog at a 15% tax rate.
Here's the gist of how Obama plans to pay the $447 billion his plan costs.
Limit on itemized deductions ($200,000 individuals, $250,000 families) - $400 billion
Carried interest would be treated as "ordinary income" rather than at capital-gains rate - $18 billion
Oil- and gas-company tax breaks - $40 billion
Corporate-jet depreciation would change - $3 billion
To wit, we already know Republicans will block plugging up corporate tax loopholes at every turn. Even worse, while the OMB claims plugging up these tax loopholes will generate $467 billion over ten years, this takes the above revenue generators off teh table for budget reduction. Least we forget, there is this super committee with a budget deficit reduction goal of $1.5 trillion.
While the GOP will continue the spin that somehow wealth transfer to the rich through tax cuts creates jobs, fortunately, the Washington Post actually did their job. They showed it is what is it, wealth transfer to the rich creating massive income inequality and deficits. In this article, we see lobbying for capital gains cuts since the 1970's and how it has not translated into jobs, but sure has contributed to income inequality.
The K Street office of Mark Bloomfield, president of the American Council for Capital Formation, is full of knickknacks collected in three decades of lobbying for cutting the capital gains tax.
With the above, why would Obama push defunding social security as a stimulus? Of course team Obama is claiming the lost social security payments will be made up from the general revenue fund, but considering the coming budget cut proposals, that might be simply a technicality.
On the plan itself, most Democrats and major press are quoting Mark Zandi's overly optimistic estimate of 1.9 million jobs and an increase in 2% annual GDP if Obama's plan is implemented. Below are Zandi's GDP multipliers.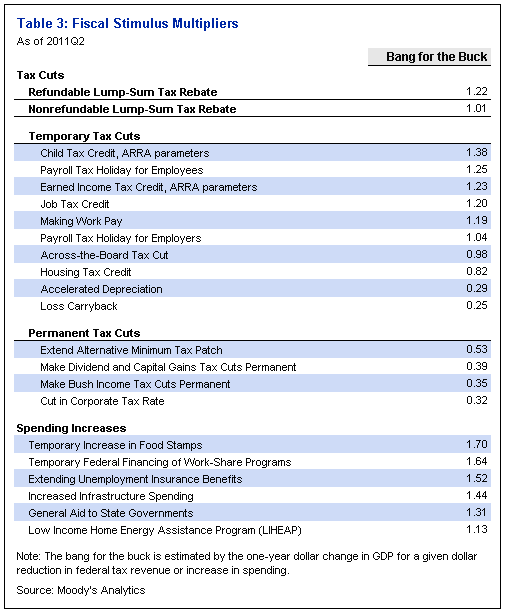 Of the 1.9 million jobs added in 2012 under the president's plan, the largest contributor would be the extended payroll tax holiday for employees, which adds approximately 750,000 jobs. The payroll tax holiday for employers is responsible for adding 300,000 jobs, although this may be understated; quantifying the impact of this proposal is difficult. Infrastructure spending adds 400,000 jobs—275,000 jobs are due to additional unemployment insurance funding and 135,000 jobs result from more aid to state and local governments.
We find 1.9 million jobs very hard to believe, mainly because Zandi isn't taking into account inflation. Multipliers assume additional money into the economy will re-appear as personal consumption expenditures. In other words, workers will get some extra cash out of their paycheck and spend it. We analyzed payroll tax cuts as stimulus earlier and noted the previous employee side tax cut on social security contributions went straight into the gas tank, as energy prices shot up.
Let's assume Zandi's calculations are right, and these two cuts will indirectly generate 1.05 million jobs. The amount of money for both the employee and employer payroll tax cut is $245 billion dollars. If we take $245 billion dollars and create $30,000 yearly salaried jobs, assuming a 25% overhead for benefits and administration costs, to a total cost of $37,500 per job, that's 6.53 million jobs. Clearly it's better to enact a direct jobs program than enact payroll tax cuts if the goal is to get people back to work. Additionally, those 6.53 million people could be put back to work doing something useful, from construction, to teaching, to manufacturing to joining start-up incubators and forming new companies. There are so many people out of work at all education levels, all skill levels and all age levels, literally one could form a host of companies simply by organizing these people. True those jobs are only a year, but if one created 1.05 million jobs this way, simply directly hiring people, one could keep 1.05 million working for over 6 years.
Is it just me, or wouldn't it be better if one wants to create jobs, to simply create them?
We have even more wolves in sheep's clothing than just the massive cuts to the taxes which fund social security. New Deal 2.0 points out the Georgia Works Program actually gives employers free labor and would be quite a disaster in for U.S. labor markets if enacted at the Federal Level. Obviously giving employers free labor is none too good to get them to actually pay for it instead.