The Federal Reserve is publishing a 1.2% increase from last month in in industrial production Here is a detailed report.
The main cause for the increase was a spike in utilities, caused by hotter weather. The breakdown in industrial production was:
manufacturing: +0.9%
mining: -0.2%
utilities: +4.8%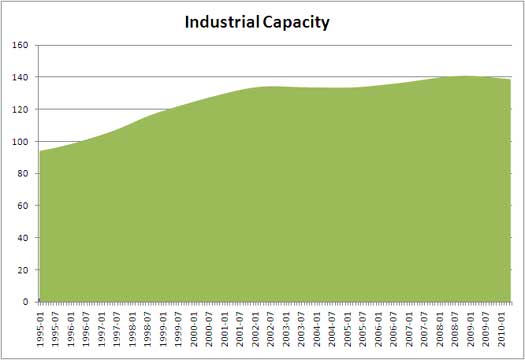 Capacity growth is -1.3% for the year and in manufacturing, -1.5%. For the month overall capacity increased 1.0%. This means the actual amount of potential facilities and ways to make stuff has dropped. Think closed factories as you drive through the Midwest.
For industrial production the marketing group major changes are:
Final Products: +1.1%

Consumer goods: +1.2%
Business equipment: +1.3%

Nonindustrial supplies: +1.4%
Materials: +1.3%
The output of nearly all major market groups rose in May. The production of consumer goods increased 1.2 percent, boosted by higher output of both consumer durables and nondurables. Within consumer durables, which jumped 2.6 percent, large gains in the indexes for automotive products, home electronics, and miscellaneous goods were only slightly offset by a small loss in the index for appliances, furniture, and carpeting. The production of consumer nondurable goods moved up 0.8 percent. The output of non-energy nondurables rose 0.5 percent; all of the major categories for that index recorded increases except chemical products, which fell 1.1 percent. The output of consumer energy products moved up 1.6 percent, with gains in all of its components other than automotive gasoline, which fell sharply.

The output of business equipment rose 1.3 percent in May, a pace on par with the average monthly gain during the previous two months and somewhat above its average increase earlier in the recovery. The output of transit equipment climbed 2.5 percent following a decrease of 1.6 percent in April. The increase in May primarily resulted from higher output of trucks, which more than offset losses in civilian aircraft. Elsewhere in business equipment, the index for information processing equipment rose 0.9 percent, and the index for industrial and other equipment increased 1.2 percent. The output indexes for both of these categories have advanced substantially since last fall; gains in semiconductor manufacturing equipment and construction machinery have contributed significantly to the improvement in the industrial and other equipment category.

In May, the output of defense and space equipment moved down after four consecutive monthly increases. A strike at a producer of military cargo planes accounted for the loss.

Within nonindustrial supplies, the output of construction supplies increased 0.8 percent in May after two consecutive months of larger gains. The production of business supplies rose 1.7 percent in May, the second consecutive monthly increase after declining earlier in the year.

The output of materials to be further processed in the industrial sector increased 1.3 percent in May after having risen about 0.6 percent per month since the beginning of the year; the index in May was 9.2 percent above its year-earlier level. The production of durable materials climbed 2.0 percent, with widespread solid gains within consumer parts, equipment parts, and other durable materials. By contrast, the output of nondurable materials was unchanged in May, with a decline in chemical materials offsetting a small gain in paper materials and strong gains in both textile materials and other nondurable materials. The index for energy materials climbed 1.8 percent in May; most of its components advanced, with the notable exception of coal mining, which fell 5.9 percent.
While the report is positive, the numbers almost look suspicious. Who can believe construction supplies increased +0.8% in a month considering other construction and housing reports?
Below is a graph of industrial production on a longer time period scale. As one can see it's still way below the December 2007 (start of this recession) level.
Capacity utilization was 74.7, up The below graphs show the overall decline of U.S. capacity utilization. Capacity utilization is how much can we make vs. how much are we using. These graphs show the U.S. is simply not producing what it is capable of, a reflection of the output gap.
Below is the Manufacturing capacity utilization graph. The financial press will report blow outs, so it's important to compare capacity utilization to pre-recession levels.