Ding Dong the Witch is Dead! Larry Summers is Leaving the White House!
Via Bloomberg:
Lawrence Summers plans to leave his job as director of the president's National Economic Council and return to Harvard University at the end of the year, the administration announced.

"I will always be grateful that at a time of great peril for our country, a man of Larry's brilliance, experience and judgment was willing to answer the call and lead our economic team," President Barack Obama said in a statement. "He has helped guide us from the depths of the worst recession since the 1930s to renewed growth."

Summers said in the White House statement that, while he will miss working in the administration, "I'm looking forward to returning to Harvard to teach and write about the economic fundamentals of job creation and stable finance as well as the integration of rising and developing countries into the global system."
But....who will replace him? Ut oh, here comes the wicked witch of the West! Only the witched witch of the East has the house fallen upon...
Administration officials are weighing whether to name a prominent corporate executive to replace Summers to counter criticism the administration is anti-business, one person familiar with White House discussions said. White House aides are also eager to name a woman to serve in a high-level position, two people said. They also are concerned about finding someone with Summers's experience and stature, one person said.
Shall we find and promote Glenda the Good Witch? America surely needs a good witch along with a nice pair of ruby slippers!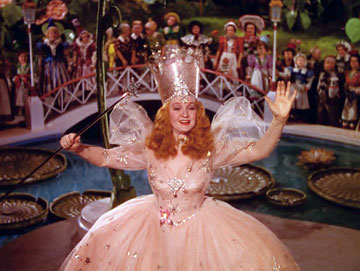 Can you identify a Glenda the Good Witch to lead Obama's team of economic advisers? After all, there's no place like home.