Last Friday the ISM Manufacturing Index for April was released. It was all but ignored in the economic blogosphere. It shouldn't have been.
Along with auto sales, it is one of the very first economic releases for the month of April. Also crucially, it is a leading economic indicator. The ISM Manufacturing index has typically bottomed a median 2.5 months (a mean of 4) before the end of post WW2 recessions. The latest it bottomed was the month of the end of the recession, the earliest 9 months.
In other words, this is an early indicator with a long and successful track record.
So, why does the NAPM's Manufacturing Index suggest the bottom of the recession is near ...?
As shown in the graph below, in April, the Index rose to 40.7, after bottoming at 32.9 last December:
In other words, the index has already risen 4 months since bottoming, more than the median time until the end of a recession. Further, the median reading of the index at the end of post-WW2 recessions has been 40.9 - 41.0 (as opposed to 40.7 in April). A reading over 41.2 for several months usually means economic expansion. The median improvement of the index from recessions' bottom until recessions' end has been +4.6 - 4.7 (we are up +7.8 in the last 4 months). The biggest "false dawn" was an improvement of +6.1 in 1970.
In summary, the NAPM Manufacturing index's reading for April is consistent with the recession bottoming out, and a recovery beginning almost immediately.
While auto sales for April disappointed, and real residential improvement for the first Quarter of 2009 continued to stink, the NAPM index isn't the only leading indicator that has switched to a positive reading. The S&P 500 stock index, measured over the 3 previous months, is also a leading indicator for the economy as a whole. This has turned positive (i.e., it was higher on May 1 than on February 1) for the first time since Black September:

Consumer confidence about the future (yellow in the graph below) is also at the highest it has been, bar one month, in almost a year.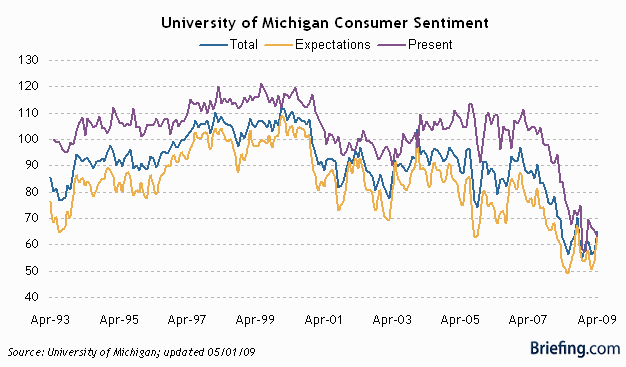 Prof. James Hamilton reports that the 4 week moving average of new jobless claims looks like it is rolling over, a consistent coincident indicator of a recession bottom.
The crucial element to any turn is still going to be housing, specifically, a bottom in new home sales. That has still not broken out of its trend of declining to zero(!) by early next year: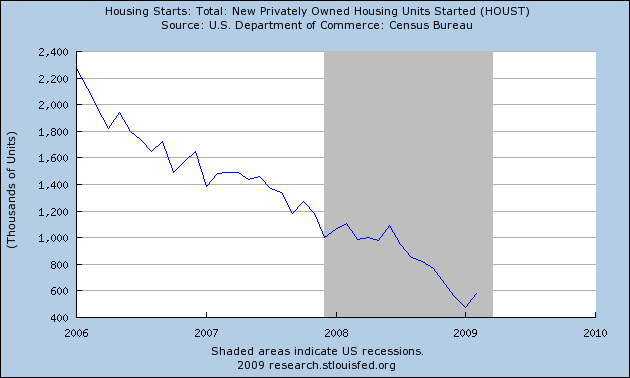 When it does, that will probably be the actual marker of the end of the recession.