President Obama released his Fiscal Year 2011 Budget. Fiscal Year begins on October 1. The budget includes $3.8 trillion in spending and projects a $2.6 trillion in revenue for a projected budget deficit of $1.26 trillion. The federal deficit for FY 2010 is projected to be $1.56 trillion.
There is a lot of information to sift through but here are a few highlights:
1) Includes additional "Stimulus" spending in the form of "small business" tax credits.
2) The elimination of the Bush II - era upper income tax cuts.
3) The start of a spending "Freeze" (or "slushie" as Prof. Delong calls it) on non-security discretionary spending.
Some the interesting documents: Summary Tables and List of "Freezes" (pdf files). But for the whole enchilada go to the Office of Management and Budget for the full document. Here are few charts from the budget document: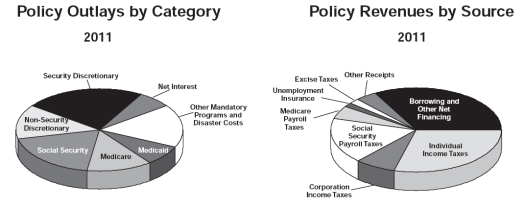 Have at it but keep in mind federal government is NOT like a household or business.