Pending Home Sales declined in December by -4.3%, annualized, according to the National Association of Realtors. Pending home sales have increased 6.9% from a year ago. November's pending home sales was revised down to 1.6% monthly increase.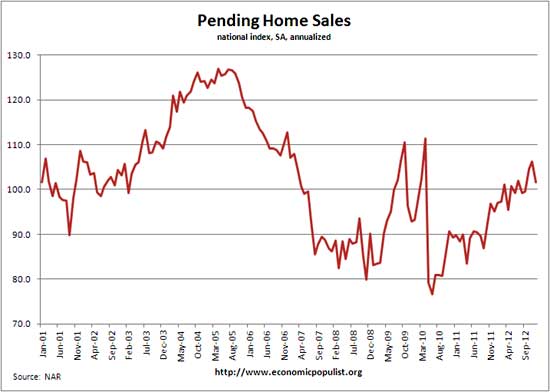 The above graph shows pending home sales are really around 2003 levels, ignoring the housing bubble itself and the first time home buyer tax credits of 2009. The deadline for using the first time home buyer tax credits was April 2010, which resulted in a 111.3 pending home sales index. The index now stands at 101.7, where the baseline index of 100 is 2001.
The PHSI are contracts which have not yet closed and why pending home sales are considered a future housing indicator. The PHSI represents future actual sales, about 45 to 60 days from signing. From the NAR:
NAR's Pending Home Sales Index (PHSI) is released during the first week of each month. It is designed to be a leading indicator of housing activity.

The index measures housing contract activity. It is based on signed real estate contracts for existing single-family homes, condos and co-ops. A signed contract is not counted as a sale until the transaction closes. Modeling for the PHSI looks at the monthly relationship between existing-home sale contracts and transaction closings over the last four years.
Here are the regional pending home sales from the report:
The PHSI in the Northeast fell 5.4 percent to 78.8 in December but is 8.4 percent higher than December 2011. In the Midwest the index rose 0.9 percent to 104.8 in December and is 14.4 percent above a year ago. Pending home sales in the South declined 4.5 percent to an index of 111.5 in December but are 10.1 percent higher December 2011. In the West the index fell 8.2 percent in December to 101.0 and is 5.3 percent below a year ago.
In early 2012, the NAR claimed housing starts will increase 50% by 2014. We have these more realistic predictions now for 2013 after the reality of 2012 has sunk in.
Even with tighter inventory, a pent-up demand and favorable affordability conditions bode well for the market. Yun expects existing-home sales to increase another 9 percent in 2013, following a 9 percent rise in 2012.
We calculate a 2012 annual increase of 11.7% in pending home sales from 2011.
Here are our past pending home sales overviews, unrevised.