Pending Home Sales increased by 6.7% in a month. This is the highest monthly increase since May 2011 according to the National Association of Realtors. Pending home sales have increased 12.1% from a year ago. Pending home sales are also back to December 2006 housing bubble year levels.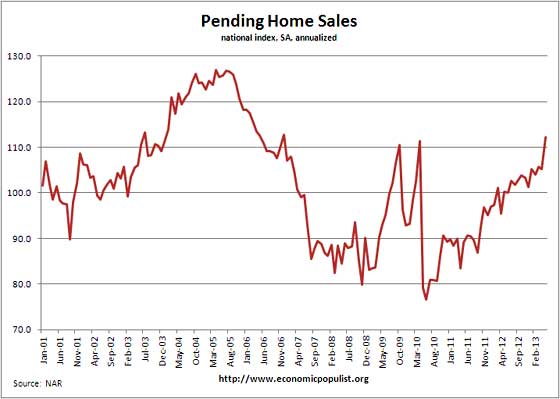 The above graph shows pending home sales are really spiking up again. Pending home sales have also increased annually for 25 months in a row.
The PHSI are contracts which have not yet closed and why pending home sales are considered a future housing indicator. The PHSI represents future actual sales, about 45 to 60 days from signing. From the NAR:
NAR's Pending Home Sales Index (PHSI) is released during the first week of each month. It is designed to be a leading indicator of housing activity.

The index measures housing contract activity. It is based on signed real estate contracts for existing single-family homes, condos and co-ops. A signed contract is not counted as a sale until the transaction closes. Modeling for the PHSI looks at the monthly relationship between existing-home sale contracts and transaction closings over the last four years.
Here are the regional pending home sales from the report:
The PHSI in the Northeast was unchanged at 92.3 in May but is 14.3 percent above a year ago. In the Midwest the index jumped 10.2 percent to 115.5 in May and is 22.2 percent higher than May 2012. Pending home sales in the South rose 2.8 percent to an index of 121.8 in May and are 12.3 percent above a year ago. The index in the West jumped 16.0 percent in May to 109.7, but with limited inventory is only 1.1 percent above May 2012.
At the same time, mortgage interest rates just jumped to 4.46%. This is the highest weekly increase since 1987. Mortgage interest rates are also back up to July 2011 levels.
The average rate for a 30-year fixed mortgage rose to 4.46 percent from 3.93 percent, the biggest one-week increase since 1987, McLean, Virginia-based Freddie Mac said in a statement. The rate was the highest since July 2011 and above 4 percent for the first time since March 2012. The average 15-year rate climbed to 3.5 percent from 3.04 percent.
Banks are also loosening credit.
Banks may also help offset the rate increase by loosening underwriting standards as rising prices reduce the risk of making new loans and a slowdown in refinancing makes lending to homebuyers more attractive.
Here are our past pending home sales overviews, unrevised.