I know we all believe the housing bubble has already popped and all things real estate are over. One might think this post should be from 2006 from the title. But it's not, this post is from 2010 and below are the reasons for the question.
First is the latest SIGTARP report saying the Government has become the mortgage market with U.S. taxpayers shouldering the risk. From the SIGTARP report we have a 100% government mortgage market at this point.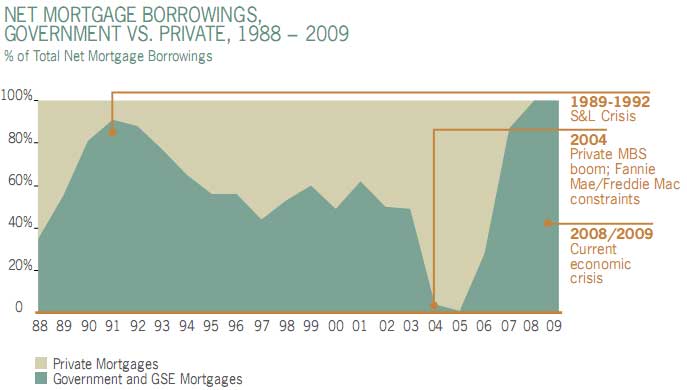 SIGTARP reports 100% of Ginnie Mae MBS are backed by FHA/VA/USDA, 100%. The current financial support for Fannie Mae and Freddie Mac is $1.4 trillion dollars. Look at the actual risk exposure of the above table of government backed GSEs, their MBS exposure, their funds and relationships. There is not enough taxpayers or bail outs in the world if those MBSes implode. The below table summarizes the primary, secondary and emergency support for the U.S. residential real estate market. I have to wonder if every single person in the U.S. was just given a home for free, if it would not be cheaper. Seriously.
Fannie and Freddie now have an unlimited bailout and it is estimated they have lost $400 billion dollars. The plan is to purchase $1.25 trillion mortgage backed securities from these two GSEs until the end of March.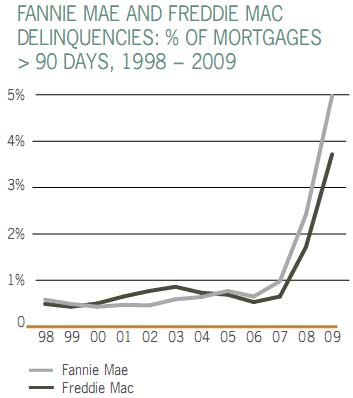 Note how the mortgages held by Fannie and Freddie are increasing in payment delinquency.
SIGTARP has literally written up a flow chart on how the government is attempting to re-inflate home prices (they left out population increases), below and note how some of those things, uh, like a job aren't panning out too well.
The number of homeowners who are strategically walking away from their mortgages is up to 10% this year. We also have the percentage of home ownership to the general population back to slightly below the year 2000 levels. Recall the overall population is increasing about 2.3 million each year.
4.5 million homeowners had reached the critical threshold, with their home's value dropping below 75 percent of the mortgage balance.
Note we might have $448 billion in GSE losses, $48 billion more than estimated just last month.
New Home Sales for December 2009 were 7.6% below November. Bear in mind there is an $8000 tax credit for first time home buyers plus a $6500 dollar tax credit for existing home buyers. These expire at the end of April 2010. The first tax credit expired at the end of November 2009. We also have actual rates low with no end in sight at least in signaling of the Fed rate.
Foreclosures for next year estimates vary, but seem to solidify at 3 million. 2009 foreclosures were estimated at 2.8 million.
Just today we had mortgage delinquency rates pass 10% for December.
So, with unemployment predicted to hover around 10% for all of 2010 and the U.S. taxpayer on the hook for residential real estate to this extent, plus more incentives to buy a home disappearing and lending standards are tightening.
I am not an expert in residential real estate but frankly these graphs, data scare the shit out of me. It seems to all be tittering on some very invalid assumptions:
These mortgages are good
Home prices won't drop dramatically
The U.S. can continue to increase the population while decreasing the actual number of jobs
That money from somewhere will increase to make the payments
Think about it. All of the above free money, the government pouring in trillions of dollars to prop up the housing market. Yet while price declines have slowed, prices are still declining and the above simply cannot go on forever. In fact one thing isn't going on forever. The Fed will stop buying MBSes at the end of March, 2010. So, when our government created illusion does pop, do we then have the real housing bubble implosion?