The December to January BLS employment report is always a strange beast. Yet this year we magically have gained 647,000 jobs which previously did not exist. Below is the difference between the previously reported jobs in December to the payroll tally for January 2013.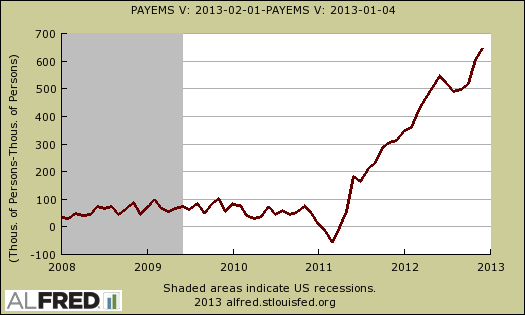 Every year the BLS readjusts estimates with benchmarks from March and this time they added 424,000 jobs, a 0.3% increase in previously estimated total national payrolls, not seasonally adjusted. Poof, 647,000 jobs appear which previously did not exist in the seasonally adjusted figures. Below are the employment levels previously reported in December (blue) to the new ones released for January (red).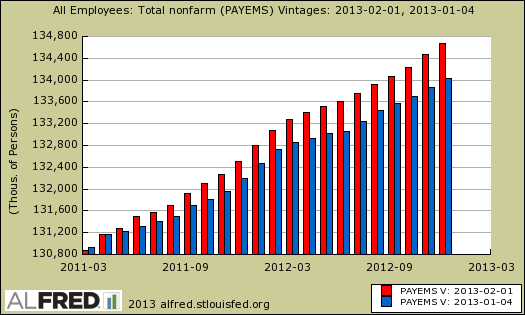 Statistical alchemy? Not really. There is no numeric magical wand at our most beleaguered statistical agency. Instead, the BLS revises their employment figures annually based on other statistics as they come in. The BLS uses a birth/death model of businesses to estimate the number of new businesses and their corresponding payrolls created for the year as well as the closing of businesses and thus loss of jobs. The reason they have a birth/death model in the fist place is due to statistical lag. Counties are responsible to collecting business unemployment insurance tax data and it can be at least nine months before this information is collected. Every business with employees must report. their payrolls to the county and pay up on their side of unemployment insurance for their hires. New businesses grow and hire rapidly which, due to the nature of business unemployment insurance county tax reporting, causes even more statistical lag. Eventually county business statistics catch up on their payroll unemployment insurance tax records and those statistics are used to reality check the BLS birth/death business model figures. The BLS then adjusts their payroll counts to the actual statistics reported by the nation's counties. These adjustments are performed in March of each year and the BLS incorporates those benchmark figures into the next year's January payroll report. For more information on the establishment survey benchmarks, you can read this article.
As a result of those 2012 benchmarks, the United States is now down 3.217 million jobs from December 2007, five years and 1 month ago. The start of the great recession was declared by the NBER to be December 2007.
The below graph is a running tally of how many official jobs are permanently lost, from the establishment survey since December 2007.
So, in spite of revisions, the United States still very much has a jobs crisis. Over half a decade has passed and America's population which has the potential to work has grown by 11.5 million people. You do the math.