We've noticed a hell of a lot of political B.S. baffle going on, in particular on business taxes. What happens is politicians conflate small business taxes with the individual income tax and that is due in part to the actual tax code.
The GOP typical claim is a lower top personal income tax rate will allow businesses to hire more people. That is really a lie. Business profits can enable more hiring, tax refunds for hiring and retaining employees can incentivize new jobs, but the personal income tax rates for those who own businesses has negligible effect.
One thing that gets lost in the rancor are business tax deductions. An employee's salary and most benefits are a business deduction. The business owner would not pay taxes on the costs of hiring a new employee beyond the payroll taxes associated with hiring, about 6.2% of salary. The most important element to hiring is demand for goods and services provided by the business, not taxes.
There are four most common business entities in the United States. Corporations, partnerships, S-corporations and sole proprietorships. Partnerships are primarily two types, a limited liability partnership (LLP) or a limited liability company (LLC). There are also other types of businesses, such as RICs, which are glorified investment vehicles with capital gains tax pass through. S-corporations also allow pass through taxes, although not as lenient as partnerships. Below is a graph of number of these firms by type, who had at least one paid employee during part of 2009.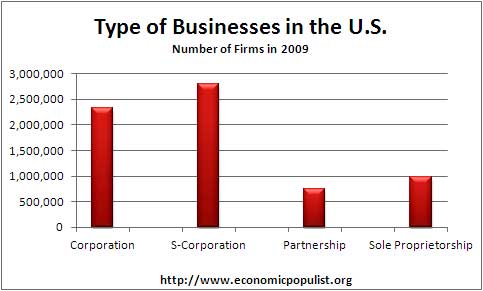 The term pass through refers to how business profits are not taxed at the business level, instead are transferred to the individuals owning the business. Those business profits will then be taxed via the individual income tax code.
First thing to realize when politicians talk about lowering the highest tax rate, they are referring to individual income taxes. The excuse is these same wealthy individuals are small business owners in the form of sole proprietorships and pass through tax structure business entities. These political spinners are referring to the business profits which then pass through to individual income taxes. C corporations do not have pass through business profits. These corporations are taxed via the corporate tax code. Sole proprietorships are taxed as individuals, those business taxes and personal taxes are one and the same. S-corporations, LLCs and LLPs also have pass through tax treatment. The Census, from where our data comes from, gives their business definitions based on the tax code:
Corporation - An incorporated business that is granted a charter recognizing it as a separate legal entity having its own privileges, and liabilities distinct from those of its members.
S-Corporation - A form of Corporation where the entity does not pay any federal income taxes. The corporation's income or losses are divided among and passed to its shareholders. The shareholders must then report the income or loss on their own individual income tax returns.
Partnership - An unicorporated business where two or more persons join to carry on a trade or business with each having a shared financial interest in the business.
Sole Proprietorships - An unincorporated business with a sole owner.
The statistics show the self-employed are not paying a large amount of tax. From the SBA we see the median tax rate is only 10%.
Of the 15.5 million individuals whose primary occupation was self-employment (incorporated and unincorporated), the median personal marginal federal tax rate was 10 percent in 2008. Only 4.1 percent of the self-employed were in the marginal tax bracket of 33 percent or more.
Is there a claim sole proprietorships creates jobs? The Census statistics on business latest data is from 2009. These statistics require a business had at least one paid employee during part of the year.
In 2009, a total of 947,088 sole proprietorships employed 4,802,391 people. 752,826 of these sole proprietorships employed zero to four employees for the year, or 1,231,454 people, with an average of 1.63 persons employed for these 752,826 sole proprietorships. In other words, 79.5% of sole proprietorships who had an employee during the year are not generating any real jobs.
Sole proprietorships which at some point in the year had at least one employee represent 16.4% of all businesses with employees in this country, which in 2009 tallied 5,767,306.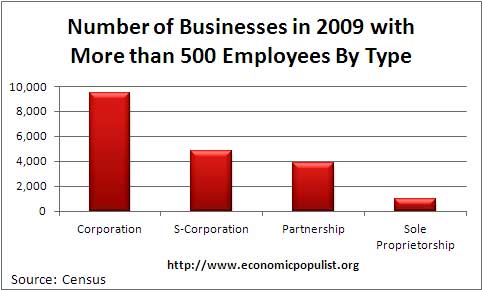 Typically, large business entities are C corporations and are not subject to the type of taxes conflated with individual taxes that we hear so much political spin about. C corporations are 1,246,517 or 21.6% of all firms and within C corporations, 99.2% of them had less than 500 employees.
Small Business
According to the SBA, a small business is defined as companies with 500 or less workers. Of the total number of firms in 2009, 5,749,797, or 99.7% of them, employ less than 500 people each. Yet these same small businesses employ less than half, 49.2%, of the total private employees in the United States. Below are small businesses type and the number of employees they have.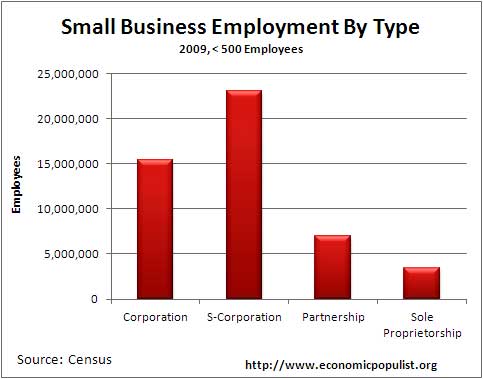 Additionally from the SBA we see many businesses simply have no employees.
There were 6.0 million firms with employees in 2007 and 21.4 million without employees in 2008.
While it's true that small business does generate the majority of jobs, it's actually a tiny percentage of small firms that are the job growth engine so touted by pundits and politicians.
Small firms accounted for 65 percent (or 9.8 million) of the 15 million net new jobs created between 1993 and 2009.

Much of the job growth is from fast-growing high-impact firms, which represents about 5-6 percent of all firms and are on average 25 years old.
S-Corporation
Now one might wonder how S-corporations have so many employees. After all, they are tax pass through vehicles. Here's the thing, S-corporations allow owners to not pay as much in payroll taxes. That's contributions to social security and Medicare. One has to pay employees a reasonable salary in a S-corp, yet income from the business is passed through and taxed as individual income. That income from the S-corporation isn't subject to FICA, or social security and Medicare taxes, unlike sole proprietorships because they pay self-employment tax. Democrats tried to close this loophole, but the bill failed earlier this year.
So, watch out on S-corporations in terms of really generating jobs, many of those employees are also owners of the business, playing games with the tax code and classifying themselves as employees with low salaries in order to reduce their tax bill.
Businesses with No Employees
The Census also gives us statistics on businesses, all types, which do not have any employees, yet received $1,000 in gross receipts or more (Construction receipts requirements are only greater than a buck). According to the Census the majority of all business establishments in the United States are nonemployers. These same firms average less than 4% of all sales and receipts nationally.
In 2010, there were 22,110,628 firms which had no employees and 96.9% of 'em had less than $250,000 in gross receipts for their business. That's not income, that's what came into the business. It is not even profits. One has to deduct the costs of operating a business to find that number. Below is the graph of these nonemployer firms and their gross receipts by bracket. As you can see, most people who are self-employed are really broke. They aren't earning enough for themselves, never mind being able to generate jobs.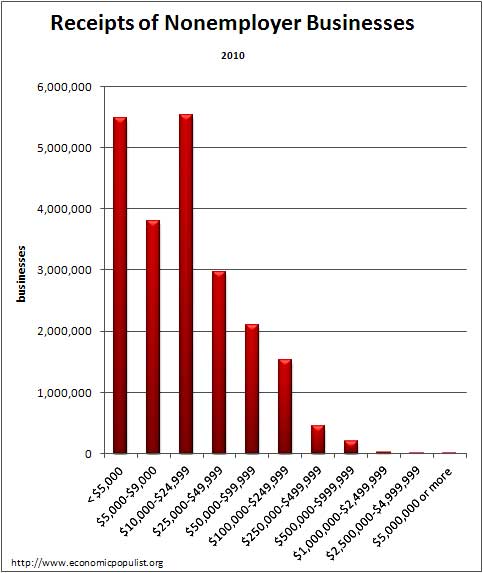 The point of this exercise is to show politicians and pundits are baffling the people with bullshit. Business taxes are not individual taxes and those which have tax pass through, most of the owners are barely getting by, or hiring themselves....to not pay taxes.
It's clear the claim reducing the top individual income tax bracket has little to do with actual jobs. The statistics from the Bush tax cuts also show lower taxes for the rich do not generate jobs as did a more recent study. If policy makers and politicians really wanted to change the tax code to generate jobs, they would be creating a tax rebate tied to hiring and retaining U.S. citizens as employees, not simply giving even more money to the wealthy.