Howz that globalization workin' out fer ya? A new National Science Board report, Science and Engineering Indicators 2012, finally shows some bleak statistics for American Scientists and Engineers. High-technology manufacturing has lost 28% of jobs since a 2000 employment high of 2.5 million. That's 687,000 jobs. Below is the NSB report graph of the drop in high-tech manufacturing employment for the last decade.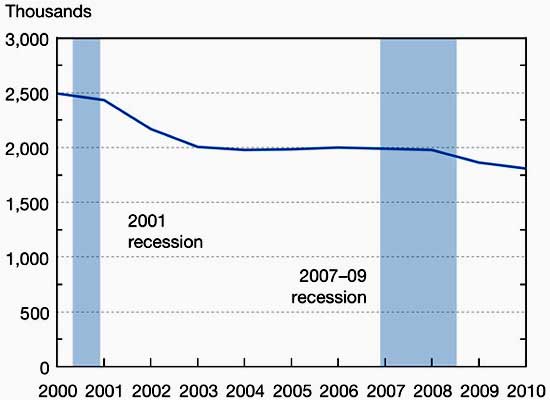 U.S. employment in high-technology manufacturing reached a peak in 2000, with 2.5 million jobs. The recession of 2001 provided the first big hit causing "substantial and permanent" job losses, the report said. By the end of the decade, more than a quarter of the jobs were gone.
NSB committee chair Dr. José-Marie Griffiths:
We're seeing the result in the very real, and substantial, loss of good jobs
Additionally U.S. corporations are moving advanced R&D offshore. From the NSB press release:
U.S. multinational corporations also created research and development (R&D) jobs overseas at an unprecedented rate.
Below is the NSB graph of research and development employees by U.S. multinational corporations from select years. Bear in mind 2009 was the depth of the global recession. The below statistics do not separate out the hundreds of thousands of foreigners brought over to work in the United States by these same companies. Those foreign guest workers are included in the U.S. statistics.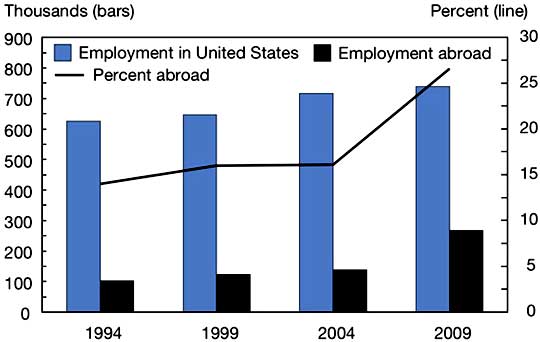 On top of the lost manufacturing employment, U.S. multinational corporations are rapidly expanding their R&D jobs overseas. For a decade, from 1994-2004, U.S. firms established R&D jobs abroad at a relatively slow annual rate of three percent, increasing the share of their R&D employment overseas from 14 percent to 16 percent. But according to preliminary figures, in the next five years, 2004-2009, the number of new R&D jobs overseas took off, growing to 27 percent of all R&D jobs at these U.S. firms. Since 2004, about 85 percent of R&D employment growth in U.S. multinational corporations has been abroad.

That rapid increase in employment by U.S. firms abroad contrasts with very modest growth in R&D employment in the United States by foreign companies.
We clearly have U.S. R&D itself technology transferring abroad. China is pouring investment and funds into advanced research and development. So are other Asian countries, such as India. These Asian make sure they hire their own citizens. They are not committing global labor arbitrage, unlike the United States.
The U.S. share of global R&D expenditures dropped from 38% to 31% between 1999 and 2009, according to NSB's new report, Science and Engineering Indicators 2012. Meanwhile, global R&D share in the Asia region grew from 24% to 35% during the same time frame. Asia's rapid ascent has been driven largely by China, where R&D growth spiked 28% in 2008-2009, landing it in second place behind the U.S.
The American Manufacturing Alliance wondered if this precarious declining position can be reversed at this point.
The relative shift of R&D to Asia can also be seen in overall expenditures. The U.S. still does more R&D than any other single country, spending $400 billion in 2009. But, for the first time, the Asian region has nearly matched the U.S., with R&D expenditures of $399 billion.
As we've noted month after month in the trade deficit overviews, the United States is now running a deficit in advanced technology. China is now the de facto world leader on high-technology trade with the rest of Asia about to exceed the United States. Below is the NSB graph on the high tech goods trade balance of various countries. Notice China's rise and America's fall.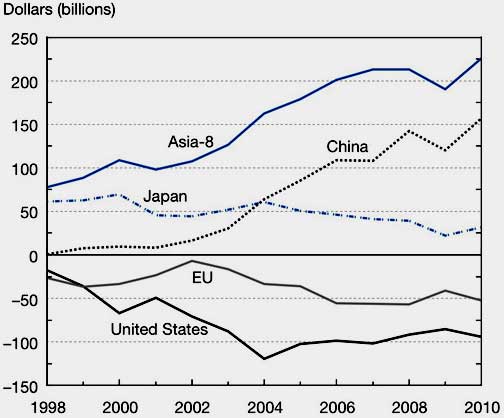 Recent trends are also reflected in the dramatic change in shares of global high-tech exports. After rising from 19 percent to 22 percent between 1995 and 1998, by 2010 the U.S.'s share of the global high-tech exports dropped to 15 percent. At the same time, China's share nearly quadrupled, growing from 6 percent in 1995 to 22 percent in 2010.

Asia now produces more than half of all high-tech goods exports worldwide, while the U.S. and the European Union countries each produce 15 percent. During the 15-year period of 1995-2010, Japan's share fell from 19 percent to 7 percent.

Until 1997, the U.S. enjoyed surpluses in trade of high-tech goods. But by 2010 those surpluses had turned into large annual trade deficits of nearly $100 billion, largely driven by the shift in production of communications and computer goods to Asia at a time of growing U.S. demand. At the same time, China's 2010 high-tech trade surpluses reached $157 billion, while eight Asian countries (excluding China and Japan) collectively enjoyed trade surpluses of $226 billion.
What the report does not say is how many U.S. citizens, Americans, have been forced out of their careers or dissuaded from entering the field at all by offshore outsourcing and the use of foreign workers to labor arbitrage Americans. If immigration actually helped U.S. Science and Engineering, clearly the United States would not be seeing these other dire statistics. Literally our universities are flooded with foreigners when it used to be dominated by American Scientists and Engineers. This isn't to say an international community isn't vital to R&D, it is, but there is a difference between enabling international talent and squeezing out Americans.
There is also a huge difference in investing in Americans versus believing advanced skills are just another commodity to be traded. This article started with a snipe. America knew how to dominate advanced technology, R&D and provide high quality, rewarding careers to American Scientists and Engineers. It seems Washington and U.S. multinationals had no problems throwing it all away, starting in earnest about the year 2000. Now, here we are, on the cusp of losing our R&D and advanced technology dominance. We haven't even mentioned how many careers and lives these policies already destroyed.