The ADP employment report shows a loss of 20,000 jobs in February, the smallest decline since February 2008. An amazing revision for last month, 22,000 to 60,000!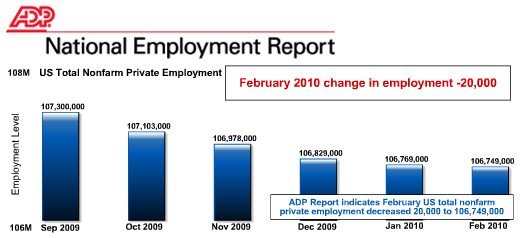 February's ADP Report estimates nonfarm private employment in the service-providing sector increased by 17,000, the second consecutive monthly increase. However, this employment growth was not enough to offset continued losses in the goods-producing sector. Employment in the goods-producing sector declined 37,000, with employment in the manufacturing sector increasing by 3,000. The employment increase in the manufacturing sector was the first since January of 2008.

Large businesses, defined as those with 500 or more workers, saw employment decline by 10,000 while small-size businesses with fewer than 50 workers, declined 18,000. Employment among medium-size businesses, defined as those with between 50 and 499 workers, increased by 8,000, the first increase in employment since January of 2008.*

In January, construction employment dropped 41,000. This was the smallest decline since July of 2008, but only slightly better than the decline of 48,000 during January. Employment in the financial services sector dropped 6,000.
It seems the only medium sized businesses (50-499 employees) added jobs (8,000).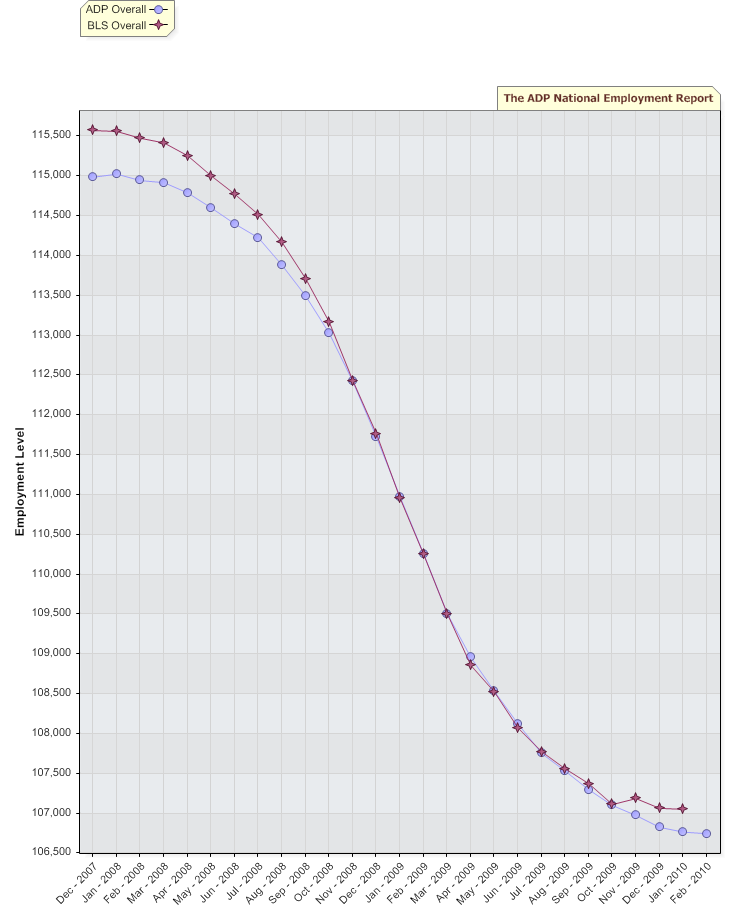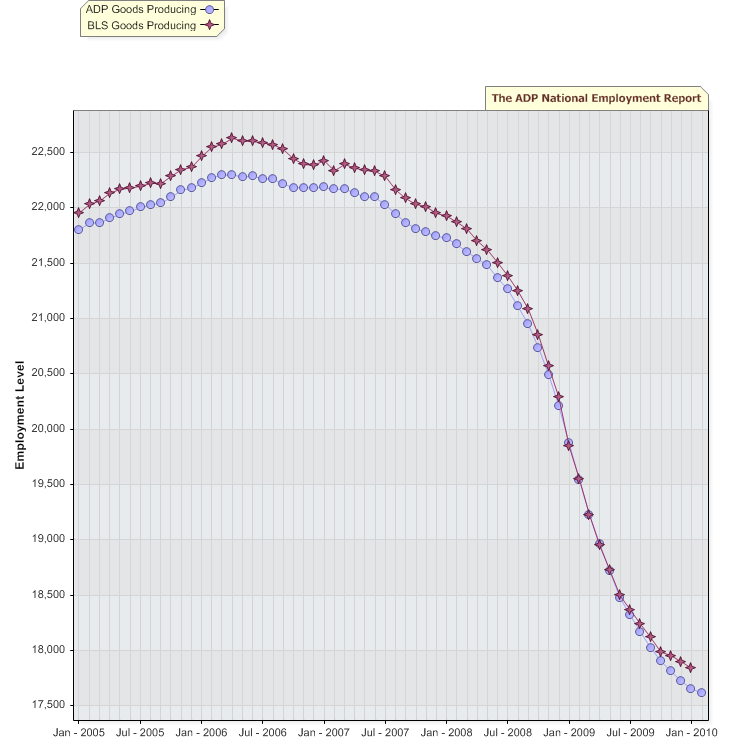 In the report are some long time window graphs to show the ADP, which is only private jobs, and the BLS unemployment statistics correlate reasonably well over time.
The breakdown by sector and within Goods, manufacturing increased 8,000:
Service-Providing +17,000
Goods-Producing -37,000
Announced layoffs also dropped:
February's total of 42,090 planned layoffs was 41% below January's 71,482 and 77% lower than the 186,350 job cuts tracked in February 2009, at the depth of the recession. It was the lowest monthly total since July 2006.
So, while it seems job losses have slowed to a trickle, job creation is still nowhere. From the total non-farm payrolls, we can see the 8.2 to 8.5 million (ADP vs. BLS report) job losses, which means we need some serious job creation and yesterday. Stopping the bleeding is not enough.