The ADP report for November 2010 it out and ADP is reporting a gain of 93,000 private sector jobs. This is the biggest job gain in 3 years. Even more encouraging, the October private sector jobs numbers were revised, from 43,000 to 82,000. That's almost double what was originally reported. Now don't get your panties all in a bunch, this still is not enough to lower unemployment. The United States needs a good 175,000 jobs per month just to keep up with population growth.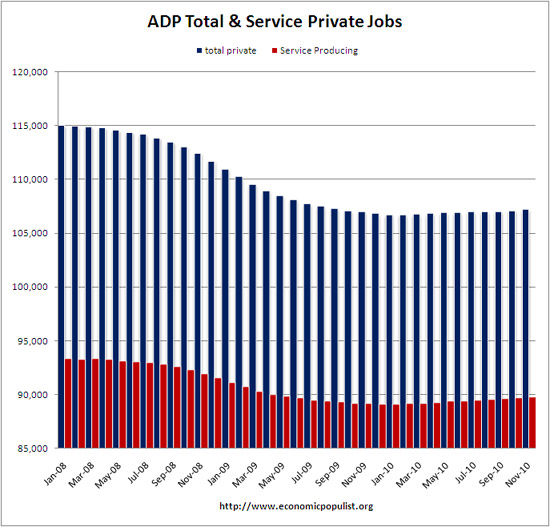 Employment in the service-providing sector rose by 79,000 in November, the tenth consecutive monthly gain. Employment in the goods-producing sector rose by 14,000, the first monthly increase since March 2007. Construction employment dropped by 3,000 during November, the smallest decline since June 2007, and manufacturing employment increased by 16,000.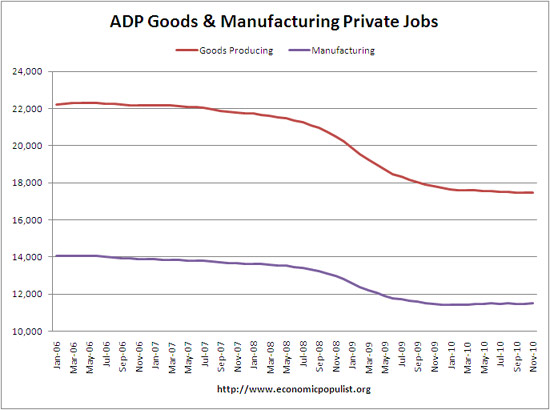 Ya know how the rhetoric goes on how small business is the job growth engine of America? From this report, it is. Read where the jobs came from in terms of the size of the business hiring:
Large businesses, defined as those with 500 or more workers, increased by 2,000 while employment among medium-size businesses, defined as those with between 50 and 499 workers, increased by 37,000. Employment among small-size businesses, defined as those with fewer than 50 workers, increased by 54,000.
The ADP report is a sampling, not a raw data tally. It's 340,000 businesses and the worker sample size of the private sector is 21 million.