Back in August 2007 when I was first formulating my idea of a "Slow Motion Bust" that would recreate the Panics of the 19th and early 20th centuries, but in multi-year s l o w m o t i o n, I wrote on the Big Orange Political Blog that business cycle research seemed to be making a resurgeance. In that blog post, I discussed the compelling data set forth by UCLA economist Edward Leamer in a paper presented at Jackson Hole earlier in August 2007 (warning: pdf).
To summarize that blog entry, according to Prof. Leamer, the 10 recessions that have occurred since World War II have followed a typical pattern. Housing declines first, well before the recession; then durable goods especially cars (which fall most precipitously during the recession); then consumer nondurables (generally retail sales); and finally at the end, consumer services:
We have experienced 8 recessions preceded by substantial problems in housing and consumer durables....
....
Residential investment consistently and substantially contribute[d] to weakness [in GDP growth] before [ these 8 ] recessions....
....
After residential investment as a contributor to prior weakness come consumer durables, consumer services, and then consumer nondurables. Those are all consumer spending items -- it's weakness in consumer spending that is a symptom of an oncoming recession.... The timing is: homes, durables, nondurables, and services. Housing is the biggest problem in the year before a recession... durables is the biggest problem during the recession [although consumer durables declined even more than housing before 2 of the 10 post World War II recessions]
In terms of timing, housing typically begins to decline 5 quarters before recession, with durables and nondurables hitting their peak 4 quarters before the recession, and gently declining until the recession hits.
After a housing slump, the next part of the economy to turn negative before a recession is consumer durables, meaning big-ticket items that consumers purchase to last a long time. The biggest example of that is cars.
Previous production of new homes and cars create a stock of existing assets that compete with current production....
The asset prices of both homes and new cars suffer from downward price rigidities
In other words, the economy can only sustain X amount of cars and houses in any given period. Overbuilding in one period (a boom) means that in the next period, there will be underproduction (a bust). It is this absolute decline in activity that forms the basis for the recession.
____________
Judging by Prof. Leamer's research, unless we are in the midst of a 1929-32 style economic Armageddon, then we are probably right in the trough of the recession now. As we all know, the housing market has been collapsing since early 2006. Durable goods held up well, but auto sales - the biggest coincident indicator of a recession - have been collapsing for the last several months:
Sales at the nation's top automakers fell sharply in September, as tighter credit for buyers and dealers combined with high fuel prices resulted in industrywide U.S. sales falling below the 1 million mark for the first time in more than 15 years.

The sales declines were broad based, with Japanese automakers reporting the same kind of double-digit declines that hit U.S. brands earlier this year when the record gasoline prices sent buyers scurrying from SUVs and pickups to more fuel efficient car models. Overall Asian brands saw a 31% drop in sales, more than the 24% drop among traditional domestic brands.
Meanwhile, housing starts and permits are at levels not seen since the bottom of previous recessions: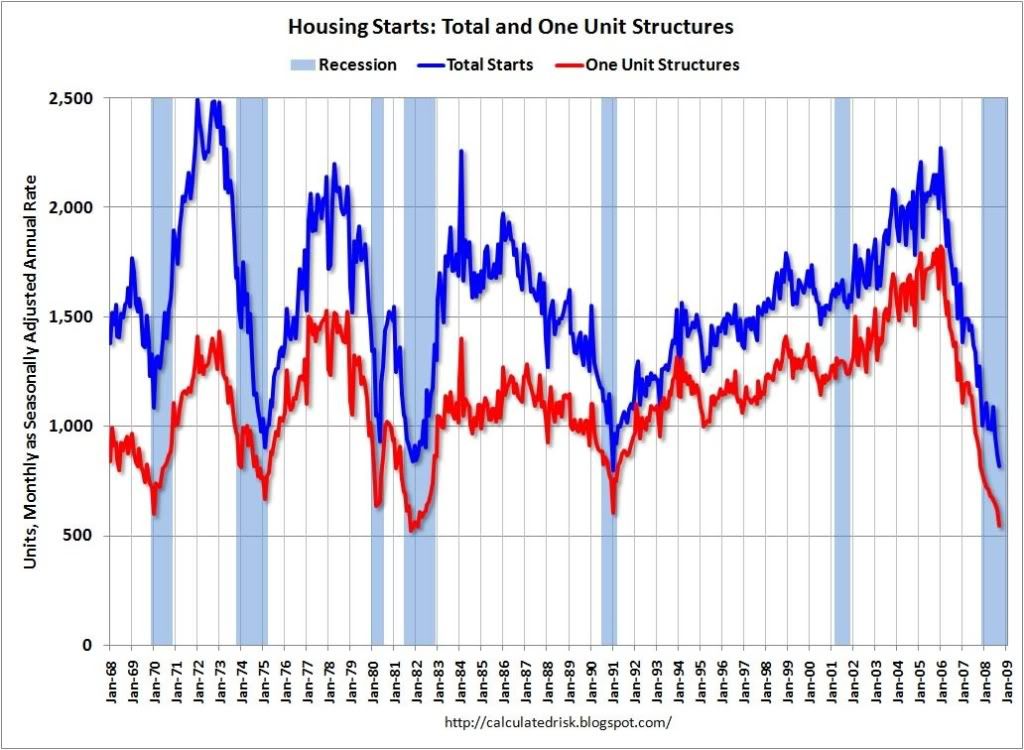 and sales are actually picking up a little bit.
The next part of the economy to decline is consumer nondurables. As tracked by official retail sales, and independently by Shoppertrak, retail sales finally declined substantially with the onse of $4 gas in summer, and then declined drastically in September:


recovering somewhat by the latter part of October.
According to Prof. Leamer's research, services decline last, sometimes at the very end of recessions. The most recent ISM services report supports that view, as the services portion of the economy is only now on the cusp of decline:


(readings over 50 indicate expansion; readings under 50 indicate contraction).
In conclusion, if the historical business cycle pattern described by Prof. Leamer is being followed during our current recession, then his research supports my speculation that at some point in the next few months we may begin a period of tepid recovery or respite. If my notion of a "slow motion bust" remains valid, that respite (much like the period between the 1979 and 1981 recessions) will be brief, lasting less than a year before the contraction resumes.