The BEA released their breakdown of pay, or county compensation by industry for 2009. For all U.S. workers, total compensation contracted 3.2% for 2009. Compensation declined in two-thirds of the 3,113 counties in the U.S. Can you say out of a job and broke? The report is worth reading just for the maps. Below is the BEA percent change county compensation map for 2009. Notice Oregon, which never seems to make the press in terms of bad news. It's not blue, it's brown, withering on the vine.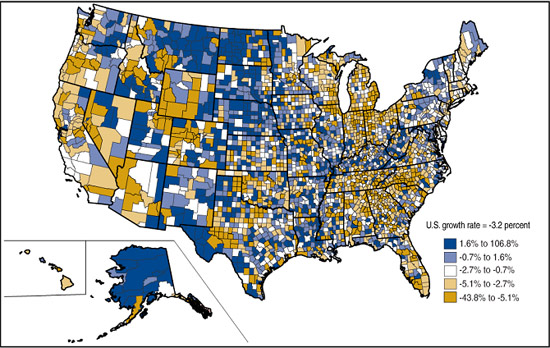 Look at the areas of the Midwest, the rust belt, where in 2008 Obama swore he would do something about trade, U.S. workers and U.S. manufacturing, it's almost a sheet of brown. Only the dark blue is a percentage increase, the rest of the BEA map scale colors are negative, or the depth of compensation loss.
The BEA breaks information down to regions. Here are the hardest hit counties by region in America. You won't believe these declines in just one year.
Great Lakes Region: Oscoda County, Michigan at -29.0%
Far West: Crook County, Oregon at -12.5%
Midwest: Fulton County, Pennsylvania at -18.1%
Northeast: Nantucket County, Massachusetts at -10.5%
Plains: Slope County, North Dakota at -43.8%
Rocky Mountains: Sweet Grass County, Montana at -28.5%
Southeast: Winston County, Mississippi at -27.5%
Southwest: Greenlee County, Arizona at -33.1%
Here's something also kind of ridiculous from the report, most of the money is being made in large cities (counties). In today's age of the Internet, communications everywhere, one must wonder why the requirement to get a job one must go to a big city. Below is the breakdown by county size and what contracted, expanded in terms of by industry compensation.
Compensation in large counties

Counties with at least $10 billion in total compensation represent 5 percent of the 3,113 counties in the U.S., but account for almost two-thirds (65 percent) of total national compensation. In these 167 large counties:

Total compensation contracted by 3.7 percent in 2009, ranging from -15.9 percent in St. Louis City, Missouri to 5.3 percent in Arlington County, Virginia
Declines in finance and insurance, construction, and durable-goods manufacturing were the largest contributors to the contraction in 2009 total compensation
The professional, scientific, and technical services sector represented the largest share of 2009 total compensation at 10.7 percent
Average annual compensation per job grew by 0.8 percent in 2009, ranging from $44,750 in El Paso County, Texas to $109,028 in New York County (Manhattan), New York

Compensation in medium counties

Counties with total compensation of at least $1 billion and less than $10 billion represent 22 percent of all U.S. counties, and account for 26 percent of total national compensation. In these 672 medium counties:

Total compensation contracted by 2.2 percent in 2009, ranging from -15.1 percent in Elkhart County, Indiana to 11.4 percent in Onslow County, North Carolina
Declines in durable-goods manufacturing and construction were the largest contributors to the contraction in 2009 total compensation
The health care and social assistance sector represented the largest share of 2009 total compensation at 12.5 percent
Average annual compensation per job grew by 2.0 percent in 2009, ranging from $33,080 in Sevier County, Tennessee to $101,531 in North Slope Borough, Alaska

Compensation in small counties

Counties with total compensation of less than $1 billion represent the remaining 73 percent of all U.S. counties, but account for only 9 percent of total national compensation. In these 2,274 small counties:

Total compensation contracted by 2.3 percent in 2009, ranging from -43.8 percent in Slope County, North Dakota to 106.8 percent in Trimble County, Kentucky
Declines in durable-goods manufacturing and construction were the largest contributors to the contraction in 2009 total compensation
The local government sector represented the largest share of 2009 total compensation at 17.2 percent
Average annual compensation per job grew by 2.0 percent in 2009, ranging from $28,661 in Zavala County, Texas to $97,433 in Eureka County, Nevada