Today is a historic day. The Federal Reserve gave their first press conference, ever. Below is the actual full press conference so you can watch for yourselves, in full.
It's astounding this above full press conference has only 5 views at the time of this posting. Folks, if you want the Fed to speak, it's a real good idea to listen to what they say, in spite of Bernanke's geeky nervousness.
First, Bernanke gave a preview of tomorrow's Q1 2011 GDP release, below 2% annual growth. The FOMC updated their annual GDP growth projections for 2011 to be between 3.1%-3.3%, from 3.4%-3.9%.
On the infamous S&P U.S. credit downgrade threat, Bernanke seems to agree with their political maneuver since the deficit is not sustainable.
One of the more odious claims Bernanke made is gas prices will not continue to rise at the current pace and will come down.
The Fed released their FOMC statement, and when it comes to oil, here are their reasons or lack thereof:
Commodity prices have risen significantly since last summer, and concerns about global supplies of crude oil have contributed to a further increase in oil prices since the Committee met in March.
So, why the Fed believes oil prices will drop is unknown. A global economic slowdown will reduce demand. Maybe the Fed knows of a supply increase or possible speculation will ebb. To wit, a great post on oil prices' correlation to currency exchange rates from 2007 shows there isn't as much correlation as one would think in exchange rates vs. oil prices. I'll borrow one of the graphs but it's a great analysis piece to understand that relationship.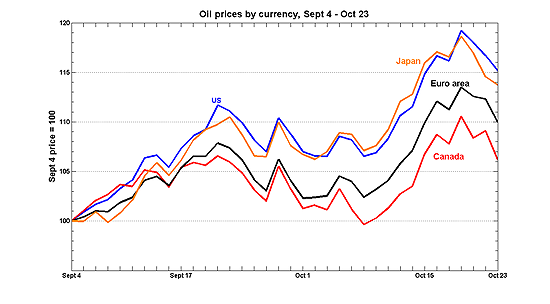 And just to make sure everything is confusing, even if nominal dollar and oil price movements due to monetary shocks are the reason for the correlation, the resulting dollar movements -- in the presence of sticky prices -- can result in real exchange rate movements (see Frankel (2006) that re-allocate wealth and spending power between countries, and hence feed back to oil prices.
One thing I appreciate from the Fed is how they do not deny the jobs crisis and how critical it is to real economic growth and recovery. Unfortunately it is Congress and this administration, not the Federal Reserve who could change trade policy, tax policy, curtail offshore outsourcing and other factors that are key critical to create jobs.
For all of you wanting to know why the Federal Reserve lending money to a Libyan Bank, you are sorely disappointed. The press gave softballs to the Fed.