This is a continuation of a monthly series that up until now has been called The Deflationary Bust Deepens. Each month I have been tracking the progress of this first full-fledged deflationary bust in over 50 years, comparing the progress of deflationary consumer and producer prices now with the pattern of the 5 deflationary busts between 1920-1950, including the Great Depression.
Yesterday morning the BLS reported that consumer inflation increased +0.7% (seasonally adjusted) in June, (rising 0.9% non-seasonally adjusted). Year-over-year prices have fallen - 1.4% (NSA) into deflation. YoY consumer deflation is only surpassed by 1949's -2.9% in the post-Depression era.
The 2009 first half inflation data has unfolded in accord with the optimistic scenario I laid out in January:
In the Optimistic scenario, the fiscal and monetary stimuli, together with intelligent new political leadership in Washington, halt the meltdown perhaps by mid-year, and wage reductions remain the exception. In the Pessimistic scenario, the stimuli fail, and wage reductions spread, leading to a wage-price deflationary spiral.

In the Optimistic scenario, monthly inflation remains positive, but perhaps at 1/3 to 1/2 the level of last year. By the end of June, first half 2009 inflation will be in the 1.4%-2.2% range. Year over year, however, as the 2008 numbers are replaced, DEflation will be realized, falling to (-2.0%) - (-2.7%) range....

In the Pessimistic scenario, monthly inflation remains near 0%-1% in the first half, and is firmly negative, though less than 2008 in the second half. By mid-year, YoY DEflation will be somewhere in the (-3%) - (-4.5%) range....
At mid-year, NSA inflation for 2009 so far is +2.5%, running slightly hotter than the optimistic scenario outlined above due chiefly to the Oil speculation and hoarding of this spring (which appears to have ended).
In the pre-World War 2 era of deflationary busts, including the Great Depression, PPI for commodities bottomed and turned around either before or simultaneously with CPI. When YoY CPI bottomed, the bust ended, coinciding with increased demand. Here is the consumer and commodity inflation data during the deflationary 1920-1950 era demonstrating this point: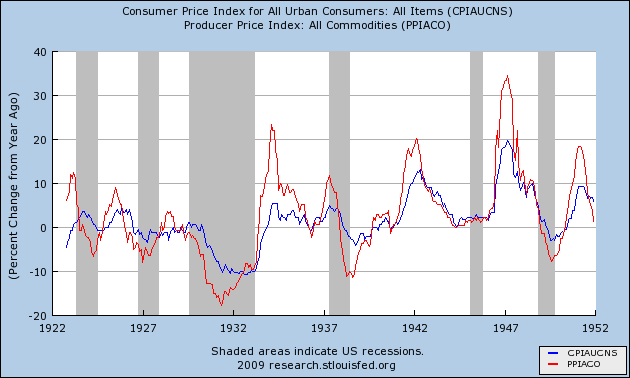 Note that commodities (in red) almost always turned up before the economy as a whole did. Typically CPI (in blue) bottomed on a year-over-year basis at the end of deflationary recessions, including the Great Depression.
In June, for the first time, there is evidence that YoY commodity deflation may indeed have bottomed, rising from -13.4% to -13.2% YoY. Additionally, YoY CPI deflation has only decreased -0.1% this month. Here is the same graph for our current deflationary downturn, plus PPI for finished goods (in green: this series was not kept before WW2):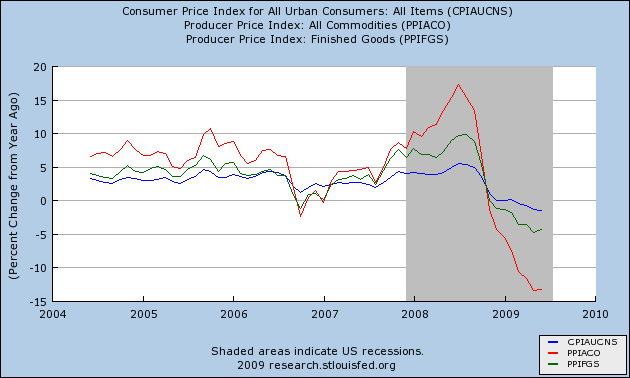 That the deflation in both YoY commodity prices and CPI has bottomed is likely to be confirmed next month, when the comparisons will be to the collapse in commodities that started after July 4, 2008. (July 2008 CPI inflation was +0.5% NSA. By contrast, August 2008 was -0.4% NSA.) That is one reason why, even though one month does not make a trend, there is a legitimate optimistic scenario whereby this recession (or this leg of a "W" shaped recession) will bottom somewhere around Labor Day.