Last week we received the last data for housing through February. New home sales as reported by both the Census Bureau and the NAR ticked up on a seasonally adjusted basis, but have not yet broken trend - a trend that would take them to zero by this time next year!
I've laid out my scenario for the housing market in transition in several posts beginning last December, on Feb. 27 for new home sales, and on March 16 for existing home sales. As of March 17, Calculated Risk adopted the virtually identical analysis.
While there are certainly other bloggers who get many more page views than I do, and there has been much commentary on the February sales data, there is a nugget of interesting information that nobody else has teased out of existing home sales.
Mainly the commentariat has explained that existing home sales haven't hit bottom. But as I've noted several times already, for the last 6 months, they've been almost equal to sales of a year previous. I've put that information together for you in this table:
Month
YoY % Change
rolling 6 mo. avg
YoY % change
2/2009
(-4.6%)
(-4.2%)
1/2009
(-8.6%)
12/2008
(-3.5%)
11/2008
(-10.6%)
(-8.4%)
10/2008
(-1.6%)
9/2008
+1.4%
8/2008
(-10.7%)
(-15.3%)
7/2008
(-13.2%)
6/2008
(-15.5%)
5/2008
(-15.9%)
(-20.3%)
4/2008
(-17.5%)
3/2008
(-19.3%)
2/2008
(-23.8%)
1/2008
(-23.4%)
12/2007
(- 22.0 %)
The middle column compares sales volume from e.g., February 2009 with that of 2008. The trend is pretty obvious.
The column on the right averages sales volumes for the six months up to and including the month posted. I've done this for 3 month intervals to make the trend smoother and stand out more. As you can see, averaged over 6 months, the rate of change of housing sales has decreased ~5%. If the trend were to continue, YoY sales from 12/2008 - 5/2009 would be virtually identical to the year before, forming a bottom.
I am grateful to Tim Iacono of The Mess that Greenspan Made who has prepared a graph showing the data in the middle column: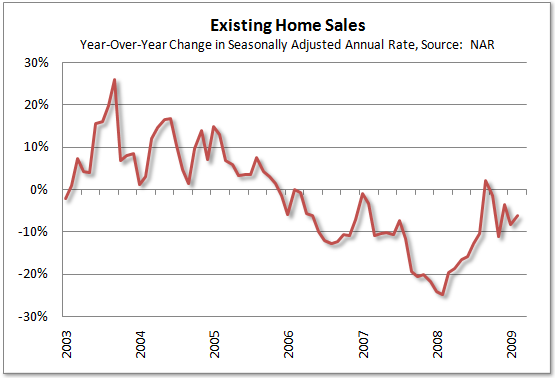 (Please note that Tim has used NAR revised data and expanded the date range, whereas I have used the unrevised data. Either way the results are similar).
I doubt the breakeven point will come so quickly. This graph, also fromTim Iacono, shows that existing home sales, after trending sideways for nearly a year at 2.8m-3.0m units, decreased by about .3m in the wake of Black September.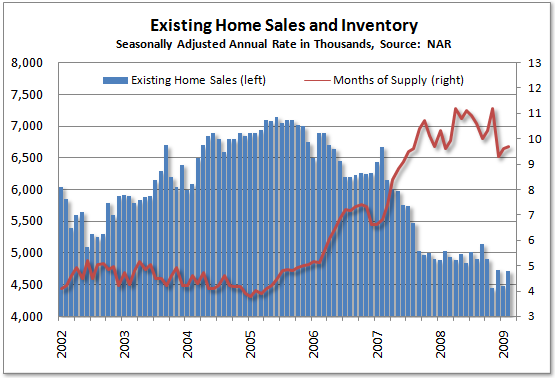 As I indicated in my last post, at least in terms of sales of smaller items, consumers appear to have almost completely recovered. Sales of large price-tag items like houses and cars have not. It will nevertheless be interesting to see if the effect of Black September abates as to these items as well in the coming few months. In summary, however, barring another Oil price shock or 401k shock, it appears that the volume of existing home sales will bottom at some point this year.