It's like someone pulled the unemployment rate out of a Star Trek transporter, as if America entered a time warp machine and we moved to another dimension through a worm hole. A 0.3 percentage point drop to 7.8% makes no sense when there were only 114,000 jobs added. Captain, can the unemployment rate be right and we really did defy the laws of statistics?
We want to point to something which might in part explain what happened this month with the household survey statistics. That is how long someone holds a job. We don't have monthly statistics on job tenure, yet it could very well be that finally, people are working longer at a job. The never ending Schindler's List attitude towards U.S. workers may have abated. The U.S. has disposable worker syndrome, where people are laid off and fired for no damn good reason at all. It's a fact of the American work life while one has a job one week, there is no guarantee one will have a job the next.
To wit, let's look at another obscure BLS statistic, labor force status flows. This is the number of people flowing from being in the labor force, out of the labor force, employed and unemployed on a monthly basis. Below is a graph of the monthly changes of people who moved into employment from already having a job, not being counted at all, or being part of the official unemployed since 2006.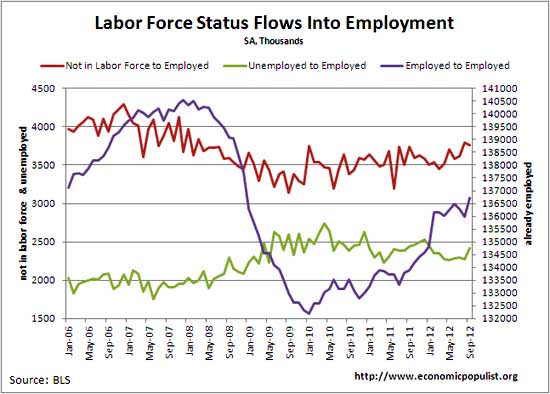 We can see from the above graph many more people who are currently employed are remaining so into the next month. We also see people who are unemployed are not getting jobs like they were before 2008 and those not in the labor force aren't getting as many jobs either.
A study with older statistics showed workers were not keeping their jobs for long, so the above trend maybe a more positive sign in terms of job duration.
Another statistic from the September employment report is a huge uptick in part-time employed for economic reasons, 582,000.
Some people are in part-time jobs because they want to be, others because they cannot find anything else. There are 8.613 million people stuck in part-time jobs because that's all they can get. Below is a graph showing how much non-voluntary part-time workers has increased.
Some are stuck in part-time because their hours were cut by their employer. These part-timers due to slack work now number 5,523,000, an increase of 306 thousand from last month. Below is a graph of forced part-time because they got their hours cut as a percentage of the total employed. This metric is a solid recession economic indicator. See how closely the percentage increase matches recessions, the gray bars? The percentage of people in part-time jobs due to slack economic conditions has stayed extremely high since the start of the Great Recession and runs in trend with other economic indicators, unlike this month's unemployment rate decline.
We've already examined some of the differences between the payrolls reported gain vs. the artificial drop in the unemployment rate and found the probable cause was statistical and seasonal adjustment errors.
Persons who completed temporary jobs dropped by -218,000, the largest monthly drop in the history of the series. It is possible that more temporary jobs were extended and became permanent? One thing we can rule out on this monthly change is a seasonal adjustment error for there is no corresponding gain in another month.
To amplify the possibility of more temporary jobs turning into permanent, even part time, we had a dramatic drop in those newly unemployed for less than 5 weeks in September. This is 302,000 less and a -10.6% change from August. The drop isn't a record by any means, yet does support the hypothesis there were less layoffs, fires and loss of temporary jobs than expected in September.
Another area which was amplified in the BLS Commissioner's statement are strange goings on with the 20-24 year olds' drop in unemployment levels and employment gains from the September household survey. Those employed increased 368,000, the highest monthly amount in the history of the series, yet unemployment in this age group dropped -206,000.
Here there is clearly something wrong with seasonal adjustments for the previous month shows those 20-24 year olds employed declined by -250,000 while those unemployed increased by 32,000.
Yet can one blame this month's absurd, unrealistic employed gains and unemployment rate drop on just the 20-24 year olds and seasonal adjustment error?
We think not and the below graph is the reason why. Below is the seasonally adjusted level change in employed from the household survey, broken down by age brackets. The graph bars are in order by youngest to oldest. The bar colors are: ages 16-19, maroon; ages 20-24 blue; ages 25-34 red; ages 35-44 green; ages 45-54 orange and those over 55 purple.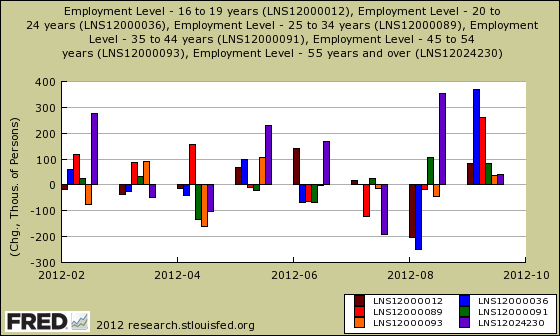 As we can see, each month, different age groups show dramatic changes in reported employed. We could just as easily blame the 25-34 age bracket. Their September 2012 employment levels increased by 260,000. Or blame the gray hairs. Those 55 years of age and over added 352,000 employed in August. Historically, there are wide swings in number of employed for all age groups in September and for each year, which age group had that large change in those employed also varies. Graphed below, using the same color scheme, are unemployment rates per age bracket, seasonally adjusted. Here too we see significant variance on a month to month basis.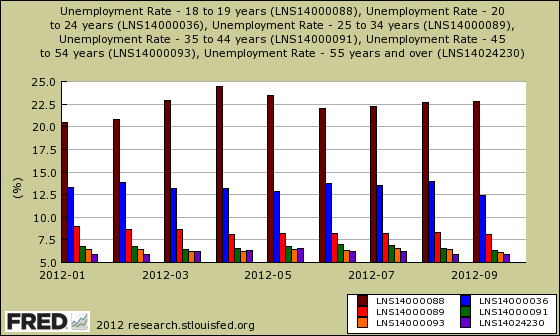 While the 20-24 years old job level increase is a record high, if one takes August and September together, we get a net gain of 118,00 for this age group over two months. Bottom line, the 20-24 year olds employed level increase still doesn't explain September's overall huge increase of 873,000 newly employed. Even if one subtracts off 368,000 employed blamed on those pesky 20-24 year olds from the monthly household employed change level of 873,000, we still have a monthly unrealistic increase of 505,000 while payrolls only increased 114,000. Realistically, we would have some level change, not zero, for 20-24 year olds each month.
As previously discussed in this post, September's unemployment statistics are better explained by the shortcomings generally with the survey than by cherry picking one series of unfortunate statistical events and claiming that is the cause. Every month we look at the employment report and every month there is at least out of kilter metric which seems way out of whack for a monthly change. Overviewing the monthly employment statistics always involves discrepancy dissection discourse. The real numbers to bet the farm on each month are from the establishment survey, nonfarm payrolls.