The Office of the Comptroller of the Currency & Office of Thrift Supervision have released their 3rd Quarter Mortgage Performance Report, and new foreclosures increased 31% in Q3 2010 from the previous 3 months.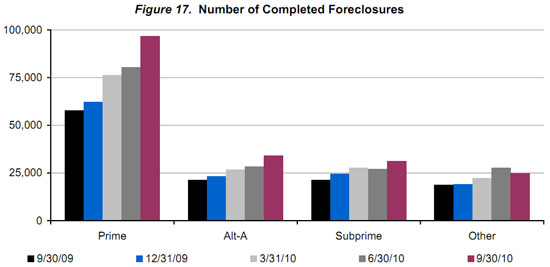 The number of new foreclosures increased to more than 382,000—31.2 percent more than in the previous quarter and 3.7 percent more than a year earlier. The number of foreclosures in process increased to 1.2 million—4.5 percent more than in the previous quarter and 10.1 percent more than a year earlier. The number of completed foreclosures also increased to nearly 187,000—14.7 percent more than in the previous quarter and 57.5 percent more than a year earlier.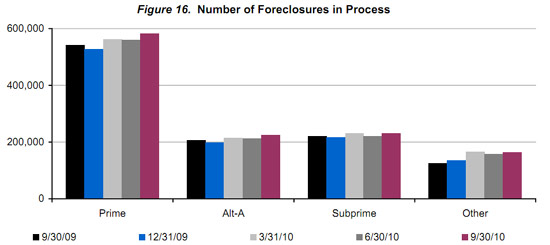 Wow. Their report covers 33.3 million mortgages in this country, 64% of all first mortgages and 84.7% of them are not in trouble. This data represents $5.8 trillion in mortgages.
Delinquencies are a strange brew. Those over 60 days late decreased by 6.4% while those 30-59 days late increased by 4.3%.
Beyond the horrific foreclosure statistics the report claims twice as many home retention actions have happened, yet activities of trying to help homeowners declined 17% from last quarter. The report claims this is due to HAMP.
Although foreclosure activity increased during the quarter, servicers reported almost twice as many home retention actions as completed home forfeiture actions. Servicers implemented 470,321 home retention actions—loan modifications, trial period plans, and shorter term payment plans—compared with 244,840 home forfeiture actions.

During the past five quarters, servicers initiated nearly 3 million home retention actions—about 987,000 modifications, 1.3 million trial period plans, and 673,000 payment plans. Home retention actions declined 17 percent from the prior quarter, driven by decreases in modifications and trial period plans under the Home Affordable Modification Program (HAMP).
The report goes into detail on states. 21.6% of all mortgage modifications are coming out of California with Florida being 10.6%. Mortgage re-default rates by state seem to follow poverty and income more closely, with Mississippi having the highest at 26.6% of re-defaults after mortgage modifications. Probably more telling is how many mortgage "modifications" cause payments to increase. Something is seriously wrong with this picture when people desperate get a mortgage modification and the payments and interest actually increase. While overall the report states 88% of mortgage modifications result in a payment decrease, the rates of an increase in some states is most interesting. In Missippippi for example, 46% of the 26.6% of the re-defaults from a Q1 mortgage modification which increased the payments.
The report has more facts on modifications, re-defaults, foreclosures and HAMP, complete with tables and figures beyond the above.