It's Friday Night! Party Time! Time to relax, put your feet up on the couch, lay back, and watch some detailed videos on economic policy!
Tonight's video is a talk from ITIF on manufacturing and productivity. We covered some of the details amplified earlier in this multifactor productivity post.
U.S. Manufacturing & Productivity ITIF Lecture
You might want to follow along by downloading their report, Worse Than the Great Depression: What the Experts Are Missing About American Manufacturing Decline. The graphs used in the video are very difficult to make out, but the same as the paper and multimedia link.
To validate what Atkinson is talking about, below is a graph of U.S. manufacturing jobs today as a percentage of the manufacturing jobs in January 2000. Yup, it is that bad of a loss! We started 2000 with 17.3 million manufacturing jobs and today we have 11.9 million. In other words in a space of 12 years the United States has lost a third of her manufacturing jobs.
Manufacturing Jobs as a Ratio of January 2000 Levels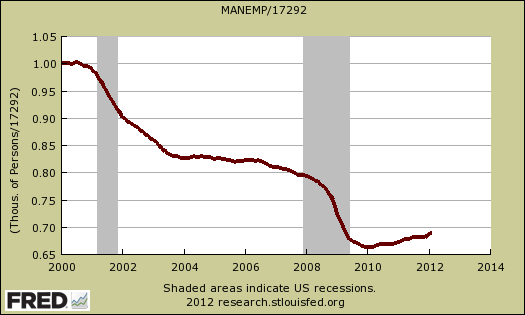 We watched the above talks in detail, looking for informational and data flaws. The above talk and data looks solid and this is very important research. Understanding what the hell is really going on with globalization, outsourcing, manufacturing and overall economic growth is key critical to planning strategy.
The reason we doubled checked this research is the ITIF promotes more H-1B foreign guest worker Visas! We know there is no tech worker shortage, none. The ITIF references flawed studies to promote more Visas. Not only is there no STEM labor shortage in the United States, the industry is notorious for age discrimination, race discrimination and sex discrimination and of course lobbying for more foreign guest workers through fictional economic spin known as corporate sponsored white papers. One woman engineer described STEM R&D as like walking into a 1950's time warp. Why would the ITIF promote more U.S. STEM labor arbitrage and worker displacement? We're not sure but it might have something to do with ties to the DLC branch of the Democratic party or because the topic is so front loaded and full of misinformation, maybe they just are not aware. That said, one thing the ITIF also endorses is changing the foreign guest worker Visa issuance from first come first served to an auction where the highest bids obtain the Visas. This in fact is a policy change that could help stop use of foreign guest worker Visas for labor arbitrage. It's not everything, but something.
With this disclaimer said, one needs to ignore all comments about U.S. skilled labor, talent, STEM from these guys. That said, don't throw the baby out with the bathwater. The above ITIF talk has been Economic Populist ratified and has some great manufacturing and productivity analysis, including Q&A from the audience.