The US is no longer the engine, or at least the sole engine, of global economic growth. That mantle is shared, at least, with Europe, and even moreso with emerging Asia, and nowhere so much as China, now the world's 4th largest economy and 47wallst.com/2008/07/china-a-10-gdp.html">growing at a rate of 10% a year.
That growth has run smack up against at least short term limits on the availability of resources -- metals, livestock, rice, and more than anything else, Oil.
While growth in the US peaked about two years ago and has been generally declining since, most recently measured at about 1.9% (but perhaps in a year or three retroactively to be revised into negative territory, as Q4 2007 just was), China in particular has continued to boom, as I described in China's Out of Control Inflationary Boom.
Global inflation has been driven by China and Oil, and facilitated by their links to the declining US$. China's continued growth is continuing to put pressure on commodities. Moreover, China's continued albeit reduced subsidies to the consumption of oil, continues to distort and increase global demand.
But there are strong deflationary forces at work in the industrialized world: the US is currently somewhere in the middle of what the Bank of International Settlements has bluntly called the "unwinding of a credit bubble." This unwinding is wiping out perhaps $trillions of imaginary "values" in the form of a housing and financial crash, as $4/gallon gasoline continues to destroy demand. Meanwhile, the European Central Bank seemingly determined to throw that continent into recession with a tight interest rate policy.
At the beginning of this year, I mapped out a future in which food and fuel inflation would continue to rise until a recession kicked in with sufficient force to reduce demand. At some point as demand declined, I expected inflation to subside as well. I was sufficiently confident in my prediction that I bet my friend Bonddad $50 to a favorite charity that the inflation rate by the end of 2008 would be lower than the inflation rate at the end of 2007.
Most of that scenario is coming to pass. The outlier has been the price of oil, which drove official inflation to 5% by June, and which went ever more parabolic -- until this last month. Originally, guessing that a recession had begun in about December 2007-January 2008, and noting that in the oil-spike induced recessions of 1981 and 1990, food inflation peaked first, then oil price inflation a few months later, I believed that the inflation rate would peak during spring and then begin to decline. This obviously didn't happen as oil went parabolic, climbing to $147 by about July 4. Food and overall inflation did steady, but then peaked at 5% in June: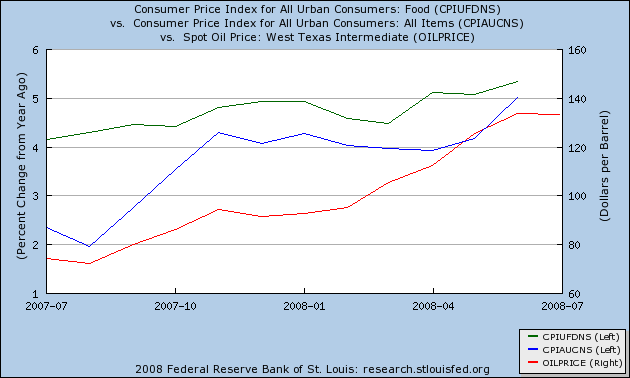 In July the worm may finally have begun to turn. The price of a barrel of oil broke trend and went down from $147 at its high point to $120 just before month's end, a new short term low -- the first time that has happened in 6 months.


Thus it appears that the year-over-year surge in oil price inflation may finally have peaked, heralding a respite as the inflation rate begins to decline later this summer and into autumn, and making the pattern of this recession closer to that of the 1973-4 oil-spike induced recession.
And, as I reported in Is China's Bubble Bursting?, there have been signs that China's insatiable demand for resources, and its seemingly unstoppable export machine have in fact slowed down and at least temporarily in the manufacturing sector, gone into reverse. If the growth of China and the Petrosheikhdoms goes into reverse, there is nothing holding back the deflationary deluge.
In addition to the first-order-of-magnitude economic effects of that deflation (what I have been calling "The Slow Motion Bust"), which are likely to lead to a long-term US political realignment, as the Millenial generation in particular repudiates the GOP and brings about a secular ascendancy of the Democratic party; it is also worth considering, if China's economy goes into reverse, what recourse ordinary Chinese have, as the long disinflationary economic era ends, and another begins. The American revolution, like so many others, happened after a period of growth was suddenly reversed (due to the need to pay for the French and Indian War) with costs borne by those who had no voice in the decisions.
We live in interesting times.