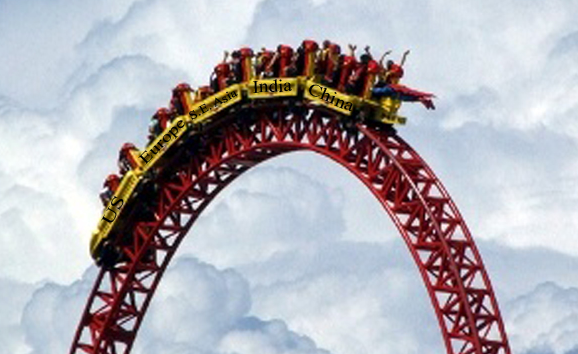 (explanation below) * **
Two years ago in one of my early diaries, I observed with regard to the then-housing market
A more ominous observation is that our current situation may be akin to a roller coaster at the top of an incline: the backmost seats are still going up, the middle seats are in equipoise at the top, and the front seats have already started down.
I have been noting that economic news stories out of Asia ought to put the lie to any notion of "decoupling" from the US economy. More recently, it has occurred to me that this same roller coaster analogy is apt.
The US is already past the precipice and is in the vices of the of which "The Panic of 2008" is only a part. This chart, courtesy of Tim Iacono of The Mess that Greenspan Made, is the best description I have seen comparing the strength of the opposing forces of import inflation, and asset deflation on the American economy: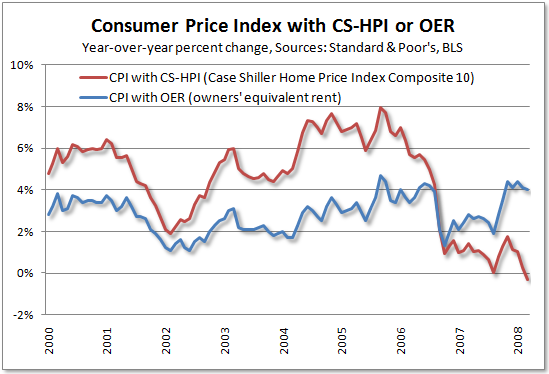 Should the recession bite more deeply, and demand destruction for Oil show up as decreased inflation, the deflationary forces of the real estate collapse will overwhelm the American economy.
Europe, as shown by this graph of Eurozone interest rates, which compare August 2007 and August 2008 rates, is not far behind: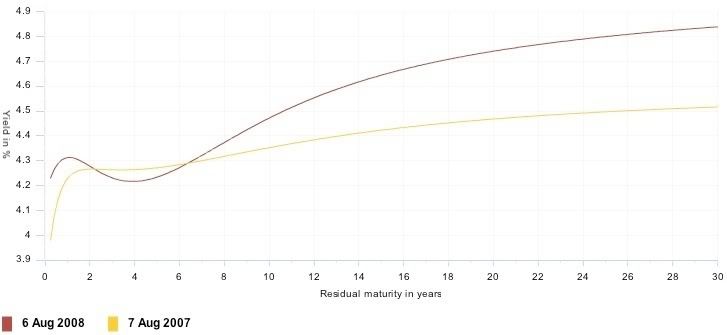 A number of commentators have noted that Europe seems primed to rapidly decline into at least a shallow recession, which given the flat interet rate curve from a year ago, seems likely.
After Europe, recent news stories have documented the constriction of developing Asian economies like Malaysia and Indonesia, as food and energy prices cause real privation and reverses for the working class. Malaysia spends 7% of GDP on fuel subsidies. Readers may recall the below picture of Indonesians demonstrating against that country's lessening of fuel subsidies: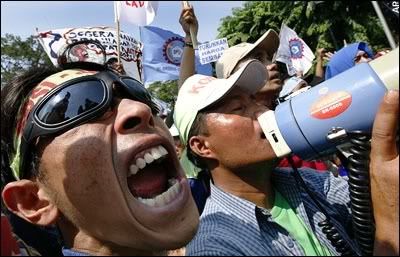 India too has had rampant inflation and is being squeezed by rapidly rising fuel costs. It's central bank has increased interest rates several times in an attempt to quell the resulting rampant inflation.
Finally, China has until recently seemed immune to the world's economic crunch, as I documented in "China's out of control Inflaitionary Boom." But China's single-handed responsibility for much of the US's trade deficit, as shown in this graph: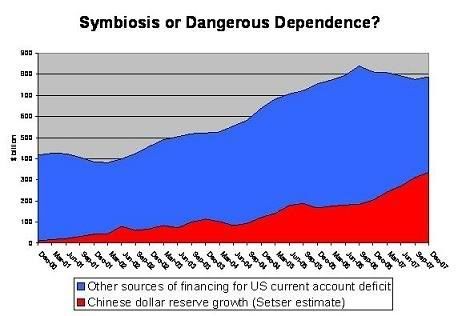 has taken a beating. More recently, as shown in the below graph courtesy of Calculated Risk, US imports from Asia are contracting: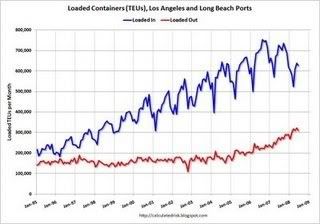 Brad Setzer says that the trend remains up from last year. But for the last 3 months, China's exports have remained flat:
Every day brings more evidence that China has not decoupled from the rest of the world. The weight of the global economy appears to be tipping towards an inexorable contraction. Not all of the world's economies are over the peak yet, but there is every reason to believe that the entire world is on board for this roller coaster ride.
* Special thanks to Mr. Francesco for creating this image.
**P.S. See that horizontal guy in the back? That's SuperBernanke, trying to prevent a catastrophe!