In our current interconnected global economy nothing happens in a vacuum.
Fears mount over European debt: Markets worry that financial crises in Portugal, Greece could spread across euro zone and spill across borders
Spooked investors worldwide were fleeing risky assets like stocks. And from Shanghai to Sao Paulo, people were awakening to the reality that what is happening in these European minnow states has vast implications for the fate of the fragile global economic recovery.

*snip*

Markets fear Greece may default or require a costly bailout from already strapped European governments, and those concerns are spreading to other financially troubled governments such as Portugal and Spain.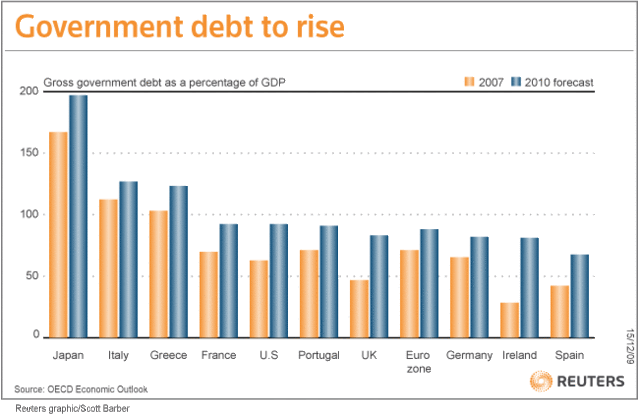 Euro "in danger of becoming unstable" "In my view the most important (challenge for Europe) is stabilizing the currency," Oettinger was quoted saying. "The euro is in danger of becoming unstable -- look at Greece, Ireland or possibly soon Spain, Portugal, Latvia and Italy." ~ Guenther Oettinger, a conservative leader in Germany and designated European Union energy commissioner
Sovereign default was a hot topic for the G7 this weekend. G7 talk on Greece will not soothe global investors



TORONTO (Reuters) - Investors are skeptical of assurances European finance ministers gave to their Group of Seven counterparts this weekend that the euro zone's debt crisis is under control.

The 16-country currency bloc is facing its biggest ever test after concerns about Greece's huge public debt and deficits spread to several other euro zone countries, pushing the euro to a near nine-month low against the dollar.

A sell-off of Greek, Portuguese and Spanish debt last week, which hurt global stock markets, pushed Greece's debt woes onto the agenda of the meeting of Group of Seven rich nations' finance ministers and central bankers in Canada's remote north.
Can the crisis be contained in Greece? Portugal, Ireland and Spain are also quickly losing ground.
In order to maintain "Austerity" (budget) plans, social services and government spending will be slashed. Protests are underway in Greece as social unrest escalates.
Stay tuned for more on Economies Run Amok.