The loss of the Hostess Twinkie is a symbol of a new era for the American worker. Chemical cupcakes usher in the race to the economic bottom, where the new business operandi is the stripping of worker wages and benefits. Gone are middle class incomes and lifestyles for most. Here are temporary jobs, no benefits and assuredly no retirement. America has been sliced, and diced, just like Wonder Bread.
Hostess blamed the baker's union for the closure. Yet they managed to send their pensions straight to bankruptcy, to be taken over by PBGC. The same thing happened to Delphi salaried workers and now many are living in poverty instead of enjoying their hard earned and counted on retirement. We can't blame the unions for standing firm for if Hostess had gotten what they demanded, those jobs would have been about the same as working at Walmart. Hostess borrowed $3 dollars the union workers normally contributed to their pensions and a bankruptcy judge ruled Hostess didn't have to pay the workers back. Unfortunately this is routine, companies raiding people's retirement that they worked hard and paid for.
According to the BLS, real weekly earnings adjusted for inflation for Q3 2012 are the same as Q4 2007. Even worse, seasonally adjusted real weekly earnings for full time workers, all occupations, are at similar levels to the mid 1980's.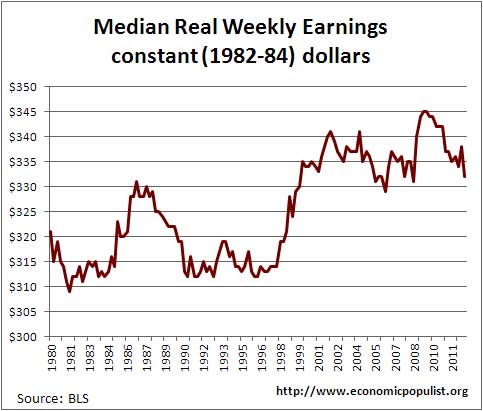 Overall, weekly earnings dropped -0.2% in October and since October 2010 have fallen by -1.8%. The above graph means 50% of workers are earning less than $332 per week in real purchasing power, accounting for inflation since 1982-194. Not adjusted for inflation, the median weekly earnings for all occupations was $765 in Q3 2012. Now think about rents of $1500+ a month in many cities and how 50% of all earners are making less than $765 per week, before taxes.
Retirement benefits are only offered to 75% of private workers. Most companies offer 401ks which are dependent upon the whims of the stock market. Just last week the largest pension insurer, the PBGC, posted a $34 billion dollar shortfall to cover pensions. In short, America's retirement has been raided.
Increasingly workers are getting squeezed, their piece of the economic pie eaten by private equity or corporations for an increased quarterly profit. Did you know in 2011 2.2 million workers earned below minimum wage? The Federal minimum wage was $7.25 per hour. There were 3.8 million wage workers earning $7.25/hr or less in 2011. This is 5.2% of the 73.9 million workers paid hourly. While half of these workers were in restaurants and food services, where one might obtain tips, it's clear slavery in the kitchen has new meaning for 18.3% were involved in food preparation services.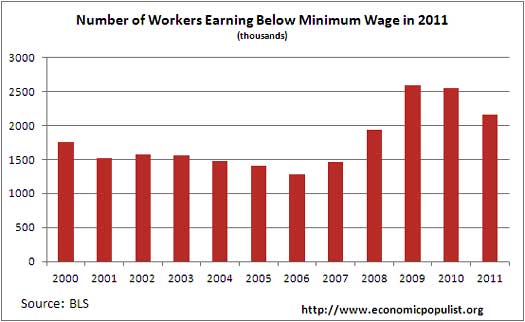 Below is the real hourly wage, or adjusted for inflation since 1980. Again we see in terms of real dollars, workers aren't really getting ahead.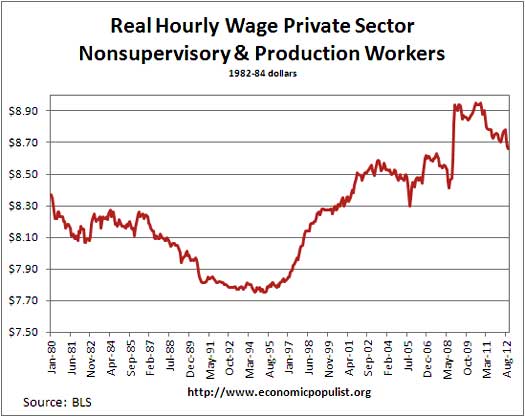 The Census released their alternative poverty rate and it shows 16.1% of people in America were in poverty in 2011. The official poverty rate for the same time period was 15.1%. This alternative measure takes into account government payments, such as food stamps, social security, geographical cost of living and the high cost of medical expenses for seniors. Below are their rates by age bracket.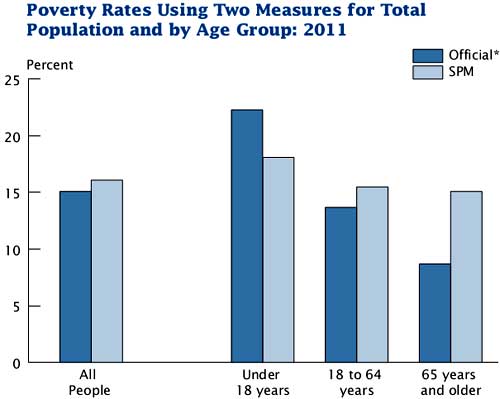 That's an incredibly large section of the population in poverty and as we can see by the median wage, workers are becoming broker and broker.
This is our new normal, corporations can steal worker's retirement by liquidating, jobs are offshore outsourced, people are fired and wages are repressed. All hail chemical cupcakes as America becomes toxic for those who work for a living.