Michael Collins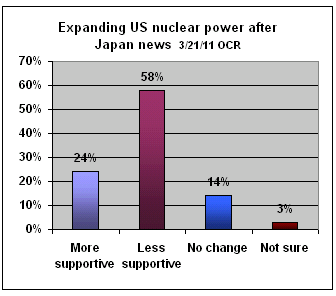 Citizen response to the disaster in Japan will have a major impact on future sources of power in the United States, our ability to live in a healthy environment, and the future of the nuclear power industry.
We do not yet know the outcome of the unfolding disaster at Fukushima I in Japan. There are conflicting stories about attempts to contain the reactors and public health hazards posed by this extreme nuclear event. At Zero Hedge, Tyler Durden has a breaking story on reactor number 1 at Fukushima that could have dire implications.
However, we are getting a glimpse of public reaction to the events in Japan. The Christian Science Monitor reported the results of a national survey on nuclear power conducted by OCR for the Civil Society Institute (March 15, 16-814 individuals).
The survey starts with a generic and a specific question about support for nuclear power in the US. The generic question was, "Would you say that you support or oppose more nuclear power reactors in the United?" The split was 46% in favor and 44% opposed. The graph above shows what happens when the phrase, "Thinking about the nuclear reactor crisis in Japan..." is followed by a statement about nuclear policy. Only 24% said they were "supportive" of expanding nuclear plants with 58% opposed expanding plants.
A later question in the survey narrows things down a bit. Respondents were asked, "Would you support or oppose a halt to the United States extending the operating lifespan of its oldest nuclear reactors?"
Even before the results are in on environmental damage from the Japanese disaster, by a 51% - 43% margin, the sample shows solid support for shutting down at least the 23 nuclear plants similar to Fukushima (which would seem to be the plants the question referenced).
The shift away from supporting nuclear power is in line with polls just days after Three Mile Island. A CBS-New York Times article showed the rapid shift in public opinion after the Three Mile Island partial meltdown hit the news. Public opinion went from 55%-33% in favor of a nuclear plant in their community to 56% opposed to 33% in favor. That's a 40% spread in opinion opposing nuclear power in just weeks of coverage of the Three Mile Island disaster.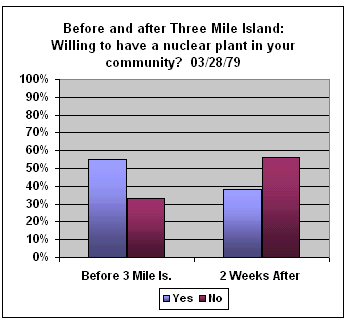 There is much stronger support for renewable forms of energy - wind and solar - now than there was prior to the Japanese incident.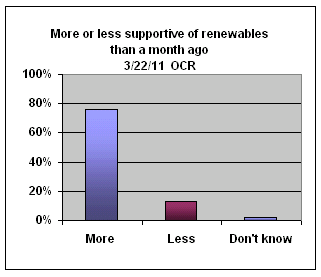 The president's American Power Act has huge taxpayer subsidies for nuclear power construction. This poll shows that his proposals may be dead. It will be interesting to watch how President Obama handles the post Fukushima endorsement of his nuclear power loan guarantees in light of this strong trend opposing that policy.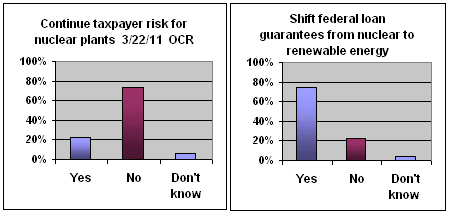 The opposition to federal support is now a generic opposition to federal programs, the poll indicates. The public favors a shift away from subsidies for nuclear energy to supports for renewables.
At least two key factors that will play a roll in determining the public stance on the ongoing use of nuclear power. They are:
1) The outcome of the current situation in Japan: If we have an environmental disaster that spreads to the hundreds of millions on Japan's main island or any nation beyond, public opinion should shift irretrievably negative on US nuclear power. If anti nuclear sentiment is this bad now, what will actual injuries and deaths do?
2) The ability to have a real dialog on the issue of nuclear power: There was considerable controversy over the outcome and impact of the Chernobyl disaster. The International Atomic Energy Agency that estimate up to 4,000 deaths as a result of the tragedy. A Greenpeace study found 200,000 likely deaths. An article from 2009 published by the New York Academy of Sciences is making the rounds now that claims the death toll at nearly one million. This authors argue that superior methodology and analysis support their claims. You should hear more about this in the near future.
Public skepticism about government and industry assurances regarding nuclear safety will be far greater after Fukushima I. In a generally industry friendly article after Three Mile Island, the New York Times quotes an Oregon woman living less than a mile from the Trojan nuclear plant. Asked about her confidence about information regarding nuclear safety, June Burnham said:
"I guess I really don't believe the 'official' word at all," the 48 year old [Oregon] woman said. "I suppose they tell us whatever is necessary to prevent panic." New York Times, April 29, 1979
Ms. Burnham would be glad to know that her views are now shared by the majority.
If the Greenpeace or Russian studies gain favor and there are likely injuries and casualties from Fukushima, it will be the end of nuclear power and those who so steadfastly and smugly supported it.
See polling data - After Fukushima: American Attitudes About Nuclear Power Policy Questions: A Survey Conducted for the Civil Society Institute, March 22, 2011 - OCR International
END
This article may be reproduced entirely or in part with attribution of authorship and a link to this article.