The BLS released their occupational employment and wages report for May 2010.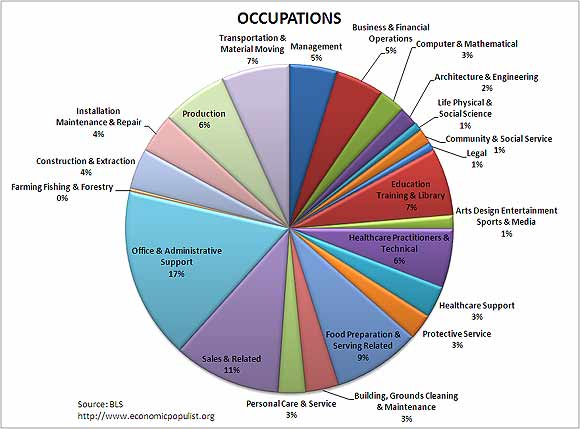 While the data on what kind of jobs are being created is one year old, the report still gives insight on what kind of job growth has occurred since December 2007, the start of the Great Recession. What we have are low paying service jobs as the dominant job growth.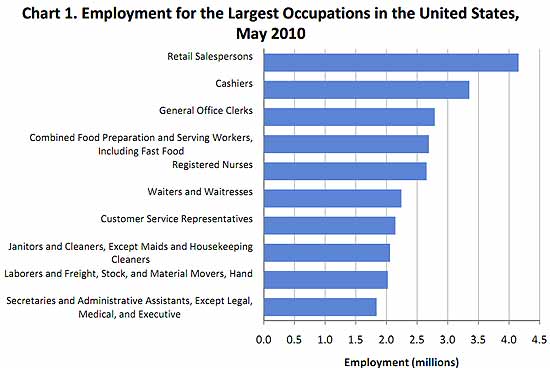 Above are the top 10 job occupations in America for May 2010. These jobs make up 20% of all employment.
The 10 largest occupations accounted for more than 20 percent of total employment in May 2010. In addition to retail salespersons and cashiers, the largest occupations included general office clerks; combined food preparation and serving workers, including fast food; registered nurses; and waiters and waitresses.
Even worst, 6% of all jobs are cashiers and retail sales clerks and from the above chart, 17% are low paying office worker jobs.
Wages are no better, with the largest jobs areas being incredibly low paying. Only nurses were above the measly median wage of $21.35 per hour or $44,410 annually.
Most of the largest occupations were relatively low paying. Of the 10 largest occupations, only registered nurses had an average wage above the U.S. all-occupations mean of $21.35 per hour or $44,410 annually. Combined food preparation and serving workers, cashiers, and waiters and waitresses were the three lowest paying of the 10 largest occupations, and also among the lowest-paying occupations overall.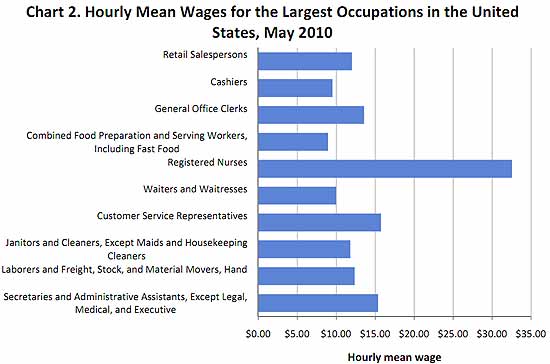 The professional careers, not management, only make up 1% of all employment.
The smallest occupational groups included legal occupations and life, physical, and social science occupations, each representing around 1 percent of total employment. Most employment in these two groups came from occupations with above average wages, such as judges, with an
While 91% of those low paying jobs are from the private sector, we have this alarming static for statement government. The #1 occupation for state government are jailers:
Correctional officers and jailers was the largest occupation in state government, with employment of nearly 257,000.
By industry we see a sad state of affairs. The highest growth is with health care, taking care of sick people, next, low paying retail sales.
Health care and social assistance was the industry sector with the highest employment, followed by retail trade. Over half of employment in the health care and social assistance sector was in healthcare-related occupations, including registered nurses; nursing aides, orderlies, and attendants; home health aides; and licensed practical and licensed vocational nurses. Other large occupations in this sector included personal care aides, medical secretaries, and childcare workers. More than 60 percent of retail trade employment was in just 4 occupations: retail salespersons, cashiers, stock clerks and order fillers, and first-line supervisors of retail salesworkers.
Of the highest occupations, look at these wages. You cannot rent a cardboard box by yourself on these wages.
The industries with the lowest all-occupations mean wages consisted primarily of food service and retail trade industries. In limited-service eating places, the industry with the lowest overall average wage, 8 of the 10 largest occupations had mean wages below $10.00 per hour, including combined food preparation and serving workers, including fast food ($8.62); fast food cooks ($8.85); and counter attendants, cafeteria, food concession, and coffee shop ($8.82).
This report is horrific. It appears they have offshore outsourced the jobs, in particular production, manufacturing and left us with a slew of burger flipper opportunities.
Lest you believe U.S. tech workers are doing alright, the BLS counts foreign guest workers in their statistics, as well as illegal immigrants. There has been severe labor arbitrage in the scientific and technical fields through use of temporary foreign guest worker Visas and manipulation of the U.S. immigration system.