A shocking claim was made by various press sources that those at the bottom of the American economic pile have living expenses which are double their income.
The bottom fifth of the U.S. income distribution -- 24.4 million households -- on average earned $10,074 in after-tax annual income and spent $22,001 last year,
The shocking statistics are derived from the BLS Consumer Expenditure Survey, a quarterly and annual survey of people's income and spending habits. The first thing to notice is the average income of the lowest income quintile in America isn't enough to rent a cardboard box to live in for many areas of the country. Yet, how can it possibly be that these households have expenses over double the money they have coming in? If we look over the history of the bottom 20% of households by income, average annual expenditures have always exceeded income as shown in the below historical chart.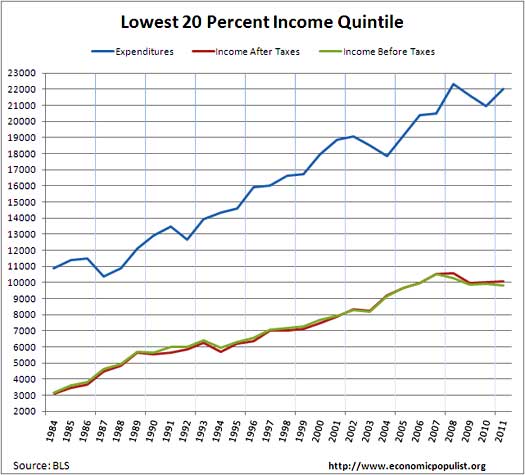 Many in the press dismiss these figures by claiming many of these people are retirees, living off of their retirement savings. Is that true? Not as a whole actually. Those aged 65 and over of the lowest 20% of income was on average 0.4 of the 1.7 average consumer unit. In other words, 23.5% were 65 or over.
Another claim is that many of the lowest income quintile are living off of credit cards, family and friends and payday loans.
Many of these households may be spending more than they earn through some combination of loans from family and friends, credit cards, savings, and payday loans.
That doesn't seem quite right either. The survey reports a net decline in liabilities during the recession with a recent increase in debts for the poorest by income Americans.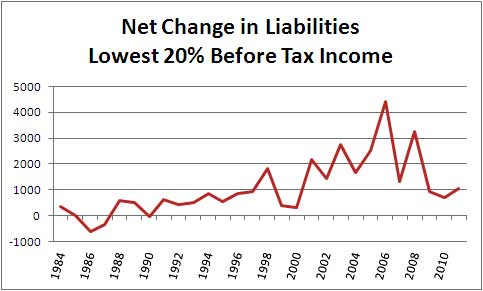 If we look at the Federal Reserve flow of funds, which doesn't break down debt by quintiles, we see lower household debt in 2011. At the same time the Pew Research Center reports record student debt and it's hitting the lowest income households the worse. The lowest income quintile has 13% of this group owing student debt. Of that 13%, student debt represents 24% of their annual income in 2010.
Believe this or not, the BLS sources of income include food stamps, social services, welfare, social security, unemployment compensation and so on. Yes folks, food stamps are considered income. Additionally the above graph shows the earned income tax credit does give a a minor supplement as a refund, from $128 in 2010 to $269 in 2011. We can see the before and after tax income is pretty much the same for the lowest income earners in the U.S.
The below graph shows some select sources of money for the bottom income quintile. What the graph also shows is how little public assistance and unemployment insurance have kept up in comparison to social security to help those with low income.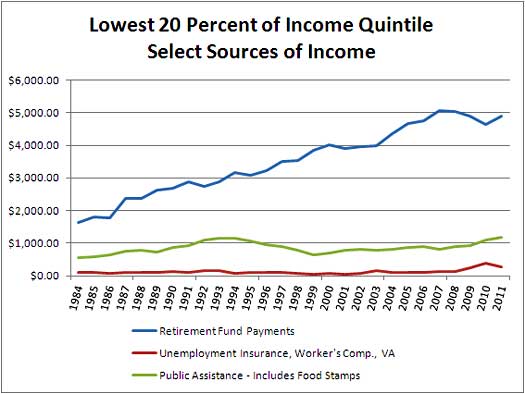 So how can people be spending more than they are receiving in income? According to the BLS:
There are reasons why expenditures exceed income for the lower income groups despite the use of imputed income data. Consumer units whose members experience a spell of unemployment may draw on their savings to maintain their expenditures. Self-employed consumers may experience business losses that result in low or even negative incomes, but are able to maintain their expenditures by borrowing or relying on savings. Students may get by on loans while they are in school, and retirees may rely on savings and investments.
The headline buzz of the lowest 20% of households in the U.S. having expenses more than twice their income is a tad misleading, even while true. There has always been a large gap between income and expenses for the bottom 5th in income households. In spite of the survey attempting to obtain more accurate income information in 2003 onward, the reality is the gap between trying to survive and income has become wider. Below is the difference between income and expenses. We see a widening gap for 2011, in fact the change in more living expenses to income was 9.2% from 2010.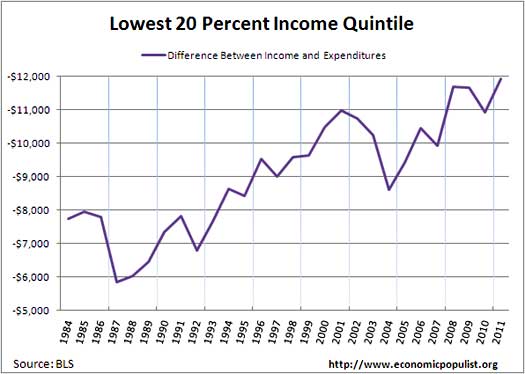 signed into law August 1996.
Clearly people are getting money from somewhere including loan sharks and later plain defaulting. The only other explanation we have for how people can pay to live when they have only 45.8% of the money actually needed is they either have additional sources of unreported income, or they are in debt. The study is by consumer units. These are families, single persons living alone or sharing a household with others but who are financially independent, or two or more persons living together who share expenses. Therefore we cannot even say people are moving back with Mom and Dad to explain the massive gap between what people have to pay versus what they can earn. Additionally, one would hope people move in an out of the lowest income quintile, but like the American dream, that too is a myth. The social mobility statistics of America say this isn't probable anymore, one has about 4% chance to get out of this income brackets.
The statistics of America continue to paint a dark, foreboding and bleak picture and this report is just one stroke of the brush.