Occupy Wall Street has gone global. Protests are breaking out in Tokyo, Sydney, the Philippines, Taiwan and London. Reuters is reporting riots in Rome. Of course Greece has been protesting for years now, so why riots are suddenly news is anyone's guess.
What a surprise. Citizens of nation-states are finally demanding finance and economies be for their well-being, instead of an elite group of super-rich. Trickle-upon economics just globally pissed up a rope.
Even Federal Reserve Chair Ben Bernanke gets it on Wall Street protests.
In two hours before Congress' Joint Economic Committee, Bernanke painted a gloomy picture of the economic recovery, describing it as "close to faltering." He predicted there would be no quick pickup in new jobs and again urged lawmakers to come up with a credible plan to deal with federal deficits.
There are loads of complaints about what occupy Wall Street really wants. One thing we hope they do not want is special interests co-opting the movement. That's disaster in the making and will destroy any chance of positive change. Occupy Wall Street, is clearly about economies and finance for the citizens, the rest of us, or as they put it, the 99%.
Just like the Tea party started with disgruntled real people, eventually they were taken over by the Koch Brothers and other special interests, twisting and turning their outrage over Bank and Wall Street bail outs into the same corporate lobbyist generated talking points that have been going on since the 1960's.
In Occupy Wall Street here comes the SEIU, along with moveon.org, Van Jones and other special interest agenda groups and their corresponding cohorts. The usual suspect special interest money and of course ACORN is also being tied to the protests. These groups are notorious to push for open borders, unlimited migration, and other agendas which are extremely unpopular with a large segment of America. More importantly, these agendas belie the real economics, labor economics, statistics and theory on how to bring about income equality and prosperity for all. Indeed, the unlimited migration people are showing up at protests and already you guessed it, unlimited migration or amnesty is popping up as an official demand. Beyond the fact this would turn off most of America, by labor economics 101 such an agenda would also put global labor arbitrage on the fast track to de facto slavery:
Demand nine: Open borders migration. anyone can travel anywhere to work and live.
The good news is the movement is fighting back to not be co-opted into promoting agendas by special interests. Note this OWS sign: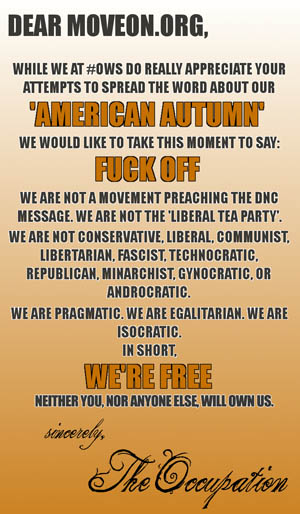 This is the problem. Most of America is outraged over Banks getting bail outs, Corporations writing legislation, all the while offshore outsourcing our jobs. Yet these issues above actually divide the nation, as badly as the agenda to destroy social security alienates most people.
What a shame! But this should alarm OWS more than anything. President Obama is planning to co-opt the protests to fight against Republicans. Assuredly this should outrage the protestors since many are protesting Obama and his policies.
President Obama and his team have decided to turn public anger at Wall Street into a central tenet of their reelection strategy.
David Cay Johnston comments on how so far, OWS has managed to stay clear of political and special interest groups:
Occupy Wall Street differs fundamentally from the many demonstrations I have covered over more than four decades. Instead of people with similar specific interests — anti-war, anti-rape, Tea Partiers — these demonstrators come with widely varying views, experiences and backgrounds, yet unite around a common theme: bankers are ripping off America.

Two secondary themes also emerge in talking to some of the hundreds of people occupying Zuccotti Park. One is that the super rich own the politicians. The other is that the news media, almost across the board, view events through the eyes of the rich.
Folks, there are certain issues where over 80% of Americans, time and time again, poll they want something. One is a limit on CEO pay, another is taxing the rich and yet another is securing the border. Divided we fall. Can people just agree to fight for laws and policies that over 80% of the country want and they make economic sense by the theory and statistics? Leave the rest and just choose to disagree. Face it, America is literally being destroyed and while that's happening, folks just argue and argue as if there are blue and red people in America.
That's what this protest is all about and let's face it, 99% of us can agree we're getting our jobs offshore outsourced, sold down the river, our nations run by corporate greed and we're getting nothing. Keep the focus on those basic facts and corresponding policy subscriptions, we might just get somewhere. Throw in special interests agendas, be they tagged red:blue, and yet once again, corporate puppet masters can tie in their strings by dividing the populace.
This detailed study, aptly titled Who Rules America shows the strong correlation between Wealth and Power:
This document presents details on the wealth and income distributions in the United States, and explains how we use these two distributions as power indicators.

Some of the information may come as a surprise to many people. In fact, I know it will be a surprise and then some, because of a recent study (Norton & Ariely, 2010) showing that most Americans (high income or low income, female or male, young or old, Republican or Democrat) have no idea just how concentrated the wealth distribution actually is.
The question becomes can Occupy Wall Street keep with it's simple message and keep out special interests with their divisive, dividing agendas? One of the biggest black magic corporate lobbyist tricks is to spin a disastrous policy as something that is beneficial and have over 60% of the public believe the lie. 99%, don't let them take over your message!
We can only hope while millions camp out, march with their smart phones, they also are finding out about economics 101. It's one thing to protest and it's another entirely to understand which policies, which laws would actually restore the middle classes and bring about overall economic prosperity, not only nationally, but globally as well.