The House Agriculture Committee's farm bill would have denied food stamp benefits to as many as 5.1 million Americans, or more than 10 percent of the Supplemental Nutrition Assistance Program's enrollment, according to a new analysis by the Pew Charitable Trusts and the Robert Wood Johnson Foundation.
The estimate, based on an exhaustive analysis of how new asset tests (such as having $2,000 or more in cash, or by owning a second car, or by receiving assistance through the Low Income Home Energy Assistance Program) could disqualify applicants, reveals a deeper impact than the one last estimated by the Congressional Budget Office, which had said the House bill would cut fewer than 2 million from benefits.
Also according to the report:
Approximately 97.3 percent of SNAP households actually have net incomes at or below the poverty line.
More than 42 percent of SNAP households live in deep poverty, meaning their gross monthly incomes were at or below 50 percent of the federal poverty level; for a family of four in 2012, that equaled $960 or less per month.
Fifty three percent of households self-identified as White, 22 percent as African American,19 percent as Hispanic and 6 percent as from other racial and ethnic categories.
Seniors over 60 and the disabled wouldn't be affected by the cuts.
As of April 2013 47,548,694 people were on food stamps. That is 1 out of every 6.64 persons in the United States. This means that 15.05% of all people living in America are on food assistance.
Lately there have been claims from some in the press and Congress that SNAP (the food stamp program) is ripe with fraud and abuse. This is simply false. The economic realities of the new America are the reason food stamp usage has risen so dramatically.
"These are the poorest of the poor," said Kevin Concannon, under secretary for food, nutrition and consumer services at the Agriculture Department. "In many cases, these are people who are working who just can't make ends meet."
Currently, the House version of a farm bill includes ZERO for food stamps (the first time since 1973) --- meaning, 1 in 6 Americans could go hungry.
As of May 1, 2013 --- From the Center on Budget Policies and Priorities:
The 2009 Recovery Act's temporary boost to Supplemental Nutrition Assistance Program (SNAP) benefits is scheduled to end on November 1, 2013, resulting in a benefit cut for every SNAP household. If Congress does not enact legislation to remedy this problem soon, as President Obama and some members of Congress have proposed, states will need to begin planning for the benefit cuts.
Below is the typical cut and bear in mind these benefits are not enough to feed someone for a month, no matter how clever and budget conscious they are.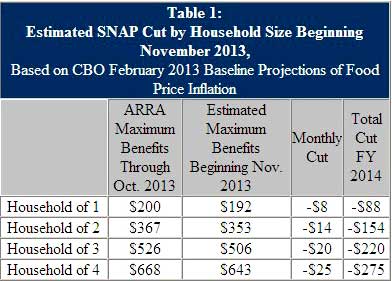 The states cuts are uneven and depending on which state one resides in they will suffer more. For example, Washington D.C. gets a 23% cut while California is only 10% in benefits. There is a table on how each state is impacted here.