It's almost embarrassing what they will try to spin as "good" economic news these days.

(Bloomberg) -- Home prices saw a "striking improvement in the rate of decline" in April and trading in funds launched today indicates investors believe the U.S. housing slump is nearing a bottom, said Yale University economist Robert Shiller.

"At this point, people are thinking the fall is over," Shiller, co-founder of the home price index that bears his name, said in a Bloomberg Radio interview today. "The market is predicting the declines are over."

"My guess would be that home prices are going to level off -- they're not going to keep falling," Shiller said in a separate interview with Bloomberg Television.
Wow! That sounds wonderful!
So what is this incredible news about housing that has caused such a stir?

While the Standard & Poor's/Case-Shiller index of 20 major cities tumbled by 18.1 percent, it marked the third straight month the decline was not a record.
Uh...so the fact that the losses are no longer historical records is supposed to be "wonderful" news?
Now a punch in the mouth may be better than a poke in the eye with a sharp stick, but I don't consider either to be a sign of good things to come.

The index decreased 18.1 percent from a year earlier following an 18.7 percent drop in March. Economists predicted the index would drop 18.6 percent, according to the median of 33 responses in a survey conducted by Bloomberg. The measure fell 19 percent in January, the most since the data began in 2001.
If you really wanted to get back to reality, a change of less than 1% is really nothing more than statistical noise in the margins. In an election, which has more reliable results than a housing survey, 1% will draw a call for a recount.
These efforts by the financial media amount to nothing more than putting lipstick on a pig.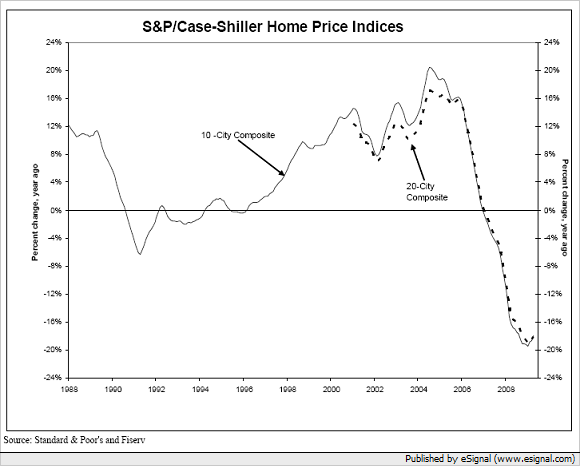 Defaults from borrowers with good credit contributed to much of the increase in seriously delinquent loans, echoing data last month from the Mortgage Bankers Association. As the recession claims more jobs, borrowers in good standing are more likely to miss their mortgage payments.

Efforts to modify home loans have been slow and easily outpaced by the number of new delinquencies. In the first quarter, loan companies modified 185,156 mortgages, up 55 percent from the previous quarter. But the number of foreclosures in process increased to 844,389, up 22 percent.

And nearly one in four borrows who received a mortgage payment reduction fell behind again within six months, the report found.