Part I of this series can be found here.
Parts II and III of this series can be read at The Bonddad Blog.
IV. The Federal Government must intervene to Rescue the States, in a morally responsible way
By far, the biggest threat to a bottom being put in to this Recession, is the continuing drumbeat of new layoffs. Thursday's June employment figures over - 450,000 and new jobless claims that have stubbornly, week after week, remained above 600,000, put the kibosh on any idea that the bottom is already here. We simply cannot stand 600,000 people putting in for jobless benefits, week after week after week. And the source of the continuing drumbeat of jobs lost appears to be coming more from anywhere else from the location of what Paul Krugman has called the "50 little Hoovers", i.e., the state (and municipal) governments, which are obliged to balance their budgets and so must throw employees out of work and cut back on spending projects, exactly when they are needed most.
Part of the stimulus plan was to ameliorate this, of course, but more must be done if the renewed government layoffs are not to thwart any hoped-for turnaround. Unemployment, of course, is a lagging indicator of GDP growth, but if a renewed vicious round of layoffs causes consumers to renew their panicky, hunker-down mentality from late last year, then the economy will take just as big as a renewed hit as was so destructive and contractionary to the economy then. We may already be beginning to see that retrenchment in consumer confidence as related in last week's downturn of that series for the first time in a number of months: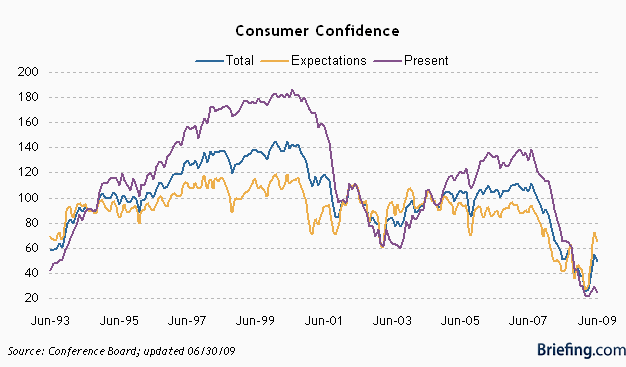 It is true that some states, most notably California, overspent during the good times, and relied on ephemeral bubble-fed sources of revenue. And California in particular is the poster-child for an ill-thought-out fiscal straightjacket that has already driven it to the point of fiscal collapse. It would be the height of rewarding moral hazard if taxpayers in states that played it relatively safe had to bail out taxpayers in spendthrift states. And while there are some interesting ideas for reforming state revenue sources to try to avoid this situation in the future, that doesn't help us now.
To assist those state governments now, while preventing moral hazard from being created, I propose that Federal budget help should be extended immediately to the states in dire distress who request such assistance, but extended at a substantial cost: namely, that businesses and residents of the states so assisted by the federal government must pay a surtax on the Federal taxes once their states are in economic recovery. If California needs $30 Billion, but North Dakota has a surplus, then there is no reason for North Dakotans' taxes to increase. But on the other hand, in return for federal assistance, then there must be payments equalling, say, $10 billion a year for 3 years from those individuals and businesses in California who have been bailed out, once their state is undergoing economic recovery. I see no logistical reason in this day and age of sophisticated computers why the IRS would be unable to make the determination of who is subject to the surcharge, based on residence claimed on this year's tax returns.
Such assistance would help turn the economy around now, avoid a renewed downturn based on a retrenchment of consumer confidence, and avoid moral hazard. It should be passed by the Congress and implemented by the Obama Administration immediately.